Sorry, Doc, but this Article is Under Construction




This article or section is under construction/expansion. Please help us work on it.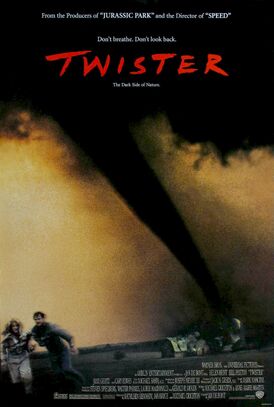 Twister is an American disaster film released in 1996 about storm chasers that was directed by Jan de Bont from a screenplay by Michael Crichton and Anne-Marie Martin. Its executive producers were Steven Spielberg, Walter Parkes, Laurie MacDonald and Gerald R. Molen. The movie stars actors and actresses Bill Paxton, Helen Hunt, Jami Gertz and Cary Elwes.
Plot
In June 1969 Oklahoma, young Jo Thornton and her family are awakened by an approaching F5 tornado. The family seeks refuge in their storm cellar, but the tornado rips the cellar door off and pulls Jo's father to his death while Jo and her mother look on. The next morning, they awake to find their farmhouse destroyed.
In the present day, 27 years after the death of Jo's father, the National Severe Storms Laboratory predicts a record outbreak of tornadoes in Oklahoma over a 24-hour period. Now an adult, Jo, a meteorologist and storm chaser, is reunited with her estranged husband, Bill Harding, a former weather researcher and fellow storm chaser, who has since moved on to become a popular television weather reporter. He has a brand new Dodge Ram pickup truck and is planning to marry reproductive therapist Melissa Reeves. However, his plans are delayed until Jo signs her long overdue divorce papers. Arriving to Jo's camp in order to get her to complete the forms, he finds that she and her team have built four tornado research devices called DOROTHY based on Bill's groundbreaking design. Each unit contains hundreds of sensors that, if picked up by a tornado, will provide data that could lead to revolutionary breakthroughs in meteorological research. Before Jo can finish the paperwork, her team rushes to intercept a nearby forming F1 tornado, forcing Bill and Melissa to chase after her. Bill encounters Dr. Jonas Miller, a corporate-funded meteorologist and long-time rival storm chaser, and learns that he has created a device called DOT-3, a blatant copy of DOROTHY. Bill vows to help Jo deploy DOROTHY before Jonas can deploy DOT-3 and claim credit for the idea.
In an attempt to deploy DOROTHY and get back to his regular life, Bill maneuvers Jo's Jeep Gladiator off-road into a muddy ditch towards the rapidly growing tornado. They collide with a small wooden bridge and find themselves trapped in the direct path of the oncoming tornado. As they take cover, Jo's truck and DOROTHY I are both picked up and destroyed by the tornado.
A second tornado is spotted in another part of Oklahoma, and they continue on in Bill's Dodge with Melissa, who has no choice but to tag along in the backseat. Jonas and his team are also moving to intercept the storm cell, which has at this point grown into an F2 tornado. However, Bill's intuition that the tornado will shift towards another direction sends them off seemingly in the wrong direction. He is quickly vindicated, which sends Jonas into a fit of rage. The team is then led off-road, eventually hanging back as the storm cell worsens, while Bill, Jo, and Melissa have a dangerous encounter with twin waterspout tornadoes on a enclosed road and they're spun round, which leaves Melissa shaken. The rest of the team, however, is ecstatic about the encounter and convince Jo to let them go visit Jo's Aunt Meg in the nearby town of Wakita for food and rest.
The team arrives in Wakita, where Aunt Meg prepares a big meal for the storm chasers. While there, the team discusses Bill's past as a sometimes heavy drinker with no fear and informs Melissa about Jo's backstory, explaining that Jo has since become obsessed with ensuring nobody else suffers the same fate as her father. Jo, realizing she is falling in love with Bill again, isolates herself from the rest of the group and is confronted by Aunt Meg, who tells her that no matter what happens, they will always end up together. They learn an F3 tornado is quickly forming in a neighboring county, forcing them to hit the road once again.
As the team attempts to intercept the F3, the tornado fails to appear and they begin to drive blindly through thick hail. They make yet another attempt to deploy a DOROTHY unit, but the tornado forms on top of them, damaging the truck and destroying DOROTHY II in the process. Overwhelmed by these recent events and racked with guilt over her father's death, Jo begins to despair. As their emotions run high, Bill tells Jo that he's still in love with her, unaware that Melissa is hearing the conversation over CB radio.
That night, the team stays in a hotel next to a drive-in cinema, which is showing Stanley Kubrick's 1980 film The Shining. Jo decides to fill out the remaining divorce papers but is interrupted when an F4 tornado forms nearby, forcing her team as well as townspeople caught in the storm to take shelter. The theater, a repair shop, and much of the team's equipment is heavily damaged. Finding herself traumatized by the recent near-death experiences and recognizing the re-blossoming love between Bill and Jo, Melissa peacefully ends her relationship with Bill and makes her own way home. The tornado continues on to devastate the town of Wakita, injuring Aunt Meg and flattening her home. While her injuries do not appear serious, she is taken to a nearby hospital and pushes Jo not to give up, reminding her of Wakita having essentially been hit blind by the tornado as they had no warning, the tornado sirens having barely gone off before it struck. The team hears that an F5 is forming close by and in a brief moment of quiet, Jo absently watches Aunt Meg's wind chimes. The image inspires an epiphany in her and she begins to form a plan to improve and deploy the next DOROTHY unit.
As the sun starts to rise, the team sets out to intercept the F5 tornado, which has grown to be over a mile wide. Bill and Jo lay the newly-altered DOROTHY III directly in the F5's path, but it is destroyed by an uprooted tree. Meanwhile, Jonas attempts to deploy DOT-3 in a similar fashion, ignoring Bill's repeated warnings that his team is too close and that the tornado is shifting directly towards them. A metal tower impales Jonas' driver, Eddie, and their vehicle is swept into the tornado and thrown to the ground, killing both men and destroying DOT-3 in the resulting explosion. Bill and Jo press on, realizing that the only way to successfully deploy DOROTHY IV is by driving directly into the tornado and jumping out before Bill's truck is swept away. The plan works and the rest of the team celebrates the successful deployment of DOROTHY IV. However, Bill and Jo's celebration is cut short when the F5 shifts direction towards them. They flee into the nearby cornfields and take shelter in a water pump facility, fastening themselves to deeply rooted pipes. As the tornado passes overhead, they are able to see the interior of the tornado, before the storm dissipates altogether. The rest of the team arrives on scene to celebrate the achievement while Jo and Bill excitedly plan the next phase of research, deciding to run their own lab and rekindle their marriage.
Cast
Helen Hunt as Dr. Joanne "Jo" Harding

Alexa Vega as Young Jo Thornton

Bill Paxton as William "Bill/The Extreme" Harding
Jami Gertz as Dr. Melissa Reeves
Cary Elwes as Dr. Jonas Miller
Philip Seymour Hoffman as "Dusty" Davis
Alan Ruck as Robert "Rabbit" Nurick
Sean Whalen as Allan Sanders
Jeremy Davies as Brian Laurence
Joey Slotnick as Joey
Todd Field as Tim "Beltzer" Lewis
Scott Thomson as Jason "Preacher" Rowe
Wendle Josepher as Patty Haynes
Lois Smith as Aunt Meg Greene
Zach Grenier as Eddie
Richard Lineback as Mr. Thornton
Rusty Schwimmer as Mrs. Thornton
Jake Busey as Mobile Lab Technician
Abraham Benrubi as Bubba, the Mobile Lab DrivervGary England, Jeff Lazalier, and Rick Mitchell appear as themselves on local television news reports.
Community content is available under
CC-BY-SA
unless otherwise noted.