The Unexpected Pest is a 1956 Merrie Melodies cartoon directed by Robert McKimson. It stars Sylvester.
Plot
Sylvester is forced by his owner to catch mice or he won't have a home to live in. When he has no luck finding a mouse in the house, he goes outside and finds a little mouse, who agrees to the same mouse that Sylvester will catch over and over again, only because he wants to be roughed up in front of his master.
It doesn't take the mouse long to realize that Sylvester really does need him alive, and he decides to stop being his fool. As the result, Sylvester pays the price for using the mouse for selfish reasons by constantly trying to prevent the mouse from harming himself (via jumping off the shelf, attempting to get himself eaten by Sylvester, grabbing cheese off a mousetrap, dropping a clothes iron on himself, sitting on a lit TNT stick) and causing trouble (via breaking the dishes).
The final scene depicts Sylvester, getting thrown out of the house and battered and beaten, as the result of accidentally blowing up the master with the TNT stick while preventing the mouse from harming himself. The mouse fakes suicide by pretending to jump of the bridge of a river, and Sylvester, having fed up with the pesky mouse, says "And good riddance too!". Once Sylvester leaves, the mouse climbs back on the bridge, and says "After all he's been through, I thought he deserved a happy ending". Iris out.
Gallery
Trivia
Notes
From this cartoon all the way up to Barbary-Coast Bunny, all the cartoons have the 1954-55 ending card. After, Rocket-bye Baby, the red card would only appear on Half-Fare Hare.
Censorship
On ABC's The Bugs Bunny & Tweety Show, the scene of Sylvester trying to save the mouse from attempting suicide by having a clothes iron fall on his head, only for Sylvester to get hit instead was cut.[1]
Availability
References
↑ The Censored Looney Tunes and Merrie Melodies Page: U-Z http://www.intanibase.com/gac/looneytunes/censored-u-z.aspx
v - e - d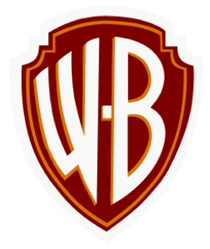 Media
Shorts (1929-1939):
Shorts (1940-1949):
Shorts (1950-1959):
Shorts (1960-1969):

Community content is available under
CC-BY-SA
unless otherwise noted.