The Tasmanian Devil, commonly referred to as Taz, is an animated cartoon character featured in the Warner Bros. Looney Tunes and Merrie Melodies series of cartoons. Though the character appeared in only five shorts before Warner Bros. Cartoons closed down in 1964, marketing and television appearances later propelled the character to new popularity in the 1990s.
Background
Development
Robert McKimson based the character on the real life Tasmanian devil, or more specifically its carnivorous nature, voracious appetite, and surly disposition. Owen and Pemberton suggest that the character of the Tasmanian Devil was inspired by Errol Flynn.:153 The most noticeable resemblance between the Australian marsupial and McKimson's creation is their ravenous appetites and crazed behavior. Although the bipedal Tasmanian Devil's appearance does not resemble its marsupial inspiration, it contains multilayered references to other "devils": he has horn-shaped tufts of fur on his head (similar to the Devil's appearance) and whirls about like a dust devil (similar in appearance to a tornado) which sounds like several motors whirring in unison. Taz is constantly ravenously hungry. His efforts to find more food (animate or inanimate) are always a central plot device of his cartoons.
Personality
Taz is generally portrayed as a ferocious, albeit dim-witted, carnivore with a notoriously short temper and little patience. He got his name in the short Ducking the Devil. Though he can be very devious, he is also sweet at times. His enormous appetite seems to know no bounds, as he will eat anything in his path. He is best known for his speech consisting mostly of grunts, growls, and rasps (in his earlier appearances, he does speak English with primitive grammar) as well as his ability to spin like a vortex and bite through nearly anything.[1] Taz does have one weakness: he can be calmed by almost any music. While in this calm state, he can be easily dealt with. The only music known not to pacify Taz is the bagpipes, which he finds insufferable.
In 1991, Taz got his own show Taz-Mania which ran for four seasons in which Taz was the main protagonist.
Physical Appearance
Powers and abilities
Whirlwind: When Taz attacks, he spins wildly in a circle similar to how a tornado moves. In this attack he can move fast enough to outrun almost anything he spots.
Eating anything: Taz is capable to devour anything in a few seconds. Having very sharp teeth he can cut through a solid trees without struggle.
Voice
Mel Blanc (1954–1983)
Jim Cummings (1991–present)
Jeff Bergman (Tiny Toon Adventures, Looney Tunes Dash)
Noel Blanc (Tiny Toon Adventures)
Maurice LaMarche (Tiny Toon Adventures)
Greg Burson (Looney Tunes River Ride, Bugs Bunny: Rabbit Rampage, Looney Tunes B-Ball)
Dee Bradley Baker (Space Jam)
Frank Welker (Looney Tunes: The Junkyard Run)
Ian James Corlett (Baby Looney Tunes)
Brendan Fraser (Looney Tunes: Back in Action)
Joe Alaskey (Looney Tunes ClickN READ Phonics)
Kevin Shinick (Mad)
Eric Bauza (Looney Tunes: World of Mayhem)
Appearances
Shorts
In fact, this appetite serves as the impetus for McKimson's Devil May Hare (first released on June 19, 1954). In the short, Taz stalks Bugs Bunny, but due to his dimwittedness and inability to frame complete sentences, he serves as little more than a nuisance. Bugs eventually gets rid of him in the most logical way possible: matching him up with an equally insatiable female Tasmanian Devil. The character's speech, a deep, gravelly voice peppered with growls, screeches, and raspberries, is provided by Mel Blanc. Only occasionally would Taz actually speak, usually to utter some incongruous punchline, (e.g. "What for you bury me in the cold, cold ground?") and yet the character is capable of writing and reading. A running gag is that when Bugs Bunny hears of the approach of "Taz," looks him up in an encyclopedia and starts reading off a list of animals that "Taz" eats, Bugs finds "rabbits" not listed until "Taz" enters and either points out that "rabbits" are listed or writes rabbits on the list.
After the film short debuted at theaters, producer Edward Selzer, head of the Warner Bros. animation studio, ordered McKimson to shelve the character, feeling that he was too violent for children, and that parents would dislike him.[4]:157 After a time with no new Taz shorts, studio head Jack L. Warner asked what had happened to the character. Warner saved Taz's career when he told Selzer that he had received "boxes and boxes" of letters from people who liked the character and wanted to see more of him.
McKimson would go on to direct four more Taz cartoons, beginning with Bedevilled Rabbit (released on April 13, 1957). McKimson would also pair the Devil with Daffy Duck in Ducking the Devil (August 17, 1957) before pitting him once again against Bugs in Bill of Hare (June 9, 1962) and Dr. Devil and Mr. Hare (March 28, 1964). His last two appearances done by the classic Warner Brothers directors, writers, and voice actors were in Bugs Bunny's Looney Christmas Tales appearing in The Fright Before Christmas segment and at the very end eating the sleigh full of presents.
Other appearances
Films
Taz appeared in the 1983 movie Daffy Duck's Fantastic Island as Yosemite Sam's first mate.
Television
Taz appeared in "The Looney Tunes Show" episode "Devil Dog" voiced by Jim Cummings. In the show, he is portrayed walking on four legs like a real Tasmanian devil and his eyes are bloodshot red (later turned yellow when Bugs uses a taming trick that Speedy Gonzales taught him). Initially, Bugs believed Taz to be a dog and kept him as a house pet much to his roommate Daffy Duck's discomfort. Eventually, Bugs learned the truth and tried to return him to his home in Tasmania, only to find out that Taz would rather live with him, naming him "Poochie". Taz subsequently appears in the following episodes "The Foghorn Leghorn Story", "Newspaper Thief", and "Bugs and Daffy Get A Job". Taz later played a major part in "Ridiculous Journey" where he, Sylvester (whom Taz tried to eat) and Tweety were accidentally sent to Alaska by Yosemite Sam. The three of them work to get home while encountering other characters and avoiding tracker Blacque Jacque Shellacque. Eventually, they make it home when it turned out that Blacque was hired by Yosemite Sam to retrieve the three on behalf of Bugs and Granny.
Taz originally appeared in the series Wabbit as Theodore Tasmanian, an accountant at Chesterfield Consultants who try to repress his vicious side. Unlike most versions of the character, he spoke more coherently. He was also married and had a child. He eventually returned to his original characterization and way of speaking when the series was retooled as New Looney Tunes.
Video Games
The character's first video game outing was in a title from the later days of the Atari 2600, in a 1983 release entitled "Taz". The 1990s saw a return of the character to video games in Taz-Mania and its semi-sequel Taz in Escape from Mars. Both titles appeared on the Mega Drive/Genesis, Master System & Game Gear systems. There were other Taz-Mania games released on the Nintendo SNES and Game Boy systems. He also costarred in the PlayStation/PC game Bugs Bunny & Taz: Time Busters, and in 2002's Taz: Wanted on PlayStation 2, GameCube, Xbox and PC. He also appeared in the video games The Bugs Bunny Crazy Castle 2, The Bugs Bunny Birthday Blowout, Looney Tunes: Acme Arsenal, Looney Tunes: Space Race, Bugs Bunny Crazy Castle 3, Bugs Bunny in Crazy Castle 4, Looney Tunes: Back in Action, Galactic Taz Ball.
Printed Media
Comic Books
An alternate version of Taz appeared in the 2017 DC Comics/Looney Tunes crossover comics, where he was designed more for the DC Universe and faced off against Wonder Woman in the Wonder Woman/Tasmanian Devil Special. In the story, Taz is a Guardian of the Labyrinth on Themyscira and fought Diana when she was a teenager during her trials to become an Amazon warrior. Before Taz could attack her, Diana plays the harp and puts it to sleep before snipping off some of his fur as proof of her victory. She returns to Taz years later as Wonder Woman after Circe uses the Talisman of Eurytale to turn Hippolyta and the other Amazons into stone. As the Talisman can only be stopped by the Minotaur's Amulet, she requests Taz's help as Taz's connection to the other Guardians would lead them down the right path. During the journey, Taz reveals that he wasn't mad at Diana for tricking him, but was rather upset that she took the music away. The two defeat the Minotaur and Circe and the Amazons reward him with a large feast in return. In the issue's backup story (done more in the style of the classic Looney Tunes shorts), Diana sings to Taz the tale of the Trojan War with her and the Looney Tunes characters roleplaying the major players, but Taz in his dream alters the events to work out more in his favor.
Miscellaneous
Theme Parks
In Popular Culture
Taz was going to have a cameo in Who Framed Roger Rabbit, but rights to the character could not be obtained in time.
In the late 1990s to early 2000s, when Chevrolet used the Looney Tunes as part of their NASCAR campaign, the Chevrolet Monte Carlo racing teams were referenced as Team Monte Carlo, with the Tasmanian Devil as the mascot.
Taz was a chocolate bar by Cadbury in the UK during the 90's, it was later renamed Fredo Caramel
Professional wrestler Peter Senercia adopted "Taz" and the variant spelling "Tazz" as his ring names.
From 2005–2012, a custom-bodied Taz monster truck competed in the Monster Jam circuit, driven by Adam Anderson. It is currently retired, with a Scooby-Doo themed truck its replacement, debuting in 2013.
Taz appeared in a 2014 GEICO commercial, where he drinks a "certain energy drink" and goes on a rampage.
In June 2017, the character appeared in the Wonder Woman / Tasmanian Devil Special #1, written by Tony Bedard with art by Barry Kitson. This version is reimagined as a Guardian of the Labyrinth on Themyscira whom Wonder Woman defeated when she was a teenager, but later teams up with her to save the Amazons from Circe.
Relationships
Quotes
Filmography
Gallery
Trivia
External links
v - e -

d

Characters
Live-action:
Animated:
v - e -

d

Music
Theme Song | Fly Like an Eagle | The Winner | I Believe I Can Fly | Hit 'Em High (The Monstars' Anthem) | I Found My Smile Again | For You I Will | Upside Down ('Round-N-'Round) | Givin' U All That I've Got | Basketball Jones | I Turn to You | All of My Days | That's the Way (I Like It) | Buggin'
v - e -

d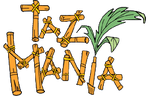 Episodes
Season 1: "

The Dog the Turtle Story

" • "

Like Father, Like Son

" / "

Frights of Passage

" • "

War & Pieces

" / "

Airbourne Airhead

" • "

It's No Picnic

" / "

Kee-Wee ala King

" • "A Devil of a Job" • "

Battling Bushrats

" / "

Devil in the Deep Blue Sea

" • "

Woeful Wolf

" • "

Devil with the Violet Dress On

" / "

Kidnapped Koala

" • "

Mishap in the Mist

" / "

Toothache Taz

" • "

Here, Kitty, Kitty, Kitty

" / "

Enter the Devil

" • "

Bewitched Bob

" • "

Instant Replay

" / "

Taz and the Pterodactyl

" • "

Comic Madness

" / "

Blunders Never Cease

"


Season 2: "Amazing Shrinking Taz & Co." • "Oh, Brother" / "Taz-Babies" • "Jake's Big Date" / "Taz Live" • "A Midsummer Night's Scream" / "Astro Taz" • "Tazmanian Lullaby" / "Deer Taz" / "A Taz-Manian Moment" • "The Outer Taz-Manian Zone" / "Here, Kitty, Kitty, Kitty, Part 2" • "Taz-Mania's Funniest Home Videos" / "Bottle Cap Blues" • "Hypnotazed" / "Mum's n' Taz's" • "Boys Just Wanna Have Fun" / "Unhappy Together" • "Food for Thought" / "Gone to Pieces" • "Kee-Wee Cornered" / "But Is It Taz?" • "Mall Wrecked" / "A Dingo's Guide to Magic" • "The Man from M.A.R.S." / "Friends for Strife"
Season 3: "Wacky Wombat" / "Molly's Folly" • "A Flea for Me" / "A Young Taz's Fancy" • "Never Cry Taz" / "Bully for Bull" • "Of Bushrats and Hugh" • "Merit Badgered" • "Devil Indemnity" • "Willie Wombat's Deja Boo-Boo" / "To Catch a Taz" • "The Thing that Ate the Outback" / "Because It's There" • "Antenna Dilemma" / "Autograph Pound" • "Taz and the Emu Egg" / "Willy Wombat's Last Stand" / "K-Taz Commercial" • "Doubting Dingo" / "Sub Commander Taz" • "Feed a Cold" / "Sidekick for a Day" • "No Time for Christmas"
Season 4: "Road to Tazmania" • "Taz-Manian Theatre" / "The Bushrats Must Be Crazy" • "Return of the Road to Taz-Mania Strikes Back" • "Taz Like Dingo" • "The Pied Piper of Taz-Mania" / "The Treasure of the Burnt Sienna" • "Not a Shadow of a Doubt" / "Nursemaid Taz" • "Home Despair" / "Take All of Me" • "Bird-Brained Beast" / "Ready, Willing, Unable" • "We'll Always Have Taz-Mania" / "Moments You've Missed" • "Sidekicked" / "Gone with the Windbag" • "Driving Mr. Taz" / "Mean Bear" / "Taz Museum" • "Ticket Taker Taz" / "Taz2" • "Mutton for Nothing" / "Dr. Wendal and Mr. Taz" • "Taz-Mania Confidential" / "The Platypi Psonic Psensation Psimulator" • "The Not-So-Gladiators" / "One Ring Taz" • "Retakes Not Included" / "Pledge Dredge" • "Bushlad's Lament" / "Taz-Mania Comedy Institute" • "Heartbreak Taz" / "Just Be 'Cuz" • "The Taz Story Primer" / "Ask Taz" • "It's a Taz's Life" / "Gee Bull!" • "Taz in Keeweeland" / "Stuck for Bucks" / "A Philosophical Taz Moment" • "The Origin of the Beginning of the Incredible Taz-Man" / "Francis Takes a Stand" • "Yet Another Road to Taz-Mania" • "Bad Luck Bottlecap" / "A Story with a Moral" • "One Saturday in Taz-Mania" / "Platypi on Film"
v - e -

d

Episodes
Season 1: "De-Zanitized / The Monkey Song / Nighty-Night Toon" • "Yakko's World / Cookies for Einstein / Win Big" • "H.M.S. Yakko / Slappy Goes Walnuts / Yakko's Universe" • "Hooked on a Ceiling / Goodfeathers: The Beginning" • "Taming Of The Screwy" • "Temporary Insanity / Operation: Lollipop / What are We?" • "Piano Rag / When Rita Met Runt" • "The Big Candy Store / Bumbie's Mom" • "Wally Llama / Where Rodents Dare" • "King Yakko" • "No Pain, No Painting / Les Miseranimals" • "Garage Sale of the Century / West Side Pigeons" • "Hello Nice Warners / La Behemoth / Little Old Slappy from Pasadena" • "La La Law / Cat on a Hot Steel Beam" • "Space Probed / Battle for the Planet" • "Chalkboard Bungle / Hurray for Slappy / The Great Wakkorotti: The Master and His Music" • "Roll Over, Beethoven / The Cat and the Fiddle" • "Pavlov's Mice / Chicken Boo-Ryshnikov / Nothing but the Tooth" • "Meatballs or Consequences / A Moving Experience" • "Hearts of Twilight / The Boids" • "Four Score and Seven Migraines Ago / Wakko's America / Davy Omelette / The Flame" • "Guardin' the Garden / Plane Pals" • "Be Careful What You Eat / Up the Crazy River / Ta Da Dump, Ta Da Dump, Ta Da Dump Dump Dump" • "Opportunity Knox / Wings Take Heart" • "Hercule Yakko / Home on De-Nile / A Midsummer Night's Dream" • "Testimonials / Babblin' Bijou / Potty Emergency / Sir Yaksalot" • "You Risk Your Life / I Got Yer Can / Jockey for Position" • "Moby or Not Moby / Mesozoic Mindy / The Good, the Boo and the Ugly" • "Draculee, Draculaa / Phranken-Runt" • "Hot, Bothered and Bedeviled / Moon Over Minerva / Skullhead Boneyhands" • "O Silly Mio / Puttin' on the Blitz / The Great Wakkorotti: The Summer Concert" • "Chairman of the Bored / Planets Song / Astro-Buttons" • "Cartoons in Wakko's Body / Noah's Lark / The Big Kiss / Hiccup" • "Clown and Out / Bubba Bo Bob Brain" • "Very Special Opening / In the Garden of Mindy / No Place Like Homeless / Katie Ka-Boo / Baghdad Cafe" • "Critical Condition / The Three Muska-Warners" • "Dough Dough Boys / Boot Camping / General Boo-Regard" • "Spellbound" • "Smitten With Kittens / Alas Poor Skullhead / White Gloves" • "Fair Game / The Slapper / Puppet Rulers" • "Buttermilk, It Makes a Body Bitter / Broadcast Nuisance / Raging Bird" • "Animator's Alley / Can't Buy a Thrill / Hollywoodchuck" • "Of Nice and Men / What a Dump / Survey Ladies" • "Useless Facts / The Senses / The World Can Wait / Kiki's Kitten" • "Windsor Hassle / ...And Justice for Slappy" • "Turkey Jerky / Wild Blue Yonder" • "Video Review / When Mice Ruled the Earth" • "Mobster Mash / Lake Titicaca / Icebreakers" • "A Christmas Plotz / Little Drummer Warners" • "

Twas the Day Before Christmas

/

Jingle Boo

/

The Great Wakkorotti: The Holiday Concert

/

Toy Shop Terror

/ Yakko's Universe" • "

The Warners & the Beanstalk

/

Frontier Slappy

" • "

Ups and Downs

/

The Brave Little Trailer

/

Yes, Always

" • "

Drive-Insane

/

Girlfeathers

/

I'm Cute

" • "

Brain Meets Brawn

/

Meet Minerva

" • "

Gold Rush

/

A Gift of Gold

/

Dot's Quiet Time

" • "

Schnitzelbank

/

The Helpinki Formula

/

Les Boutons et le Ballon

/

Kung Boo

" • "

Of Course, You Know This Means Warners

/

Up a Tree

/

Wakko's Gizmo

" • "

Meet John Brain

/

Smell Ya Later

" • "

Ragamuffins

/

Woodstock Slappy

" • "

Karaoke-Dokie

/

The Cranial Crusader

/

The Chicken Who Loved Me

" • "Baloney & Kids /

Super Buttons

/ Katie Ka-Boom:

The Driving Lesson

" • "

Scare Happy Slappy

/

Witch One

/

MacBeth

" • "

With Three You Get Eggroll

/

Mermaid Mindy

/ Katie Ka-Boom:

Call Waiting

" • "

Lookit the Fuzzy Heads

/

No Face Like Home

" • "The Warners' 65th Anniversary Special"


Season 2: "Take My Siblings Please / The Mindy 500 / Morning Malaise" • "Miami Mama-Mia / Pigeon on the Roof" • "We're No Pigeons / Whistle Stop Mindy / Katie Ka-Boom: The Broken Date" • "I'm Mad / Bad Mood Bobby / Katie Ka-Boom: The Blemish / Fake"
Season 3: "Super Strong Warner Siblings / Nutcracker Slappy / Wakko's New Gookie / A Quake, a Quake!" • "Variety Speak / Three Tenors and You're Out / Bingo" • "Deduces Wild / Rest in Pieces / U.N. Me" • "A Hard Day's Warner / Gimme a Break / Please Please Please Get a Life Foundation" • "The Tiger Prince / All The Words in the English Language / The Kid in the Lid / Method to Her Madness" • "The Presidents Song / Don't Tread on Us / The Flame Returns" • "Gimme the Works / Buttons in Ows / Hercules Unwound" • "This Pun for Hire / Star Truck / Go Fish / Multiplication Song" • "The Sound of Warners / Yabba Dabba Boo" • "My Mother the Squirrel / The Party / Oh! Say Can You See / The Twelve Days of Christmas Song" • "Dot's Entertainment / The Girl with the Googily Goop / Gunga Dot" • "Soccer Coach Slappy / Belly Button Blues / Our Final Space Cartoon, We Promise / Valuable Lesson" • "Wakko's 2-Note Song / Panama Canal / Hello Nurse / The Ballad of Magellan / The Return of the Great Wakkorotti / The Big Wrap Party Tonight"
Season 4: "One Flew Over the Cuckoo Clock" • "Cutie and the Beast / Boo Happens / Noel" • "Jokahontas / Boids on the Hood / Mighty Wakko at the Bat" • "A Very Very Very Very Special Show / Night of the Living Buttons / Soda Jerk" • "From Burbank with Love / Anchors A-Warners / When You're Traveling from Nantucket" • "Papers for Pappa / Amazing Gladiators / Pinky and the Ralph" • "Ten Short Films About Wakko Warner / No Time for Love / The Boo Network" • "Pitter Patter of Little Feet / Mindy in Wonderland / Ralph's Wedding"
Season 5: "Back in Style / Bones in the Body" • "It / Dot - The Macadamia Nut / Bully for Skippy" • "Cute First (Ask Questions Later) / Acquaintances / Here Comes Attila / Boo Wonder" • "Hooray for North Hollywood" • "The Carpool / The Sunshine Squirrels" • "The Christmas Tree / Punchline (Part I) / Prom Night / Punchline (Part II)" • "Magic Time / The Brain's Apprentice" • "Birds on a Wire / The Scoring Session / The Animaniacs Suite"