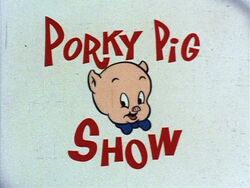 The Porky Pig Show is an American television anthology series hosted by Porky Pig, that was composed of Looney Tunes and Merrie Melodies theatrical cartoons made between 1948 and 1964. The series aired on ABC from 1964 to 1967, with 26 half-hour episodes created.
Format
Each show began with a newly-animated title sequence featuring a theme song by Barbara Cameron, in which Porky welcomes his friends into a barn to dance and watch his show. Following the three cartoons featured on the program (the first one always featuring Porky), a closing sequence played in which Porky's friends say goodbye and promise to return the following week. These opening, closing and bridge sequences were produced in New York by Hal Seeger, was Warner Bros. had shut down their own cartoon studio the previous year.
Episodes
No.
1st cartoon
2nd cartoon
3rd cartoon
Original air date
1
Often an Orphan
Mice Follies
The Super Snooper
September

20, 1964

2
Awful Orphan
Bell Hoppy
Wild Wife
September

27, 1964

3
Scaredy Cat
Baton Bunny
Feather Dusted
October

4, 1964

4
The Wearing of the Grin
The Unexpected Pest
Which is Witch?
October

11, 1964

5
Thumb Fun
Ready, Woolen and Able
Wise Quackers
October

18, 1964

6
The Prize Pest
Room and Bird
Early to Bet
October

25, 1964

7
Drip-Along Daffy
Too Hop to Handle
Chow Hound
November

1, 1964

8
The Pest That Came to Dinner
Goldimouse and the Three Cats
Two Crows from Tacos
November

8, 1964

9
Dog Collared
Strife with Father
Feline Frame-Up
November

15, 1964

10
My Little Duckaroo
A Fox in a Fix
Much Ado About Nutting
November

22, 1964

11
Fool Coverage
The Bee-Deviled Bruin
Go Fly a Kit
November

29, 1964

12
Bye, Bye Bluebeard
The Lion's Busy
Speedy Gonzales
December

6, 1964

13
An Egg Scramble
Mouse and Garden
Punch Trunk
December

13, 1964

14
Dime to Retire
Bad Ol' Putty Tat
Kiss Me Cat
December

20, 1964

15
Jumpin' Jupiter
A Hound for Trouble
Of Rice and Hen
December

27, 1964

16
Boston Quackie
A Bear for Punishment
The Egg-Cited Rooster
January

3, 1965

17
Porky Chops
It's Hummer Time
Mouse Warming
January

10, 1965

18
Boobs in the Woods
The Hypo-Chondri-Cat
Mixed Master
January

17, 1965

19
Riff Raffy Daffy
Swallow the Leader
Three Little Bops
January

24, 1965

20
Dough for the Do-Do
Gopher Broke
Pizzicato Pussycat
January

31, 1965

21
Duck Dodgers in the 24½th Century
Sleepy Time Possum
The Honey-Mousers
February

7, 1965

22
Paying the Piper
Caveman Inki
Lumber Jerks
February

14, 1965

23
Deduce, You Say
Heir-Conditioned
Cat's Paw
February

21, 1965

24
Rocket Squad
By Word of Mouse
West of the Pesos
February

28, 1965

25
China Jones
Rabbit Rampage
Mouse Mazurka
March

7, 1965

26
Cracked Quack
A Ham in a Role
Sheep Ahoy
March

14, 1965
DVD releases
Episode #1 of The Porky Pig Show was released on DVD, as part of Warner Home Video's Saturday Morning Cartoons: 1960s, Volume 1 two-disc set, on May 26, 2009. Episode #3 was included in Saturday Morning Cartoons: 1960s, Volume 2, released on October 27, 2009.
External links