The Cartoon Cartoon Show is a former Cartoon Network programming block that aired reruns of the 15 Cartoon Cartoons, as well as reruns of original Cartoon Cartoon shorts and What a Cartoon! shorts. In 2006 the programming was expanded to also include non-Cartoon Cartoons such as Foster's Home for Imaginary Friends, Hi Hi Puffy AmiYumi, Camp Lazlo, My Gym Partner's a Monkey, and Squirrel Boy. The block aired from 2000 to 2008.
This programming block is preceded by What a Cartoon! of 1995 to 1997.
History
During the summer of 2000, Cartoon Network would ran a half-hour block of Cartoon Cartoons every Friday at 9:00pm. The block would start off with the premiere of a new Cartoon Cartoon short that would be considered for a series. The second short would be the "Host Pick", where the host would present a short from a Cartoon Cartoon series. The final short would be the ".com Pick", in the audience would vote to pick one out of three shorts on CartoonNetwork.com and then the short with the most votes would get shown on Friday night.
Starting that fall up until the spring of 2001, the show moved to 7:00pm and it started with the Host Pick, followed by the .com Pick, which only happened in the case of two 11-minute shorts. If the show aired three 7-minute shorts, the second short would be "chosen" via a roulette wheel.
Starting in February 2002, The Cartoon Cartoon Show returned in the late night/early morning slot of 5:00am. Here, the shorts were just like how the show would run outside of Cartoon Cartoon Fridays: a half-hour of cartoons (mostly one-shots) from different creators. The show was taken off that summer, but it returned in the spring of 2003 as the last show of the block at 12:30am. This makes it the last program ever broadcast on Cartoon Cartoon Fridays on its final night of May 16, 2003.
In 2005, The Cartoon Cartoon Show was revived and the look was upgraded. Set in the CN City, the main theme for the new bumpers were the 2-D characters featured in a three-dimensional version of each of the show's worlds. The music was also remixed, and the Cartoon Cartoon logo was more three-dimensional and was drawn "on" the sky. Nikki, the female announcer from the City era, would shout "Cartoon Cartoon" when the logo was fully formed.
The Yes! era used a similar intro to the CN City one, only the female announcer's voice was overdubbed by a male announcer.
Programming
Starting in 2005, some Cartoon Cartoons were moved exclusively to this block and The Cartoon Cartoon Top 5, though there was also some overlap with shows that already had regular half-hour slots outside the series (such as Courage the Cowardly Dog, which returned in October 2006 as part of The Grim and Courage Hour).
Pilots (1998-2002)
Two Cartoon Cartoon shorts were produced in 1998 and one in 1999. All Cartoon Cartoon shorts produced between 2000 and 2001 were entered in The Big Pick, a contest to choose the newest Cartoon Cartoon. The shorts premiered on Cartoon Cartoon Fridays in the weeks leading up to "The Big Pick" and the winner was revealed during the actual event. The winners were The Grim Adventures of Billy & Mandy, in 2000, and Codename: Kids Next Door, in 2001.
In 2002, 8 new shorts premiered during the Cartoon Cartoon Weekend Summerfest, only this time, they weren't competing against one another. These were the final Cartoon Cartoon shorts before the brand name was dropped. One short, LowBrow, was given its own series called Megas XLR.
#
Title
Created by
Production company(s)
Air date
1
Kenny and the Chimp: Diseasy Does It! or Chimp 'n' Pox
Mr. Warburton
Hanna-Barbera
November 6, 1998
2
Mike, Lu & Og: Crash Lancelot
Mikhail Aldashin, Mikhail Shindel, and Charles Swenson
Kinofilm
November 7, 1998
3
King Crab: Space Crustacean
Bill Wray
Hanna-Barbera
August 21, 1999
4
The Grim Adventures of Billy & Mandy: Meet the Reaper
Maxwell Atoms
Hanna-Barbera
June 9, 2000
5
Whatever Happened to Robot Jones?
Greg Miller
Hanna-Barbera
June 16, 2000
6
Trevor!: Journey to Sector 5-G
Adam Shaheen and Jeff Rockburn
Cuppa Coffee Studios
June 23, 2000
7
Nikki
Debra Solomon and Todd Kessler
Sea Monkey Productions
June 30, 2000
8
Foe Paws
Chris Savino
Hanna-Barbera
July 7, 2000
9
Prickles the Cactus
Denis Morella
Curious Pictures
July 14, 2000
10
Lucky Lydia: Club Lydia
Arthur Filloy and Bob Camp
FilmGraphics Entertainment
Frames Animation•Illustration
Bob Camp Productions, Inc.
July 21, 2000
11
Longhair and Doubledome: Good Wheel Hunting
Gavrilo Gnatovich
Knock-Knock Cartoons Ltd., LLC
July 28, 2000
12
Lost Cat
David Feiss
David Feiss, Inc.
August 4, 2000
13
Uncle Gus: For the Love of Monkeys
Lincoln Peirce
Hanna-Barbera
August 11, 2000
14
Sheep in the Big City: In the Baa-ginning
Mo Willems
Curious Pictures
August 18, 2000
15
Thrillseeker: Putt 'n' Perish
Deborah Cone
Hanna-Barbera
2000
16
Captain Sturdy: Back in Action!
William Waldner, Ashley Postlewaite and Darrell Van Citters
Renegade Animation
June 8, 2001
17
Yee Hah & Doo Dah: Bronco Breakin' Boots
Kenny Duggan
Pitch Production
June 15, 2001
18
IMP, Inc.
Chris Reccardi and Charlie Bean
Cartoon Network Studios
June 22, 2001
19
My Freaky Family: Welcome to My World
John McIntyre
Cartoon Network Studios
June 29, 2001
20
Major Flake: Soggy Sale
Adam Cohen and Casper Kelly
Kurtz + Friends Animation
July 6, 2001
21
Utica Cartoon: Hotdog Champeen
Fran Krause and Will Krause
Animation Cowboys
July 13, 2001
22
Codename: Kids Next Door — No P in the OOL
Mr. Warburton
Cartoon Network Studios
July 20, 2001
23
Swaroop: Bovine Bliss
Mike Milo
Warner Bros. Animation
July 27, 2001
24
Evil Con Carne
Maxwell Atoms
Cartoon Network Studios
2001 (Unaired)
August 24, 2001 (Grim & Evil)
25
Ferret and Parrot
Scott Morse
Cartoon Network Studios
August 3, 2001
26
Uncle Gus: Not So Fast!
Lincoln Peirce
Red Sky Brand
August 10, 2001
27
A Kitty Bobo Show: Cellphones
Kevin Kaliher and Meg Dunn
Cartoon Network Studios
August 17, 2001
28
Commander Cork: Space Ranger
Mike Bell
Cartoon Network Studios
August 23, 2002
29
LowBrow: Test Drive
Jody Schaeffer and George Krstic
Cartoon Network Studios
August 23, 2002
30
Longhair and Doubledome: Where There's Smoke... There's Bob!
Gavrilo Gnatovich
Knock-Knock Cartoons Ltd., LLC
August 23, 2002
31
Jeffrey Cat: Claw and Order — All Dogs Don't Go to Heaven
Mark O'Hare
Cartoon Network Studios
August 23, 2002
32
Fungus Among Us
Wes Archer
Rough Draft Studios, Inc.
August 23, 2002
33
Colin Versus the World: Mr. Lounge Lizard
Stu Gamble
Square Centre Pictures Limited
Varga Budapest
Cartoon Network Europe
August 23, 2002
34
Maktar
Gavrilo Gnatovich
Knock-Knock Cartoons Ltd., LLC
August 23, 2002
35
Bagboy!
John Mathot and Ken Segall
Cartoon Network Studios
August 23, 2002
See also
v - e - d

"

Media

Cartoon Cartoons (Cartoon Cartoon Fridays/Cartoon Cartoon Fridays Big Pick Weekend/Cartoon Cartoon Weekend/Cartoon Cartoon Weekend Summerfest/Cartoon Cartoon Summer/The Cartoon Cartoon Show/Cartoon Cartoon Top 5/Cartoon Cartoon Primetime)
v - e - d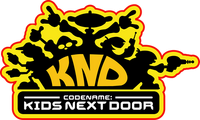 Locations
Gallagher Elementary School | Delightful Mansion From Down The Lane | Camp Lemmeouttaheah | Cavity Cave (Video Game Location) | Chickenpox Island | DNK Treehouse | Hendry Middle School | Kids Zoo |

McClintock High School | Mr. Jelly's Candy Store | Romantic Burger | Supervillains Supermarket & Deli | Sprinkle Puff Donut Shoppe | St. Rita's Preparatory School | Tasty Taste Ice Cream Factory | Tieland Commons Shopping Mall | Balooka's Grocery Store | Burger Frenzy | Cowboy Kids Treehouse | Dr. Teef's Dentist Office | Fluffy Meadows Rainbow Monkey Retirement Home | Great Library | Hap-Happy Land | Lime Ricky's Bar (a.k.a. KND Soda Speakeasy) | Memorial Hospital | Numbuh 2's House | Numbuh 3's House | Numbuh 4's House | Numbuh 5's House | Numbuh 86's House | Pinhead Lanes Bowling Alley | Plush Meadows Stuffed Animal Cemetery | Rainbow Monkey Happy Sugar Land | Rainbow Monkey Island | Supervillains Supermarket & Deli | Sure Would Forest Senior Center | Tepid Waters Swim Club | The Alamode | Sectors
v - e - d
Animated television shorts
Community content is available under
CC-BY-SA
unless otherwise noted.