Sorry, Doc, but this Article is Under Construction
This article or section is under construction/expansion. Please help us work on it.
The Amazing World of Gumball (also known simply as just Gumball) is a British-American surreal comedy animated television series created by Ben Bocquelet for Cartoon Network. Produced primarily by Cartoon Network Studios Europe, it first aired on May 3, 2011.[4] The series revolves around the lives of 12-year-old Gumball Watterson, a blue cat, and his goldfish best friend—adoptive brother 10-year-old Darwin, who attend middle school in the fictional city of Elmore. They frequently find themselves involved in various shenanigans around the city, during which time they interact with fellow family members—younger sister Anais, mother Nicole and father Richard—and an extended supporting cast of characters.
Bocquelet based several of the series' characters on rejected characters from his previous commercial work and making its premise a mixture of "family shows and school shows", which Cartoon Network was heavily interested in. He pitched The Amazing World of Gumball to the network and Turner Broadcastingexecutive Daniel Lennard subsequently greenlit production of the series. It is the first series to be produced by Cartoon Network Studios Europe, and is currently co-produced with Studio SOI in Germany and Great Marlborough Productions Limited.
One unique feature of the series is its lack of stylistic unity. Characters are designed, filmed, and animated using multiple styles and techniques (stylised traditional animation, puppetry, CGI, stop motion, Flash animation, live-action, etc.)[5]
The series has made multiple stylistic changes throughout its production, specifically in the transition between its first and second seasons. Such changes include character redesigns, an increase in the use of VFX, higher quality animation, and a shift towards a much darker, more satirical comedic style.
Ben Bocquelet later stated on September 6, 2016 that the sixth season would be his last time working on the show, but production could continue without him. However, on October 7, 2018, he retweeted an article stating that the sixth season will be the last, though the author of the article made a follow-up article saying that more seasons are still possible.[6] The series is currently on a indefinite hiatus, with its future unclear.
Production
When Cartoon Network Studios Europe was created in 2007, Ben Bocqueletwas hired to help people pitch their projects to the network. However, when the studio decided to have its employees all pitch their own ideas, he decided to take some rejected characters he had created for commercials and put them together in one series set in a school. Daniel Lennard, vice president of Original Series and Development at Turner Broadcasting System Europe, was impressed by the premise and approved production of the series. The first series to be produced by Cartoon Network Studios Europe, thirty-six episodes were produced for its first season in collaboration with Studio SOI, Dublin-based Boulder Media Limited, and Dandelion Studios
v - e - d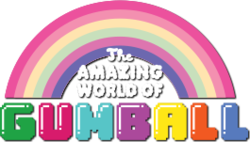 Media
The Amazing World of Gumball
Community content is available under
CC-BY-SA
unless otherwise noted.