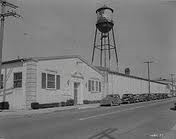 "Throughout history, man had left great landmarks of culture. These are the places where great people's ideas were born, the Parthenon, the Roman Forum, Colosseum, the Great Wall of China, the Palace of Seyid, the White House, the Eiffel Tower, Taj Mahal ...and Termite Terrace. Yes. Termite Terrace. For just as Abraham Lincoln was born in the Rubloff cabin in Illinois, so to the simple clapboard building called Termite Terrace, was "the humble birthplace" of one of the world's most beloved comedians, Bugs Bunny."
―Orson Welles, narrates about Termite Terrace, Warner Bros. studios' cartoon division

Termite Terrace was the original Warner Bros. animation studio for Looney Tunes and Merrie Melodies. Unlike most of these several animation studios, which are very larger buildings, Termite Terrace was a very small, advanced-made building, which is made of clapboard, and very infested with insects, especially termites.
Gallery
Trivia
With the very tiny wooden cartoon apartment building, Termite Terrace, Warner Bros. became the very first major movie studio to have its cartoon division.