The Teen Ninjas are an organization of high skilled trained combat teens who serve Father. The two most notable members are Cree Lincoln and Chad Dickson who are both former KND operatives. They are one of the Kids Next Doors greatest rivals since Teenagers are young adults going through puberty which is a kids worse nightmare.
History
In Operation: S.L.U.M.B.E.R., a group of ninjas hired by Father attempted to make off with the Code Module being led by Cree; Chad was keeping Numbuh 86, Numbuh 23, Numbuh 12, Numbuh 3, and Numbuh 4-30teen-7 busy and away from the Moon Base by disguising himself as Numbuh 86's mother and making her throw a slumber party. It might have worked if not for Numbuh 4's uninvited presence.
In Operation: T.R.E.A.T.Y., it is revealed that their leader is a boy named "The Steve". Like most teenagers, Teen Ninjas members are fond of torturing children in general, but most of their proper operations consists of attacks on the Kids Next Door organization.
The first episode to feature multiple Teen Ninjas was Operation: L.E.A.D.E.R.. In this episode, Chad refers to his group as "The Jets".
However, there are other undercover operative agents still working for KND, the most notable being Maurice and Chad Dickson. They are secretly infiltrating the Teen Ninjas to leak secret Teen information to KND Global Command without the other Teen Ninjas knowing.
Gallery
Trivia
They are a parody of The Foot Ninja clan from TMNT.
Before the Junior High Rebellion of 1999 when the decommissioning age was 16, the minimum age of the Teen Ninjas was 16, but now the Teen Ninjas include early teenagers (13-15) like Chad Dickson and Justin Cavallero.
v - e - d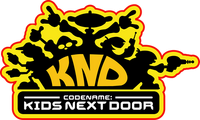 Locations
Gallagher Elementary School | Delightful Mansion From Down The Lane | Camp Lemmeouttaheah | Cavity Cave (Video Game Location) | Chickenpox Island | DNK Treehouse | Hendry Middle School | Kids Zoo |

McClintock High School | Mr. Jelly's Candy Store | Romantic Burger | Supervillains Supermarket & Deli | Sprinkle Puff Donut Shoppe | St. Rita's Preparatory School | Tasty Taste Ice Cream Factory | Tieland Commons Shopping Mall | Balooka's Grocery Store | Burger Frenzy | Cowboy Kids Treehouse | Dr. Teef's Dentist Office | Fluffy Meadows Rainbow Monkey Retirement Home | Great Library | Hap-Happy Land | Lime Ricky's Bar (a.k.a. KND Soda Speakeasy) | Memorial Hospital | Numbuh 2's House | Numbuh 3's House | Numbuh 4's House | Numbuh 5's House | Numbuh 86's House | Pinhead Lanes Bowling Alley | Plush Meadows Stuffed Animal Cemetery | Rainbow Monkey Happy Sugar Land | Rainbow Monkey Island | Supervillains Supermarket & Deli | Sure Would Forest Senior Center | Tepid Waters Swim Club | The Alamode | Sectors
Community content is available under
CC-BY-SA
unless otherwise noted.