The Teen Ninjas are an organization of high skilled trained combat teens who serve Father. The two most notable members are Cree Lincoln and Chad Dickson who are both former KND operatives. They are one of the Kids Next Doors greatest rivals since Teenagers are young adults going through puberty which is a kids worse nightmare.
History
In Operation: S.L.U.M.B.E.R., a group of ninjas hired by Father attempted to make off with the Code Module being led by Cree; Chad was keeping Numbuh 86, Numbuh 23, Numbuh 12, Numbuh 3, and Numbuh 4-30teen-7 busy and away from the Moon Base by disguising himself as Numbuh 86's mother and making her throw a slumber party. It might have worked if not for Numbuh 4's uninvited presence.
In Operation: T.R.E.A.T.Y., it is revealed that their leader is a boy named "The Steve". Like most teenagers, Teen Ninjas members are fond of torturing children in general, but most of their proper operations consists of attacks on the Kids Next Door organization.
The first episode to feature multiple Teen Ninjas was Operation: L.E.A.D.E.R.. In this episode, Chad refers to his group as "The Jets".
However, there are other undercover operative agents still working for KND, the most notable being Maurice and Chad Dickson. They are secretly infiltrating the Teen Ninjas to leak secret Teen information to KND Global Command without the other Teen Ninjas knowing.
Gallery
Trivia
They are a parody of The Foot Ninja clan from TMNT.
Before the Junior High Rebellion of 1999 when the decommissioning age was 16, the minimum age of the Teen Ninjas was 16, but now the Teen Ninjas include early teenagers (13-15) like Chad Dickson and Justin Cavallero.
v - e -

d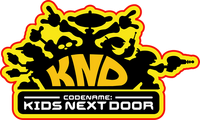 Characters
Main characters: Numbuh 1 | Numbuh 2 | Numbuh 3 | Numbuh 4 | Numbuh 5


Villains: Delightful Children From Down The Lane | Father | Mr. Boss | Mr. Wink and Mr. Fibb | Professor XXXL | Laura Limpin | Ice Cream Men | Count Spankulot | The Proper Patrol | Parent Teacher Organization Of Eradicating Youngsters | Toiletnator | Gramma Stuffum | Knightbrace | Stickybeard | Candy Pirates | Giant Turnip | Big Brother | Great Puttinski | Numbuh 30c | Professor Bob | Mutant Lice | Sir Toasty | Mr. B. | Chester | Common Cold | Chad Dickson | Mega Mom & Destructo Dad | Mrs. Goodwall | Mr. Mogul | Crazy Old Cat Lady | Crazy Old Cat Lady's cats | Mr. Fizz | Soda Control Team | Cree Lincoln | Potty Mouth | Mustaches | Ghost Hamsters | Cheese Shogun Roquefort | Cheese Ninjas | Pound Cake | Mushi Sanban | King Sandy | Knights of the Round Towel | Cuppa Joe | Mr. Washer | Interesting Twins From Beneath The Mountain | Madam Margaret/Margie | Girl Squad | Teen Ninjas | Six-Gum Gang | Numbuh 12 | Nurse Claiborne | Heinrich Von Marzipan/Henrietta Von Marzipan | Al Sugarh | Nerd Zombies | James Nixon McGarfield | Valerie | Candy Bandits | Justin Cavallero | Numbuh 206 | Black John Licorice | Negative Numbuh 1 | Negative Numbuh 2 | Negative Numbuh 3 | Negative Numbuh 4 | Negative Numbuh 5 | Negative Numbuh 86 | Eizzil Enived | Ernest | The Bullies | Soccer Mom | Robin Food | Windsor | Queen Tie | Baby Jackson | Abominable Snowsuit | Honor Roll Nerds | Couch Daves | Dodgeball Wizard | Moby Duck | Ankle Biters | Jerry Rassic | Bully Dinosaurs | Nurse Jumbo | Edna Jucation | Faculty 4 | Chef Pierre | Spankenstine Monster | Licorice Pirates | Principal Smelling | Principal Sauerbraten | Sinister Felines From Atop The Litterbox | Lieutenant Seltzer | Crayon Boy | Numbuh 48 Flavors | The Steve | Grandfather
Other characters: Sydney Beetles | Lizzie Devine | Tommy Gilligan | Betty Gilligan | Hamsters | Dr. Lincoln | Grandma Lydia | Monty Uno | Numbuh 86 | Numbuh 362 | Numbuh 65.3 | Numbuh 60 | Numbuh 83 | Numbuh 84 | Numbuh 23 | Numbuh 78 | Mrs. Beetles | Joey Beetles | Kani Sanban | Genki Sanban | Numbuh 44 | Mrs. Lincoln | Mrs. Uno | Numbuh 74.239 | Numbuh 71.562 | Dr. Sigmund Teef | Lasso Lass | Bradley | Eggbert Eggleston | Leaky Leona | Rainbow Monkeys | Willard Wallace | Joaquin | Numbuh 58 | Numbuh 59 | Mr. White | Numbuh 92 | Numbuh 93 | Ace | Sally Sanban | Boys Next Door | Coach Wetterhahn | Katie | Mr. Frybingle | Mrs. Thompson | Numbuh 41 | Numbuh 43 | Joe Balooka | Chicks | Rainbow Monkey Kong | Bethany | Rainbow Monkey Cult | Dumb John Silver | Anna Worthington | Numbuh 24 | Mr. Fluffleupagus | Jessica | Numbuh 19th Century | Numbuh 85 | Numbuh 8 | Numbuh 20/20 | Hoagie Gilligan Senior | Nick and Chip | Jenkins Hitchcock | Little Traitor Dudes For Children's Defense | Daddy | Vin Moosk | Froggy McDougal | Billy Hocslawger | Hall Squad | Numbuh 9 | Numbuh $1.50 an Hour | Wilson Woodrow | Captain James P. Dirt | Mrs. Dirt | Santa Claus | Elfa Strike Squad | Numbuh 20,000 | Patient C | Numbuh 1-Love | Numbuh 10 | Bobby Costume | Shaunie Fulbright | Stewie | Trevor | Numbuh 1,600 | Numbuh 5,000 | Numbuh 6,700 | King of Spinachia | Amerigo Vespinachio | Muffy Jenkins | Numbuh 11-Teen | Marybeth March | Professor Snuggles & Mrs. Wubsy Tubsy | Numbuh Change for a 20 | Numbuh Infinity | Lizzie's sister | Lizzie's brother-in-law | Numbuh 80 | Numbuh Ezekiel | Numbuh Rebecca | Numbuh 363 | Kenny | Chimpy | Ice Cream Guy
Crossovers: Billy | Mandy | Grim Reaper | Harold
Locations
Gallagher Elementary School | Delightful Mansion From Down The Lane | Camp Lemmeouttaheah | Cavity Cave (Video Game Location) | Chickenpox Island | DNK Treehouse | Hendry Middle School | Kids Zoo |

McClintock High School | Mr. Jelly's Candy Store | Romantic Burger | Supervillains Supermarket & Deli | Sprinkle Puff Donut Shoppe | St. Rita's Preparatory School | Tasty Taste Ice Cream Factory | Tieland Commons Shopping Mall | Balooka's Grocery Store | Burger Frenzy | Cowboy Kids Treehouse | Dr. Teef's Dentist Office | Fluffy Meadows Rainbow Monkey Retirement Home | Great Library | Hap-Happy Land | Lime Ricky's Bar (a.k.a. KND Soda Speakeasy) | Memorial Hospital | Numbuh 2's House | Numbuh 3's House | Numbuh 4's House | Numbuh 5's House | Numbuh 86's House | Pinhead Lanes Bowling Alley | Plush Meadows Stuffed Animal Cemetery | Rainbow Monkey Happy Sugar Land | Rainbow Monkey Island | Supervillains Supermarket & Deli | Sure Would Forest Senior Center | Tepid Waters Swim Club | The Alamode | Sectors