Santa Claus is a kind old man that gives presents to people every Christmas Eve. He also picks one of the children who rode the Polar Express to the North Pole the first gift of Christmas, which can be anything of their choice. Santa is generally depicted as portly, jolly, white-bearded, red-suited, and often laughing "Ho Ho Ho."
One Christmas, he chooses Hero Boy to receive the first gift. He gives Hero Boy one of the silver bells from Santa's sleigh and talks to the children, congratulating Hero Girl for her confidence and Christmas spirit and Billy for making new friends, while also scolding Know-It-All for his impatience and lack of humility, before the clock strikes midnight and he flies away in his sleigh to go give presents to children all over the world.
At some point, he finds the silver bell, which had fell out of Hero Boy's pocket and onto the floor of the sleigh, so he puts it in a present box with a note explaining what happened and advising Hero Boy to fix the hole in his pocket.
History
The Santa Claus legend is based largely on the Dutch holiday of "Sinterklaas" (a hastily pronounced "St. Nicholas", who comes down the chimney on the fifth/sixth of December) and the imagery of the Saint in question carried over to his North Pole incarnation. (Note that in several countries in Europe, Sinterklaas and Santa Claus are considered two entirely different characters, each with their own elaborate holiday.)
It is unknown where he came from, but Santa is traditionally depicted as a festively overweight old man with a long white beard, who wears a red suit with white trim and a matching cap, black boots and a black belt. Sometimes, he is seen with buttons on his shirt, and spectacles over his eyes. He lives at the North Pole in a large workshop staffed by elves which produces toys year round, and every Christmas Eve he sets out in a flying sleigh pulled by eight reindeer and delivers toys and other gifts to the children of the world out of the improbably large sack he carries with him, entering their houses by the chimney, filling their stockings, partaking of whatever food and drink the family left out for him, then leaving how he came in.
As the most prominent figure associated with Christmas, Santa Claus appears in many Christmas specials and movies, including several produced by Warner Bros. and other Time Warner media. His portrayal in them varies in many ways.
Appearances
Animated productions
Picture
Performer
Feature
Year
Notes

The Shanty Where Santy Claus Lives
1933

Mel Blanc
Bugs Bunny's Looney Christmas Tales
1979
Does not appear onscreen; is instead only heard talking to his wife.
National Lampoon's Christmas Vacation
1989
A clumsy Santa is depicted during the film's opening title sequence.
Earl Boen
A Pinky and the Brain Christmas
1995

Tom Hanks
The Polar Express
2004
Hanks' role in this CGI movie was one of many in this 2004 adaptation of Chris Van Allsburgh's story. This Santa is portrayed as stern and imposing rather than happy and jolly.
Paul Giamatti
Fred Claus
2007
Mickey Rooney
A Miser Brothers' Christmas
2008
As this special is a sequel to The Year Without a Santa Claus, this version of Santa is meant to be the same as the above-mentioned version from that special (albeit with a slightly different design). Mickey Rooney reprised the role for this special.

Fred Tatasciore
Scooby-Doo! Haunted Holidays
2012

Barry Corbin
The Looney Tunes Show: "

A Christmas Carol

"
2012

Robert Morse
Teen Titans Go!
2015-2016
Hal Smith
The Flintstones: "Christmas Flintstone"
1964
When he's sick with a flu, Santa has Fred Flintstone substitute for him.
Hal Smith
A Christmas Story
1972
Hal Smith
A Flintstone Christmas
1977
Like in the first Flintstones Christmas production, Santa has Fred substitute for him.
Hal Smith
Casper's First Christmas
1979
All that

Casper

wants for Christmas is for his friend Hairy Scary's house to not be torn down. Although Hairy doesn't believe in Christmas, Santa Claus nevertheless delivers him a deed to the condemned house.

Hal Smith
Yogi's First Christmas
1980
Peter Cullen

Christmas Comes to Pac-Land

1982

Midnight Patrol: Adventures in the Dream Zone: "

Santa-Napped

"
1990
Hal Smith

The Town Santa Forgot

1993
To repay

Jeremy Creek

for his unexpected kindness, Santa makes him his assistant in his annual trek. This would notably be the last production in which Santa was voiced by Hal Smith, who died the following year.
T.K. Carter
What a Cartoon!: "

George and Junior's Christmas Spectacular

"
1995

Jeff Bennett
Dexter's Laboratory: "Dexter Vs. Santa's Claws"
1998
Dexter attacks Santa and shaves his beard in an attempt to prove that he is really his dad in a costume.
Tom Bosley
Johnny Bravo: "

Twas the Night

"
1997
Johnny mistakes Santa for a burglar and accidentally knocks him out, forcing him to take over for Santa. At the end of the episode, Santa gives Johnny boxing gloves, vowing that next year is "Round 2".
[[:Category:|]] Earl Boen
[[:Category:|]] A Johnny Bravo Christmas
2001
In the second Johnny Bravo Christmas episode, Johnny travels to the North Pole when he forgets to send his and his mother's letters to Santa. Upon being reminded of the previous episode's events, Santa upholds his promise to Johnny.

Michael Bell
The Powerpuff Girls:

'Twas the Fight Before Christmas

2003
Santa is tricked into believing that all the kids in the world are naughty after Princess Morbucks switches the headlines around on his naughty and nice lists.

Danny Antonucci
Ed, Edd n Eddy's

Jingle Jingle Jangle

2004
Santa appears briefly near the end where he drops his sack of gifts on top of Eddy.
Tom Kane and Phil LaMarr
Foster's Home for Imaginary Friends: "A Lost Claus"
2005
Pictured here are a pair of a imaginary Santas who are created every Christmas by kids fighting with each other. (The real Santa is never shown onscreen in this special.)
Gilbert Gottfried

Billy & Mandy Save Christmas

2005
Dee Bradley Baker
Codename: Kids Next Door: "Operation: N.A.U.G.H.T.Y."
2005
Santa doesn't actually go flying around the world; instead he uses a sleigh-shaped computer to transport presents and coal into the homes of good and bad children, respectively.
Tom Kenny
Camp Lazlo: "Kamp Kringle"
2007
Ed Asner
Regular Show: "

The Christmas Special

"
2012
Santa Claus doesn't look a lot like how most people imagined he'd look like (he says TV producers made that appearance up). He has really long hair, which he has tied back into a ponytail. He wears a black jacket that is unbuttoned, revealing a red shirt, which is tucked in. He also wears brown pants, a belt, and a red scarf, and does not wear the familiar Santa hat. The only thing people got right about him was his beard. He also isn't fat at all; in fact, he has a six-pack.

Brian Blessed
The Amazing World of Gumball: "

Christmas

"
2012
As a result of being struck by a car, he believes he is a random homeless man. Richard and the kids believe him to be Santa, but he hasn't the faintest clue what they are talking about. The kids' attempts at getting his memories back only succeed in annoying him. Eventually, Nicole reveals that Santa Claus is nonexistent, causing him to realize how worthless he is. At the lowest point in his depression, he is struck in the head again, causing him to regain his memories.
Bob Joles
Uncle Grandpa: "

Christmas Special

"
2014

Jim Cummings
The Mask: "

Santa Mask

"
1995

Animaniacs: "Twas the Day Before Christmas"
1993
Live-action productions
Characters dressing as Santa Claus
Gallery
v - e -

d

Episodes
Season 1: "De-Zanitized / The Monkey Song / Nighty-Night Toon" • "Yakko's World / Cookies for Einstein / Win Big" • "H.M.S. Yakko / Slappy Goes Walnuts / Yakko's Universe" • "Hooked on a Ceiling / Goodfeathers: The Beginning" • "Taming Of The Screwy" • "Temporary Insanity / Operation: Lollipop / What are We?" • "Piano Rag / When Rita Met Runt" • "The Big Candy Store / Bumbie's Mom" • "Wally Llama / Where Rodents Dare" • "King Yakko" • "No Pain, No Painting / Les Miseranimals" • "Garage Sale of the Century / West Side Pigeons" • "Hello Nice Warners / La Behemoth / Little Old Slappy from Pasadena" • "La La Law / Cat on a Hot Steel Beam" • "Space Probed / Battle for the Planet" • "Chalkboard Bungle / Hurray for Slappy / The Great Wakkorotti: The Master and His Music" • "Roll Over, Beethoven / The Cat and the Fiddle" • "Pavlov's Mice / Chicken Boo-Ryshnikov / Nothing but the Tooth" • "Meatballs or Consequences / A Moving Experience" • "Hearts of Twilight / The Boids" • "Four Score and Seven Migraines Ago / Wakko's America / Davy Omelette / The Flame" • "Guardin' the Garden / Plane Pals" • "Be Careful What You Eat / Up the Crazy River / Ta Da Dump, Ta Da Dump, Ta Da Dump Dump Dump" • "Opportunity Knox / Wings Take Heart" • "Hercule Yakko / Home on De-Nile / A Midsummer Night's Dream" • "Testimonials / Babblin' Bijou / Potty Emergency / Sir Yaksalot" • "You Risk Your Life / I Got Yer Can / Jockey for Position" • "Moby or Not Moby / Mesozoic Mindy / The Good, the Boo and the Ugly" • "Draculee, Draculaa / Phranken-Runt" • "Hot, Bothered and Bedeviled / Moon Over Minerva / Skullhead Boneyhands" • "O Silly Mio / Puttin' on the Blitz / The Great Wakkorotti: The Summer Concert" • "Chairman of the Bored / Planets Song / Astro-Buttons" • "Cartoons in Wakko's Body / Noah's Lark / The Big Kiss / Hiccup" • "Clown and Out / Bubba Bo Bob Brain" • "Very Special Opening / In the Garden of Mindy / No Place Like Homeless / Katie Ka-Boo / Baghdad Cafe" • "Critical Condition / The Three Muska-Warners" • "Dough Dough Boys / Boot Camping / General Boo-Regard" • "Spellbound" • "Smitten With Kittens / Alas Poor Skullhead / White Gloves" • "Fair Game / The Slapper / Puppet Rulers" • "Buttermilk, It Makes a Body Bitter / Broadcast Nuisance / Raging Bird" • "Animator's Alley / Can't Buy a Thrill / Hollywoodchuck" • "Of Nice and Men / What a Dump / Survey Ladies" • "Useless Facts / The Senses / The World Can Wait / Kiki's Kitten" • "Windsor Hassle / ...And Justice for Slappy" • "Turkey Jerky / Wild Blue Yonder" • "Video Review / When Mice Ruled the Earth" • "Mobster Mash / Lake Titicaca / Icebreakers" • "A Christmas Plotz / Little Drummer Warners" • "Twas the Day Before Christmas / Jingle Boo / The Great Wakkorotti: The Holiday Concert / Toy Shop Terror / Yakko's Universe" • "The Warners & the Beanstalk / Frontier Slappy" • "Ups and Downs / The Brave Little Trailer / Yes, Always" • "Drive-Insane / Girlfeathers / I'm Cute" • "Brain Meets Brawn / Meet Minerva" • "Gold Rush / A Gift of Gold / Dot's Quiet Time" • "Schnitzelbank / The Helpinki Formula / Les Boutons et le Ballon / Kung Boo" • "Of Course, You Know This Means Warners / Up a Tree / Wakko's Gizmo" • "Meet John Brain / Smell Ya Later" • "Ragamuffins / Woodstock Slappy" • "Karaoke-Dokie / The Cranial Crusader / The Chicken Who Loved Me" • "Baloney & Kids / Super Buttons / Katie Ka-Boom: The Driving Lesson" • "Scare Happy Slappy / Witch One / MacBeth" • "With Three You Get Eggroll / Mermaid Mindy / Katie Ka-Boom: Call Waiting" • "Lookit the Fuzzy Heads / No Face Like Home" • "The Warners' 65th Anniversary Special"


Season 2: "Take My Siblings Please / The Mindy 500 / Morning Malaise" • "Miami Mama-Mia / Pigeon on the Roof" • "We're No Pigeons / Whistle Stop Mindy / Katie Ka-Boom: The Broken Date" • "I'm Mad / Bad Mood Bobby / Katie Ka-Boom: The Blemish / Fake"
Season 3: "Super Strong Warner Siblings / Nutcracker Slappy / Wakko's New Gookie / A Quake, a Quake!" • "Variety Speak / Three Tenors and You're Out / Bingo" • "Deduces Wild / Rest in Pieces / U.N. Me" • "A Hard Day's Warner / Gimme a Break / Please Please Please Get a Life Foundation" • "The Tiger Prince / All The Words in the English Language / The Kid in the Lid / Method to Her Madness" • "The Presidents Song / Don't Tread on Us / The Flame Returns" • "Gimme the Works / Buttons in Ows / Hercules Unwound" • "This Pun for Hire / Star Truck / Go Fish / Multiplication Song" • "The Sound of Warners / Yabba Dabba Boo" • "My Mother the Squirrel / The Party / Oh! Say Can You See / The Twelve Days of Christmas Song" • "Dot's Entertainment / The Girl with the Googily Goop / Gunga Dot" • "Soccer Coach Slappy / Belly Button Blues / Our Final Space Cartoon, We Promise / Valuable Lesson" • "Wakko's 2-Note Song / Panama Canal / Hello Nurse / The Ballad of Magellan / The Return of the Great Wakkorotti / The Big Wrap Party Tonight"
Season 4: "One Flew Over the Cuckoo Clock" • "Cutie and the Beast / Boo Happens / Noel" • "Jokahontas / Boids on the Hood / Mighty Wakko at the Bat" • "A Very Very Very Very Special Show / Night of the Living Buttons / Soda Jerk" • "From Burbank with Love / Anchors A-Warners / When You're Traveling from Nantucket" • "Papers for Pappa / Amazing Gladiators / Pinky and the Ralph" • "Ten Short Films About Wakko Warner / No Time for Love / The Boo Network" • "Pitter Patter of Little Feet / Mindy in Wonderland / Ralph's Wedding"
Season 5: "Back in Style / Bones in the Body" • "It / Dot - The Macadamia Nut / Bully for Skippy" • "Cute First (Ask Questions Later) / Acquaintances / Here Comes Attila / Boo Wonder" • "Hooray for North Hollywood" • "The Carpool / The Sunshine Squirrels" • "The Christmas Tree / Punchline (Part I) / Prom Night / Punchline (Part II)" • "Magic Time / The Brain's Apprentice" • "Birds on a Wire / The Scoring Session / The Animaniacs Suite"
v - e -

d

Guest/Crossovers characters
v - e -

d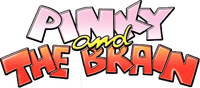 Characters
Protagonists: Brain • Pinky


Other characters: Snowball • Billie • Dr. Mordough • Precious
Pinky, Elmyra and the Brain-only characters: Elmyra Duff • Rudy Mookich • Vanity White • Wally Faust
Episodes
Pinky and the Brain Episodes
Season 1: "Das Mouse" • "Of Mouse and Man" • "Tokyo Grows" / "That Smarts" / "Brainstem" • "Pinky & the Fog" / "Where No Mouse Has Gone Before" / "Cheese Roll Call" • "Brainania" • "TV or Not TV" • "Napoleon Brainaparte" • "A Pinky and the Brain Christmas" • "Snowball" • "Around the World in 80 Narfs" • "Fly" • "Ambulatory Abe" / "Mouse of La Mancha" • "The Third Mouse" / "The Visit"
Season 2: "It's Only a Paper World" • "Collect 'Em All" / "Pinkasso" • "Plan Brain from Outer Space" • "The Pink Candidate" • "Brain's Song" • "Welcome to the Jungle" • "A Little Off the Top" / "Megalomaniacs Anonymous" • "The Mummy" / "Robin Brain" • "Two Mice and a Baby" / "The Maze" • "Brain of the Future" • "Brinky" • "Hoop Schemes"
Season 3: "Leave It to Beavers" / "Cinebrainia" • "Brain Noir" • "Pinky & the Brain... and Larry" / "Where the Deer and the Mousealopes Play" • "Brain's Bogie" / "Say What, Earth?" • "My Feldmans, My Friends" • "All You Need is Narf" / "Pinky's Plan" • "This Old Mouse" • "Brain Storm" • "A Meticulous Analysis of History" / "Funny, You Don't Look Rhennish" • "The Pinky Protocol" • "Mice Don't Dance" • "Brain Drained" • "Brain Acres" • "Pinky and the Brainmaker" / "Calvin Brain" • "Pinky Suavo" / "T.H.E.Y." • "The Real Life" • "Brain's Way" • "A Pinky and the Brain Halloween" • "Brainy Jack" • "Leggo My Ego" / "Big in Japan" • "But That's Not All, Folks!" • "Operation Sea Lion" / "You Said a Mouseful" • "The Tailor and the Mice" / "Bah, Wilderness" • "Pinky at the Bat" / "Schpiel-borg 2000" • "Broadway Malady" • "The Megalomaniacal Adventures of Brainie the Poo" / "The Melancholy Brain" • "Inherit the Wheeze" • "Brain's Night Off" / "Beach Blanket Brain" • "The Family that Poits Together, Narfs Together" • "Pinky's Turn" / "Your Friend: Global Domination" • "You'll Never Eat Food Pellets in This Town, Again!" • "Dangerous Brains" • "What Ever Happened to Baby Brain" / "Just Say Narf" • "The Pinky P.O.V." / "The Really Great Dictator" / "Brain Food"
Season 4: "Brainwashed" • "To Russia with Lab Mice" / "Hickory Dickory Bonk" • "The Pinky and the Brain Reunion Special" • "A Legendary Tail" / "Project B.R.A.I.N." • "Star Warners"
Pinky, Elmyra & the Brain Episodes: "Patty Ann" / "Gee, Your Hair Spells Terrific" • "Cute Little Alienhead" / "Better Living Through Cheese" • "My Fair Brainy!" / "The Cat That Cried Wolf" • "The Girl With Nothing Extra" / "Narfily Ever After" • "The Icky Mouse Club" / "The Man From Washington" • "At the Hop!" / "Pinky's Dream House" • "Yule Be Sorry" / "How I Spent My Weekend" • "Wag the Mouse" / "A Walk in the Park" • "The Ravin!" / "Elmyra's Music Video" / "Squeeze Play" • "Teleport a Friend" • "Mr. Doctor" / "That's Edutainment" • "Fun, Time & Space" / "Hooray for Meat" • "Party Night" / "The Mask of Braino"
v - e -

d

Characters
Main characters: Dexter / Number 12 / Action Dexter / Old Man Dexter • Dee Dee / Old Gal Dee Dee • Mom • Dad • Monkey • Major Glory • Quadraplex T-3000 Computer • Dog • Mandark / Executive Mandark / Overlord Mandark / Braindark •

Oceanbird

•

Windbear

•

Douglas E. Mordecai III

• Koosalagoopagoop •

Pony Puff Princess

•

Action Hank

• Lee Lee • Mee Mee • Phillips Luzinsky • Quackor •

Puppet Pals




Other characters: Badaxtra • Boy Band Virus • Buzzard • Cap'n Ahab • Wet Willie • Captain of Chubby Cheese's • Chubby Helpers • Cindy • Claw • Crazy Robot • Darbie Collectors • Detention Warden • Dodge Ball Bullies • Quackor the Fowl • Doo Dee • Dynomutt X-90 • Earl • Energy Thief • Fishing Rivals • Fishy • Gary • Becky & Gwen • Gooey Aliens • Gork • Gym Teacher • Human Dissecting Aliens • Hookocho • Ice Cream Man • Inter-Dimensional Monster • Jeff • JoJo • Lalavava • Major Glory Gang • Master Computer • Mat Parallax • Principal • Mom's Rival • Ms. L • Paper Ninjas • Perfect Pony • Prison Warden • Red-Eye • The Robber • Rude Dee Dee • Rude Dexter • Shoe Gnomes • The Yard • Ultrabot 2000 • Ultrabot 4000 Observation Units • Yani • Yani's wife • Arnie • Barney Rubble (cameo) • Betty Rubble (cameo) • Big Daddy Fat • Billy Bloomberg • Blue Falcon (crossover) • Cat • Charlie • Chris • Chubby Cheese • Computress • Creepy Eyed Girl • Creepy Neighborhood Boy • Dick McMann • Dexter's Friends • Dextamina • Dextor • Dextor's parents • Dynomutt (crossover) • Eccentric Man • Fergle O'Reilly • Grandpa • Jimmy Smith • Jurassic Pooch • Katka • Lisa • Lucky & Pierre • Mailman Mel • Mar-10, Fred and Tiny • Mary Weather • Midge • Mike • Miss Wimple • Mr. Chau • Miss Pimmerwikle • NASA • Neighbor Lady • Ness Monster • Old Man McCowsky • Philian Poppyseed • Professor Hawk • Professor Hawk's Fans • Professor Williams • Replacement Sisters • Santa Claus • Soyen Chen • Surfer Boy • Talking Dog • Talking Dog's Owner • Tattoo • Tiki God • Timmy • Toshi • Trevor Winkle • Miss Salinger • Koosalagoopagoop
Locations
Broken Dreams Vault

| Burrito Palace |

Chubby Cheese's

| Dad's Laboratory |

Dance School

| Dee Dee's Laborator] |

Dexter's House

| Dexter's Laboratory |

Dextopia

|

Flowertopia

|

Genius Grove

|

Hall of Heroes

|

HANK HQ

|

Huber Elementary

|

Independence Mall

|

Koosland

|

Krunk's Room

|

Major Glory's Room

|

Mandark's House

|

Mandark's Laboratory

| Mom's Laboratory | Muscular Arms |

Pony Puff Place

|

Ship-A-Drome

|

State Prison

|

Suburbs

|

Tattoo's

|

The Sewer Beyond

|

The Yard

|

Trollbe Tooth Forest

| Ultrabot's Laboratory | Valhallen's Room |

Wong's Food to Go!

|

Library

| Dee Dee's Room |

Dexter Museum
v - e -

d

Characters
Fred Claus | Santa Claus |

Wanda Blinkowski

| Mrs. Claus |

Clyde Archibald Northcutt

|

Mother Claus

|

Father Claus

|

Willie

|

Charlene

|

Samuel "Slam" Gibbons

|

DJ Donnie

|

Dr. Goldfarb
v - e -

d

Episodes
Original:
Season 1: Monkey See, Doggie Do • Mommy Fearest • Insect Inside • Powerpuff Bluff • Octi Evil • Geshundfight • Buttercrush • Fuzzy Logic • Boogie Frights • Abracadaver • Telephonies • Tough Love • Major Competition • Mr. Mojo's Rising • Paste Makes Waste • Ice Sore • Bubblevicious • The Bare Facts • Cat Man Do • Impeach Fuzz • Just Another Manic Mojo • Mime for a Change • The Rowdyruff Boys • Uh Oh Dynamo
Season 2: Stuck Up, Up and Away • Schoolhouse Rocked • Collect Her • Supper Villain • Birthday Bash • Too Pooped to Puff • Beat Your Greens • Down n' Dirty • Dream Scheme • You Snooze You Lose • Slave the Day • Los Dos Mojos • A Very Special Blossom • Daylight Savings • Mo Job • Pet Feud • Imaginary Fiend • Cootie Gras • The Powerpuff Girls Best Rainy Day Adventure Ever • Just Desserts • Twisted Sister • Cover Up • Speed Demon • Mojo Jonesin • Something's a Ms. • Slumbering with the Enemy
Season 3: Fallen Arches • The Mane Event • Town and Out • Child Fearing • Criss Cross Crisis • Bubblevision • Bought and Scold • Gettin' Twiggy With It • Cop Out • Three Girls and a Monster • Monkey See, Doggy Two • Jewel of the Aisle • Super Zeroes • Candy Is Dandy • Catastrophe • Hot Air Buffoon • Ploys R' Us • The Headsucker's Moxy • Equal Fights • Powerprof. • Moral Decay • Meet the Beat Alls • Helter Shelter • Power Lunch
Season 4: Film Flam • All Chalked Up • Get Back Jojo • Him Diddle Riddle • Super Friends • Members Only • Nano of the North • Stray Bullet • Forced Kin • Knock It Off
Season 5: Keen on Keane • Not So Awesome Blossom • Power-Noia • Monstra-City • Shut the Pup Up • Toast of the Town • Divide and Conquer • Burglar Alarmed • Shotgun Wedding • Save Mojo • Substitute Creature • The Boys Are Back in Town • See Me, Feel Me, Gnomey • Pee Pee G's • Boy Toys • Seed No Evil • The City of Clipsville • Lying Around the House • Bubble Boy • A Documentary • Girls Gone Mild • Curses • Bang for Your Buck • Silent Treatment • Sweet 'n' Sour
Season 6: Prime Mates • Coupe D'Etat • Makes Zen to Me • Say Uncle • Reeking Havoc • Live & Let Dynamo • Mo' Linguish • Oops, I Did It Again • A Made Up Story • Little Miss Interprets • Night Mayor • Custody Battle • The City of Nutsville • Aspirations • That's Not My Baby • Simian Says • Sun Scream • The City of Frownsville • West in Pieces • Crazy Mixed Up Puffs • Mizzen in Action • Roughing It Up • What's the Big Idea? • Nuthin' Special • Neighbor Hood • I See a Funny Cartoon in Your Future • Octi-Gone
Reboot:
v - e - d

Television series
1950s:
The Ruff and Reddy Show | The Huckleberry Hound Show (Yogi Bear / Pixie and Dixie and Mr. Jinks / Hokey Wolf) | The Quick Draw McGraw Show (Augie Doggie and Doggie Daddy / Snooper and Blabber)
1960s:
The Flintstones | The Yogi Bear Show (Snagglepuss / Yakky Doodle) | Top Cat | The Hanna-Barbera New Cartoon Series (Wally Gator / Touché Turtle and Dum Dum / Lippy the Lion & Hardy Har Har) | The Jetsons | The Magilla Gorilla Show (Punkin' Puss & Mushmouse / Ricochet Rabbit & Droop-a-Long) | Jonny Quest | The Peter Potamus Show (Breezly and Sneezly / Yippee, Yappee and Yahooey) | The Atom Ant Show (Precious Pupp / The Hillbilly Bears / Secret Squirrel / Squiddly Diddly / Winsome Witch) | Sinbad Jr. and his Magic Belt | Laurel and Hardy | Frankenstein, Jr. and The Impossibles | Space Ghost and Dino Boy (Space Ghost (TV series) / Dino Boy in the Lost Valley) | The Space Kidettes | The Abbott and Costello Cartoon Show | Birdman and the Galaxy Trio | The Herculoids | Shazzan | Fantastic Four | Moby Dick and Mighty Mightor | Samson & Goliath | The Banana Splits Adventure Hour (The Banana Splits / Arabian Knights / The Three Musketeers / Micro Ventures / Danger Island) | The Adventures of Gulliver | The New Adventures of Huckleberry Finn | Wacky Races | The Perils of Penelope Pitstop | Dastardly and Muttley in Their Flying Machines | Cattanooga Cats | Scooby-Doo, Where Are You!
1970s:
Harlem Globetrotters | Josie and the Pussycats | Where's Huddles? | The Pebbles and Bamm-Bamm Show | Help!... It's the Hair Bear Bunch! | The Funky Phantom | The Amazing Chan and the Chan Clan | Wait Till Your Father Gets Home | The Flintstone Comedy Hour | The Roman Holidays | Sealab 2020 | The New Scooby-Doo Movies | Josie and the Pussycats in Outer Space | Speed Buggy | Butch Cassidy and the Sundance Kids | Yogi's Gang | Super Friends | Goober and the Ghost Chasers | Inch High, Private Eye | Jeannie | The Addams Family (1973) | Hong Kong Phooey | Devlin | Partridge Family 2200 A.D. | These Are the Days | Valley of the Dinosaurs | Wheelie and the Chopper Bunch | Korg: 70,000 B.C. | The New Tom & Jerry/Grape Ape/Mumbly Show (The Tom and Jerry Show (1975) / The Great Grape Ape Show / The Mumbly Cartoon Show) | The Scooby-Doo/Dynomutt Hour (The Scooby-Doo Show / Dynomutt, Dog Wonder) | Clue Club | Jabberjaw | Fred Flintstone and Friends (The Flintstone Comedy Hour / Goober and the Ghost Chasers / Jeannie / Partridge Family 2200 A.D. / The Pebbles and Bamm-Bamm Show / Yogi's Gang) | Scooby's All-Star Laff-A-Lympics (The Scooby-Doo Show / Scooby-Doo, Where Are You! / Laff-A-Lympics / Captain Caveman and the Teen Angels / The Blue Falcon & Dynomutt) | CB Bears (Posse Impossible / Blast-Off Buzzard / Undercover Elephant / Shake, Rattle, and Roll / Heyy, It's the King!) | The Skatebirds (Clue Club / The Robonic Stooges / Wonder Wheels / Mystery Island) | The All-New Super Friends Hour (The Wonder Twins) | The Hanna-Barbera Happy Hour | The All New Popeye Hour (Dinky Dog) | Yogi's Space Race (Galaxy Goof-Ups) | Buford and the Galloping Ghost (The Buford Files / The Galloping Ghost) | Challenge of the Super Friends | Godzilla (Jana of the Jungle) | Fred and Barney Meet The Thing and the Shmoo (The New Fred and Barney Show / The Thing / The New Shmoo) | Casper and the Angels | The Super Globetrotters | Scooby-Doo and Scrappy-Doo | The World's Greatest Super Friends | Amigo and Friends
1980s:
The B.B. Beegle Show | Super Friends | Drak Pack | The Flintstone Comedy Show | The Fonz and the Happy Days Gang | The Richie Rich/Scooby-Doo Show (Scooby-Doo and Scrappy-Doo / Richie Rich) | Laverne & Shirley in the Army | Space Stars (Teen Force / Astro and the Space Mutts / Space Ghost / The Herculoids) | The Kwicky Koala Show (The Bungle Brothers / Crazy Claws / Dirty Dawg) | Trollkins | The Smurfs (Johan and Peewit) | The Flintstone Funnies (The Flintstone Family Adventures / Bedrock Cops / Pebbles, Dino and Bamm-Bamm / Captain Caveman / Dino and Cavemouse / The Frankenstones) | The Pac-Man/Little Rascals/Richie Rich Show (The Little Rascals / Richie Rich / Pac-Man) | Mork & Mindy/Laverne & Shirley/Fonz Hour | The Scooby & Scrappy-Doo/Puppy Hour (Scooby-Doo and Scrappy-Doo / Scrappy and Yabba-Doo / The Puppy's Further Adventures) | Jokebook | Shirt Tales | The Gary Coleman Show | The Dukes | The Monchhichis/Little Rascals/Richie Rich Show (Monchhichis / The Little Rascals / Richie Rich) | The Pac-Man/Rubik, the Amazing Cube Hour (Rubik, the Amazing Cube / Pac-Man) | The New Scooby and Scrappy-Doo Show (The New Scooby-Doo Mysteries) | The Biskitts | Lucky Luke | Benji, Zax & the Alien Prince | Going Bananas | Snorks | Challenge of the GoBots | Super Friends: The Legendary Super Powers Show | Paw Paws | Yogi's Treasure Hunt | Galtar and the Golden Lance | The Super Powers Team: Galactic Guardians | The 13 Ghosts of Scooby-Doo | The New Adventures of Jonny Quest | Pound Puppies | The Flintstone Kids (Captain Caveman and Son) | Foofur | Wildfire | Sky Commanders | Popeye and Son | A Pup Named Scooby-Doo | The Completely Mental Misadventures of Ed Grimley | The New Yogi Bear Show | Fantastic Max | The Further Adventures of SuperTed | Paddington Bear
1990s:
Bill & Ted's Excellent Adventures | The Adventures of Don Coyote and Sancho Panda | Tom & Jerry Kids (Droopy and Dripple / Spike and Tyke) | Wake, Rattle, and Roll | Gravedale High | Midnight Patrol: Adventures in the Dream Zone | The Pirates of Dark Water | Yo Yogi! | Young Robin Hood | Fish Police | Capitol Critters | The Addams Family | Droopy, Master Detective | The New Adventures of Captain Planet | SWAT Kats: The Radical Squadron | 2 Stupid Dogs (Super Secret Secret Squirrel | Space Ghost Coast to Coast | Dumb and Dumber | What a Cartoon! | Cave Kids | The Real Adventures of Jonny Quest | Dexter's Laboratory | Johnny Bravo | Cow and Chicken / I Am Weasel | The Powerpuff Girls
Warner Bros. Animation television series based on cartoons:
What's New, Scooby-Doo? | Shaggy & Scooby-Doo Get a Clue! | Scooby-Doo! Mystery Incorporated | Be Cool, Scooby-Doo! | Wacky Races (2017) | Scooby-Doo and Guess Who? | Yabba-Dabba Dinosaurs!
v - e -

d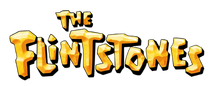 Episodes
The Flintstones Season 1:
The Flintstones Season 2:
The Flintstones Season 3:
The Flintstones Season 4:
The Flintstones Season 5:
The Flintstones Season 6:
v - e -

d
Episodes
Season 1:
Season 2:
Season 3:
Season 4:
Season 5:
Season 6:
Shorts:
v - e -

d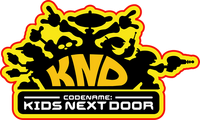 Characters
Main characters: Numbuh 1 | Numbuh 2 | Numbuh 3 | Numbuh 4 | Numbuh 5


Villains: Delightful Children From Down The Lane | Father | Mr. Boss | Mr. Wink and Mr. Fibb | Professor XXXL | Laura Limpin | Ice Cream Men | Count Spankulot | The Proper Patrol | Parent Teacher Organization Of Eradicating Youngsters | Toiletnator | Gramma Stuffum | Knightbrace | Stickybeard | Candy Pirates | Giant Turnip | Big Brother | Great Puttinski | Numbuh 30c | Professor Bob | Mutant Lice | Sir Toasty | Mr. B. | Chester | Common Cold | Chad Dickson | Mega Mom & Destructo Dad | Mrs. Goodwall | Mr. Mogul | Crazy Old Cat Lady | Crazy Old Cat Lady's cats | Mr. Fizz | Soda Control Team | Cree Lincoln | Potty Mouth | Mustaches | Ghost Hamsters | Cheese Shogun Roquefort | Cheese Ninjas | Pound Cake | Mushi Sanban | King Sandy | Knights of the Round Towel | Cuppa Joe | Mr. Washer | Interesting Twins From Beneath The Mountain | Madam Margaret/Margie | Girl Squad | Teen Ninjas | Six-Gum Gang | Numbuh 12 | Nurse Claiborne | Heinrich Von Marzipan/Henrietta Von Marzipan | Al Sugarh | Nerd Zombies | James Nixon McGarfield | Valerie | Candy Bandits | Justin Cavallero | Numbuh 206 | Black John Licorice | Negative Numbuh 1 | Negative Numbuh 2 | Negative Numbuh 3 | Negative Numbuh 4 | Negative Numbuh 5 | Negative Numbuh 86 | Eizzil Enived | Ernest | The Bullies | Soccer Mom | Robin Food | Windsor | Queen Tie | Baby Jackson | Abominable Snowsuit | Honor Roll Nerds | Couch Daves | Dodgeball Wizard | Moby Duck | Ankle Biters | Jerry Rassic | Bully Dinosaurs | Nurse Jumbo | Edna Jucation | Faculty 4 | Chef Pierre | Spankenstine Monster | Licorice Pirates | Principal Smelling | Principal Sauerbraten | Sinister Felines From Atop The Litterbox | Lieutenant Seltzer | Crayon Boy | Numbuh 48 Flavors | The Steve | Grandfather
Other characters: Sydney Beetles | Lizzie Devine | Tommy Gilligan | Betty Gilligan | Hamsters | Dr. Lincoln | Grandma Lydia | Monty Uno | Numbuh 86 | Numbuh 362 | Numbuh 65.3 | Numbuh 60 | Numbuh 83 | Numbuh 84 | Numbuh 23 | Numbuh 78 | Mrs. Beetles | Joey Beetles | Kani Sanban | Genki Sanban | Numbuh 44 | Mrs. Lincoln | Mrs. Uno | Numbuh 74.239 | Numbuh 71.562 | Dr. Sigmund Teef | Lasso Lass | Bradley | Eggbert Eggleston | Leaky Leona | Rainbow Monkeys | Willard Wallace | Joaquin | Numbuh 58 | Numbuh 59 | Mr. White | Numbuh 92 | Numbuh 93 | Ace | Sally Sanban | Boys Next Door | Coach Wetterhahn | Katie | Mr. Frybingle | Mrs. Thompson | Numbuh 41 | Numbuh 43 | Joe Balooka | Chicks | Rainbow Monkey Kong | Bethany | Rainbow Monkey Cult | Dumb John Silver | Anna Worthington | Numbuh 24 | Mr. Fluffleupagus | Jessica | Numbuh 19th Century | Numbuh 85 | Numbuh 8 | Numbuh 20/20 | Hoagie Gilligan Senior | Nick and Chip | Jenkins Hitchcock | Little Traitor Dudes For Children's Defense | Daddy | Vin Moosk | Froggy McDougal | Billy Hocslawger | Hall Squad | Numbuh 9 | Numbuh $1.50 an Hour | Wilson Woodrow | Captain James P. Dirt | Mrs. Dirt | Santa Claus | Elfa Strike Squad | Numbuh 20,000 | Patient C | Numbuh 1-Love | Numbuh 10 | Bobby Costume | Shaunie Fulbright | Stewie | Trevor | Numbuh 1,600 | Numbuh 5,000 | Numbuh 6,700 | King of Spinachia | Amerigo Vespinachio | Muffy Jenkins | Numbuh 11-Teen | Marybeth March | Professor Snuggles & Mrs. Wubsy Tubsy | Numbuh Change for a 20 | Numbuh Infinity | Lizzie's sister | Lizzie's brother-in-law | Numbuh 80 | Numbuh Ezekiel | Numbuh Rebecca | Numbuh 363 | Kenny | Chimpy | Ice Cream Guy
Crossovers: Billy | Mandy | Grim Reaper | Harold
Locations
Gallagher Elementary School | Delightful Mansion From Down The Lane | Camp Lemmeouttaheah | Cavity Cave (Video Game Location) | Chickenpox Island | DNK Treehouse | Hendry Middle School | Kids Zoo |

McClintock High School | Mr. Jelly's Candy Store | Romantic Burger | Supervillains Supermarket & Deli | Sprinkle Puff Donut Shoppe | St. Rita's Preparatory School | Tasty Taste Ice Cream Factory | Tieland Commons Shopping Mall | Balooka's Grocery Store | Burger Frenzy | Cowboy Kids Treehouse | Dr. Teef's Dentist Office | Fluffy Meadows Rainbow Monkey Retirement Home | Great Library | Hap-Happy Land | Lime Ricky's Bar (a.k.a. KND Soda Speakeasy) | Memorial Hospital | Numbuh 2's House | Numbuh 3's House | Numbuh 4's House | Numbuh 5's House | Numbuh 86's House | Pinhead Lanes Bowling Alley | Plush Meadows Stuffed Animal Cemetery | Rainbow Monkey Happy Sugar Land | Rainbow Monkey Island | Supervillains Supermarket & Deli | Sure Would Forest Senior Center | Tepid Waters Swim Club | The Alamode | Sectors
v - e -

d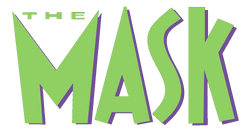 Locations
Coco Bongo Nightclub

•

Edge City

•

Edge City Bank

•

The Harbor Bridge

•

Edge City Police Station
Objects
The Mask (object)