Professor XXXL (pronounced Triple Extra-Large) is an insane scientist whose main goal is to create the perfect snowcone. He is very physically large and is constantly afflicted by mutations which give him various animal parts.
Background
Biography
The character is unique in that he has never shown to have any intentions of destroying the Kids Next Door or terrorizing kids; in both episodes which feature him as the main villain, he is thought to be carrying out an evil plan by Sector V and is revealed at the end to not be. However, he is more than willing to destroy the KND when they attempt to interfere. This misunderstanding is likely caused by the openly sinister personality with which the professor carries out his harmless endeavors. The one time his intentions were actually evil was in Operation: S.N.O.W.G.L.O.B.E. (Cartoon Network Block Party #8), when he (successfully) attempted to freeze the Earth itself into a snow cone (though he forgot to add syrup). His weapons are usually based in his animal mutations such as if he had octopus legs he would make an octopus based weapon.
Professor XXXL was originally created for Tom Warburton's unproduced series Kenny and the Chimp, and appears in Diseasy Does It or Chimp N'Pox the only episode ever made. This cartoon was included the first episode of Codename: Kids Next Door. In it, he runs a laboratory containing hundreds of deadly diseases such as the "Swine Flu" (only his version causes the victim to grow a pig's head) and SalmonEllaFitzgerald (this version causes the victim to suddenly and uncontrollably break out in song). He tasks Kenny and his pet Chimpy, whom he believes to be Kenny's brother and believes to be the smart one, to look after his lab while he attempts to destroy the PTA, who he is mortal enemies with for some absurd reason. However, he fails and his lobster arm is torn off by the PTA and served for dinner with butter.
In his first KND appearance, Operation: A.R.C.T.I.C., Professor XXXL was supposedly making a machine to eliminate snow days; after Numbuh 30c betrayed the KND, it was revealed that XXXL was in fact working to invent the perfect snowcone, and that the weather machine was being made by another scientist, Bob.
In Operation: Q.U.I.E.T., he bursts into the KND's treehouse loudly to announce that he has successfully created the perfect snowcone (amidst several other uninvited guests who attack the treehouse while Numbuh 1 is asleep). Unfortunately for him, Numbuh 5 grabs it from him and throws it at the Toilenator to prevent him from waking up Numbuh 1.
In Operation: C.O.L.L.E.G.E., Numbuh 1 believes that adults are prematurely accepting children into college so that they can remove their brains, and goes to a local university to address this supposed emergency while the rest of Sector V takes a day off at the beach. There, he is kidnapped by Professor XXXL, who claims that he intended to lure Numbuh 1 to his lair all along, but rather than intending to remove his brain, actually needed him to test his latest snowcone, as he suffers terribly from brain freezes, and needed Nigel (who is immune to them), to try the various flavors out. However, before Nigel can tell him the results of the taste test, his teammates arrive to rescue him, ignoring his attempts to explain the true nature of the situation. The Professor attempts to stop them from stealing his test subjects, but is defeated. At the end of the episode, Numbuh 1 is seen lamenting the idiocy of his teammates, revealing that the snowcone was perfect.
Despite his non-malicious nature, Professor XXXL is frequently seen at villain gatherings, including those in Operation: A.F.L.O.A.T., Operation: U.T.O.P.I.A., Operation: M.U.N.C.H.I.E.S., Operation: A.W.A.R.D.S. and Operation: Z.E.R.O.. This may mean that he hates the Kids Next Door due to their repeated interferences in his experiments.
According to the episode Kenny and the Chimp: Diseasy Does It or Chimp N'Pox, he likes ice cream cake. Also he is noted that the only child he seems to hate is Kenny, the owner of the obnoxious chimp, Chimpy. He has identified several dangerous diseases:
Swine Flu: A disease that makes your head go inside your neck and a piggy-head replaces it. To cure it, scare the piggy away with a pork product.
Salmonella-Fitz-Gerald: A disease that makes your head resemble Ella Fitz Gerald (the 1980s Jazz Singer), and sing uncontrollably like her. Surprisingly, the Help-Me-Horrible Disease Help Me Hot Line knows the cure: to lick a chimp, but they don't know where to find a chimp, especially a late afternoon on a Saturday.
In Operation: I.N.T.E.R.V.I.E.W.S., Professor XXXL has once again created a perfect snowcone, which is made a target of the scavenger hunt and stolen by Mushi Sanban and King Sandy.
Development
Voice
Characterization
Personality
Physical appearance
Different forms
In each of his appearances, Professor XXXL has a different animal-based mutation. These include:
Kenny and the Chimp: Diseasy Does It: Lobster claw for left arm
Operation: A.R.C.T.I.C.: Turtle Shell
Operation: C.O.L.L.E.G.E.: Tentacles for legs
Operation: A.F.L.O.A.T.: Turtle Shell
Operation: M.U.N.C.H.I.E.S.: Snail shell and tail
Operation: A.W.A.R.D.S.: Walrus tusks
Operation: Z.E.R.O.: Beaver tail and teeth.
Operation: I.N.T.E.R.V.I.E.W.S.: Moose antlers
Powers and abilities
Appearances
Television
Film
Gallery
Trivia
References
External links
v - e -

d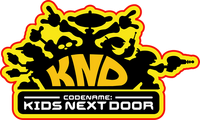 Characters
Main characters: Numbuh 1 | Numbuh 2 | Numbuh 3 | Numbuh 4 | Numbuh 5


Villains: Delightful Children From Down The Lane | Father | Mr. Boss | Mr. Wink and Mr. Fibb | Professor XXXL | Laura Limpin | Ice Cream Men | Count Spankulot | The Proper Patrol | Parent Teacher Organization Of Eradicating Youngsters | Toiletnator | Gramma Stuffum | Knightbrace | Stickybeard | Candy Pirates | Giant Turnip | Big Brother | Great Puttinski | Numbuh 30c | Professor Bob | Mutant Lice | Sir Toasty | Mr. B. | Chester | Common Cold | Chad Dickson | Mega Mom & Destructo Dad | Mrs. Goodwall | Mr. Mogul | Crazy Old Cat Lady | Crazy Old Cat Lady's cats | Mr. Fizz | Soda Control Team | Cree Lincoln | Potty Mouth | Mustaches | Ghost Hamsters | Cheese Shogun Roquefort | Cheese Ninjas | Pound Cake | Mushi Sanban | King Sandy | Knights of the Round Towel | Cuppa Joe | Mr. Washer | Interesting Twins From Beneath The Mountain | Madam Margaret/Margie | Girl Squad | Teen Ninjas | Six-Gum Gang | Numbuh 12 | Nurse Claiborne | Heinrich Von Marzipan/Henrietta Von Marzipan | Al Sugarh | Nerd Zombies | James Nixon McGarfield | Valerie | Candy Bandits | Justin Cavallero | Numbuh 206 | Black John Licorice | Negative Numbuh 1 | Negative Numbuh 2 | Negative Numbuh 3 | Negative Numbuh 4 | Negative Numbuh 5 | Negative Numbuh 86 | Eizzil Enived | Ernest | The Bullies | Soccer Mom | Robin Food | Windsor | Queen Tie | Baby Jackson | Abominable Snowsuit | Honor Roll Nerds | Couch Daves | Dodgeball Wizard | Moby Duck | Ankle Biters | Jerry Rassic | Bully Dinosaurs | Nurse Jumbo | Edna Jucation | Faculty 4 | Chef Pierre | Spankenstine Monster | Licorice Pirates | Principal Smelling | Principal Sauerbraten | Sinister Felines From Atop The Litterbox | Lieutenant Seltzer | Crayon Boy | Numbuh 48 Flavors | The Steve | Grandfather
Other characters: Sydney Beetles | Lizzie Devine | Tommy Gilligan | Betty Gilligan | Hamsters | Dr. Lincoln | Grandma Lydia | Monty Uno | Numbuh 86 | Numbuh 362 | Numbuh 65.3 | Numbuh 60 | Numbuh 83 | Numbuh 84 | Numbuh 23 | Numbuh 78 | Mrs. Beetles | Joey Beetles | Kani Sanban | Genki Sanban | Numbuh 44 | Mrs. Lincoln | Mrs. Uno | Numbuh 74.239 | Numbuh 71.562 | Dr. Sigmund Teef | Lasso Lass | Bradley | Eggbert Eggleston | Leaky Leona | Rainbow Monkeys | Willard Wallace | Joaquin | Numbuh 58 | Numbuh 59 | Mr. White | Numbuh 92 | Numbuh 93 | Ace | Sally Sanban | Boys Next Door | Coach Wetterhahn | Katie | Mr. Frybingle | Mrs. Thompson | Numbuh 41 | Numbuh 43 | Joe Balooka | Chicks | Rainbow Monkey Kong | Bethany | Rainbow Monkey Cult | Dumb John Silver | Anna Worthington | Numbuh 24 | Mr. Fluffleupagus | Jessica | Numbuh 19th Century | Numbuh 85 | Numbuh 8 | Numbuh 20/20 | Hoagie Gilligan Senior | Nick and Chip | Jenkins Hitchcock | Little Traitor Dudes For Children's Defense | Daddy | Vin Moosk | Froggy McDougal | Billy Hocslawger | Hall Squad | Numbuh 9 | Numbuh $1.50 an Hour | Wilson Woodrow | Captain James P. Dirt | Mrs. Dirt | Santa Claus | Elfa Strike Squad | Numbuh 20,000 | Patient C | Numbuh 1-Love | Numbuh 10 | Bobby Costume | Shaunie Fulbright | Stewie | Trevor | Numbuh 1,600 | Numbuh 5,000 | Numbuh 6,700 | King of Spinachia | Amerigo Vespinachio | Muffy Jenkins | Numbuh 11-Teen | Marybeth March | Professor Snuggles & Mrs. Wubsy Tubsy | Numbuh Change for a 20 | Numbuh Infinity | Lizzie's sister | Lizzie's brother-in-law | Numbuh 80 | Numbuh Ezekiel | Numbuh Rebecca | Numbuh 363 | Kenny | Chimpy | Ice Cream Guy
Crossovers: Billy | Mandy | Grim Reaper | Harold
Locations
Gallagher Elementary School | Delightful Mansion From Down The Lane | Camp Lemmeouttaheah | Cavity Cave (Video Game Location) | Chickenpox Island | DNK Treehouse | Hendry Middle School | Kids Zoo |

McClintock High School | Mr. Jelly's Candy Store | Romantic Burger | Supervillains Supermarket & Deli | Sprinkle Puff Donut Shoppe | St. Rita's Preparatory School | Tasty Taste Ice Cream Factory | Tieland Commons Shopping Mall | Balooka's Grocery Store | Burger Frenzy | Cowboy Kids Treehouse | Dr. Teef's Dentist Office | Fluffy Meadows Rainbow Monkey Retirement Home | Great Library | Hap-Happy Land | Lime Ricky's Bar (a.k.a. KND Soda Speakeasy) | Memorial Hospital | Numbuh 2's House | Numbuh 3's House | Numbuh 4's House | Numbuh 5's House | Numbuh 86's House | Pinhead Lanes Bowling Alley | Plush Meadows Stuffed Animal Cemetery | Rainbow Monkey Happy Sugar Land | Rainbow Monkey Island | Supervillains Supermarket & Deli | Sure Would Forest Senior Center | Tepid Waters Swim Club | The Alamode | Sectors
"
v - e -

d

Media
Cartoon Cartoons (Cartoon Cartoon Fridays/Cartoon Cartoon Fridays Big Pick Weekend/Cartoon Cartoon Weekend/Cartoon Cartoon Weekend Summerfest/Cartoon Cartoon Summer/The Cartoon Cartoon Show/Cartoon Cartoon Top 5/Cartoon Cartoon Primetime)