The S.S. Poseidon is a fictional transatlantic express liner that first appeared in the 1969 novel The Poseidon Adventure by Paul Gallico and later in four films based on the novel. The ship is named after the god of the seas in Greek mythology.
Descriptions
In the 1979 film, Beyond the Poseidon Adventure, which is a direct continuation of the story from the first film, the Poseidon is an abandoned overturned wreck that has not yet sunk. She is boarded by a small group of salvagers and a group of terrorists in disguise (who are looking for gold and a lost plutonium shipment). Eventually trapped in the ship, they encounter a group of passengers and crew who are still aboard. In the end, the Poseidon's boilers and plutonium cargo explode, sinking the ship permanently and, worse, irradiating her wreckage to unsafe levels.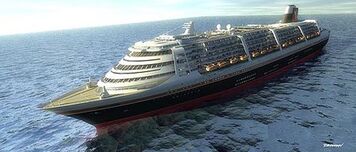 In the 2006 film, Poseidon, the ship is not a cruise ship, but a British ocean liner registered in Southampton, which is sailing from an unnamed port in the United Kingdom (presumably London as one of the characters mentions it briefly) to New York City. While the first film used Queen Mary as a stand-in for Poseidon, the ship in the 2006 film has an original exterior design not based on any real-life vessel although the interior was inspired by the ocean liner RMS Queen Mary 2. This Poseidon is also struck by a huge rogue wave just after midnight on New Year's Eve and capsizes, but unlike the original the cause of the wave is never explained.
Gallery
Trivia
Community content is available under
CC-BY-SA
unless otherwise noted.