"Operation: S.N.O.W.I.N.G." (Sickly Nigel Opposes Warped Incumbent's Nasty Grasp) is the 10th episode of Codename: Kids Next Door's season 4. It's aired in the United States on May 27, 2005.
Synopsis
President James McGarfield wants to turn the republic into an empire.
Plot
It's a snow day and all the members of Sector V are out enjoying their day off from school, except Nigel, who is stuck at home with a cold. Hoagie and Wallabee are patrolling the playground to make sure everything is alright, while Kuki and Abigail are patrolling another area. The two boys bump into Lizzie, who is on her way to Nigel's house to give him the special chicken banana fritter soup with extra curly fries she made to make him feel better. But judging by Hoagie and Wallabee's expressions when they get a whiff of the soup, it might actually make Nigel feel worse (or possibly kill him according to Wallabee). Despite being told this, Lizzie simply replies that the two of them have no taste.
Onboard his aircraft, a now-villainous President Jimmy stares down at the playing kids with anger, since he had called for a school assembly today to crown his queen and expected everyone to show up, regardless of whether there was a snow day or not apparently. It is revealed that his secretary Anna, who is the Common Cold's niece, asked her uncle to make Nigel sick to keep him from ruining Jimmy's plans. After ordering his Bus Walkers to be released, Jimmy then orders the Honor Roll to go capture an unknown target.
The Bus Walkers storm the playground and begin grabbing the kids. Abigail rallies everyone to fight back. Wallabee and his group shoot snowballs at them, while Hoagie and his group provide aerial assistance, but they are captured after being hit by a barrage of textbooks. While Numbuh 5's group acts as a distraction, Numbuh 3's group uses streamers to trip up one of the Bus Walkers, but it doesn't work and they are captured as well. Wallabee and Abigail are soon captured themselves.
At Nigel's house, Lizzie has finally gotten her boyfriend to have some soup by forcing him to eat it, and unsurprisingly it disgusts him. Nigel sees the Bus Walkers outside and learns from Lizzie about Jimmy forcing everyone to attend the assembly. Before he leaves to go fight, Lizzie gives him the soup thermos, telling him to "use the soup". While she watches him fly off in the F.L.I.E.R.P.L.A.C.E., shadowed figures appear behind her.
Jimmy is furious when he sees Nigel and demands that he be blasted out of the sky. Numbuh 1 does well at first, but between the F.L.I.E.R.P.L.A.C.E. taking multiple hits and him being sick, he ultimately ends up crashing into the ground. A delighted Jimmy is informed that his target has been acquired - none other than Lizzie, with whom he is in love.
TRANSMISSION INTERRUPTED
Out in the snow, Nigel is visited by an apparition of Lizzie, who once again tells him to "use the soup", despite his protests.
Back on Jimmy's aircraft, he orders Anna to go keep an eye on their prisoners, especially the KND. After she leaves, Lizzie is brought before him by the Honor Roll and demands to know what's going on. He asks if she has ever thought of becoming a queen, and says he could make her one, if she agrees to be his bride. While Lizzie is flattered by the offer, she politely refuses since she's already dating Nigel. But the undeterred Jimmy unveils a boyfriend helmet, which he modified so it would work on her causing a confused Lizzie to respond with, "You want a boyfriend?!". Lizzie is then dragged off to be prepared for the assembly, with Jimmy taunting her about Nigel never making it past his defenses.
The other members of Sector V are now shackled and making their way into the assembly hall with the other kids. Abigail's communicator starts ringing and she asks Kuki to try getting it out of her coat pocket. However, they are caught by Anna, who takes the device and says it is just what she needs.
Jimmy is presented to the booing audience as their "4th Grade President For Life" and declares his intent to crown Lizzie as his queen. His speech is interrupted when Nigel shows up. The Hall Squad prepares to attack Nigel but the other members of his sector, now free thanks to Anna, intercept them, allowing Nigel to go save Lizzie. Jimmy lassos him and pulls him up to the rafters where they have their final showdown, so the job of saving Lizzie falls to the rest of Sector V, but they are unable to remove the helmet since it is fusing to her head. To Nigel's dismay, the now-brainwashed Lizzie announces that she loves Jimmy, and Jimmy prepares to finish him off. Nigel recalls Lizzie's words and uses the soup thermos to block Jimmy's attack. The soup falls out and onto the helmet, causing it to short-circuit and the building explodes.
While everyone goes back to enjoying the snow day, Jimmy is arrested by the KND and learns that Anna helped them, because she was in love with Jimmy and jealous of his feelings for Lizzie. Jimmy is touched that she did all that for him, and the feeling appears to be mutual. As they are led onboard the KND's S.P.R.A.Y.S.H.I.P., Wallabee expresses disgust at their mushiness and says no one will EVER catch him acting like that, not with ANYONE, which angers Kuki, who pushes him in the snow for saying that. Only Wallabee doesn't know why.
Cast
Releases
Home Media
International Premieres
June 10, 2005 (Latin America/Brazil)
Development
Gallery
Trivia
Errors
Cultural References
Notes
Episode Connections
Production Notes
References
v - e -

d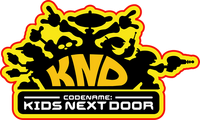 Characters
Main characters: Numbuh 1 | Numbuh 2 | Numbuh 3 | Numbuh 4 | Numbuh 5


Villains: Delightful Children From Down The Lane | Father | Mr. Boss | Mr. Wink and Mr. Fibb | Professor XXXL | Laura Limpin | Ice Cream Men | Count Spankulot | The Proper Patrol | Parent Teacher Organization Of Eradicating Youngsters | Toiletnator | Gramma Stuffum | Knightbrace | Stickybeard | Candy Pirates | Giant Turnip | Big Brother | Great Puttinski | Numbuh 30c | Professor Bob | Mutant Lice | Sir Toasty | Mr. B. | Chester | Common Cold | Chad Dickson | Mega Mom & Destructo Dad | Mrs. Goodwall | Mr. Mogul | Crazy Old Cat Lady | Crazy Old Cat Lady's cats | Mr. Fizz | Soda Control Team | Cree Lincoln | Potty Mouth | Mustaches | Ghost Hamsters | Cheese Shogun Roquefort | Cheese Ninjas | Pound Cake | Mushi Sanban | King Sandy | Knights of the Round Towel | Cuppa Joe | Mr. Washer | Interesting Twins From Beneath The Mountain | Madam Margaret/Margie | Girl Squad | Teen Ninjas | Six-Gum Gang | Numbuh 12 | Nurse Claiborne | Heinrich Von Marzipan/Henrietta Von Marzipan | Al Sugarh | Nerd Zombies | James Nixon McGarfield | Valerie | Candy Bandits | Justin Cavallero | Numbuh 206 | Black John Licorice | Negative Numbuh 1 | Negative Numbuh 2 | Negative Numbuh 3 | Negative Numbuh 4 | Negative Numbuh 5 | Negative Numbuh 86 | Eizzil Enived | Ernest | The Bullies | Soccer Mom | Robin Food | Windsor | Queen Tie | Baby Jackson | Abominable Snowsuit | Honor Roll Nerds | Couch Daves | Dodgeball Wizard | Moby Duck | Ankle Biters | Jerry Rassic | Bully Dinosaurs | Nurse Jumbo | Edna Jucation | Faculty 4 | Chef Pierre | Spankenstine Monster | Licorice Pirates | Principal Smelling | Principal Sauerbraten | Sinister Felines From Atop The Litterbox | Lieutenant Seltzer | Crayon Boy | Numbuh 48 Flavors | The Steve | Grandfather
Other characters: Sydney Beetles | Lizzie Devine | Tommy Gilligan | Betty Gilligan | Hamsters | Dr. Lincoln | Grandma Lydia | Monty Uno | Numbuh 86 | Numbuh 362 | Numbuh 65.3 | Numbuh 60 | Numbuh 83 | Numbuh 84 | Numbuh 23 | Numbuh 78 | Mrs. Beetles | Joey Beetles | Kani Sanban | Genki Sanban | Numbuh 44 | Mrs. Lincoln | Mrs. Uno | Numbuh 74.239 | Numbuh 71.562 | Dr. Sigmund Teef | Lasso Lass | Bradley | Eggbert Eggleston | Leaky Leona | Rainbow Monkeys | Willard Wallace | Joaquin | Numbuh 58 | Numbuh 59 | Mr. White | Numbuh 92 | Numbuh 93 | Ace | Sally Sanban | Boys Next Door | Coach Wetterhahn | Katie | Mr. Frybingle | Mrs. Thompson | Numbuh 41 | Numbuh 43 | Joe Balooka | Chicks | Rainbow Monkey Kong | Bethany | Rainbow Monkey Cult | Dumb John Silver | Anna Worthington | Numbuh 24 | Mr. Fluffleupagus | Jessica | Numbuh 19th Century | Numbuh 85 | Numbuh 8 | Numbuh 20/20 | Hoagie Gilligan Senior | Nick and Chip | Jenkins Hitchcock | Little Traitor Dudes For Children's Defense | Daddy | Vin Moosk | Froggy McDougal | Billy Hocslawger | Hall Squad | Numbuh 9 | Numbuh $1.50 an Hour | Wilson Woodrow | Captain James P. Dirt | Mrs. Dirt | Santa Claus | Elfa Strike Squad | Numbuh 20,000 | Patient C | Numbuh 1-Love | Numbuh 10 | Bobby Costume | Shaunie Fulbright | Stewie | Trevor | Numbuh 1,600 | Numbuh 5,000 | Numbuh 6,700 | King of Spinachia | Amerigo Vespinachio | Muffy Jenkins | Numbuh 11-Teen | Marybeth March | Professor Snuggles & Mrs. Wubsy Tubsy | Numbuh Change for a 20 | Numbuh Infinity | Lizzie's sister | Lizzie's brother-in-law | Numbuh 80 | Numbuh Ezekiel | Numbuh Rebecca | Numbuh 363 | Kenny | Chimpy | Ice Cream Guy
Crossovers: Billy | Mandy | Grim Reaper | Harold
Locations
Gallagher Elementary School | Delightful Mansion From Down The Lane | Camp Lemmeouttaheah | Cavity Cave (Video Game Location) | Chickenpox Island | DNK Treehouse | Hendry Middle School | Kids Zoo |

McClintock High School | Mr. Jelly's Candy Store | Romantic Burger | Supervillains Supermarket & Deli | Sprinkle Puff Donut Shoppe | St. Rita's Preparatory School | Tasty Taste Ice Cream Factory | Tieland Commons Shopping Mall | Balooka's Grocery Store | Burger Frenzy | Cowboy Kids Treehouse | Dr. Teef's Dentist Office | Fluffy Meadows Rainbow Monkey Retirement Home | Great Library | Hap-Happy Land | Lime Ricky's Bar (a.k.a. KND Soda Speakeasy) | Memorial Hospital | Numbuh 2's House | Numbuh 3's House | Numbuh 4's House | Numbuh 5's House | Numbuh 86's House | Pinhead Lanes Bowling Alley | Plush Meadows Stuffed Animal Cemetery | Rainbow Monkey Happy Sugar Land | Rainbow Monkey Island | Supervillains Supermarket & Deli | Sure Would Forest Senior Center | Tepid Waters Swim Club | The Alamode | Sectors