"We are the Kids Next Door, Numbuh 4! We save kids. That's our job."
―Numbuh 5
Abigail "Abby" (Gilligan) Lincoln a.k.a. Numbuh 5 is the intelligent, relaxed girl second-in-command/spy in Sector V. She became a KND operative three years before the show started as shown in Operation: M.A.U.R.I.C.E.. She was trained by her older sister, Cree (Numbuh 11), and joined her sister, Numbuhs 8a and 8b, and Numbuh 9 in Sector V.
After Cree betrayed and was defected from the KND, Numbuh 5 became the leader of Sector V, until she allowed Numbuh 1 to take over after she found and hacked his grades for his KND Entrance Exam. She is the oldest member of Sector V.
Background
Physical Appearance
Abigail is a slender African-American girl who wears a white-striped dark blue shirt dress, a red cap that was given to her by her sister Cree, and golden hoop earrings. She has long black hair, which she keeps in a braid, and she wears white mary-janes.
Personality
Numbuh 5 is the intelligent, laid-back, cool, calm, responsible, book smart and streetwise agent of Sector V, and the only one with true common sense. Like Nigel, she is one of the only members of her team that takes her missions seriously. To go along with her cool personality, she refers to herself as "Numbuh 5" in third person, saying "Numbuh 5" rather than "I" most of the time. Not only is she the smartest of her team, but one of the smartest students at Gallagher Elementary School, where she is a honor student. She is more rational, as demonstrated in Operation: O.U.T.B.R.E.A.K., where she did not jump to the conclusion that Numbuh 4 had cooties. She knew he was having an allergic reaction, and she does not think cooties are real.
Unlike her teammate Numbuh 3, Numbuh 5 is very tomboyish, not having much interest in anything girly, such as Rainbow Monkeys, and is often seen in tuxedos rather than dresses (Although in Operation: L.I.Z.Z.I.E., Numbuh 4 complains about her "stupid girl magazines"). However, like Numbuh 3, she is considered rather attractive, as shown in Operation: R.O.B.B.E.R.S., when a member of the Six-Gum Gang tries to flirt with her, but fails since Numbuh 5 has little interest in boys. However, in Operation: M.A.U.R.I.C.E., she is shown to have a crush on Numbuh 9 ever since she was younger and was the only one to have knowledge that Numbuh 9 wasn't decommissioned.
Like her teammates, Numbuh 5 distrusts teenagers and adults, having a fierce rivalry with her sister, Cree Lincoln, who taught her most of her skills. In Operation: M.A.U.R.I.C.E., she expressed her anger of becoming a teenager to a point where she yelled at Numbuh 3 when she questions her about her birthday. After Maurice (Numbuh 9) informs her that she may be able to join him in the Teen Operative group of the KND after her 13th birthday, her anger subsided and she was reassured.
In Operation: D.I.A.P.E.R., Numbuh 5 has a motherly side to her and acts like a big sister figure to most of her teammates throughout the show. It was revealed in the same episode that Numbuh 5 has a brilliant singing voice and in Operation: M.A.C.A.R.R.O.N.I., she is also very artistic. Also, she seems to know the most about Numbuh 4's crush on Numbuh 3, as she teases him about it along with Numbuh 2.
Numbuh 5's passion in life is candy and ice cream. She is shown to be an experienced candy hunter with sharp candy instincts and extensive knowledge of candy artifacts and lore, as shown in Operation: F.L.A.V.O.R., Operation: J.E.W.E.L.S., and Operation: C.A.R.A.M.E.L.. When not on KND missions, Numbuh 5 will go on a candy adventure by herself, much to Numbuh 1's annoyance. Her two best known rivals are Stickybeard and Henrietta Von Marzipan, a long-time rival and former partner.
In Operation: F.E.R.A.L. and Operation: I.N.T.E.R.V.I.E.W.S., Numbuh 5 shows her disinterest of becoming Sector V's leader, having something to do with an incident with her teammate Numbuh 1, possibly from the events in Operation: G.R.O.W.-U.P. Reluctantly at the end of Operation: I.N.T.E.R.V.I.E.W.S., she was made leader again after Numbuh 1 went off to the Galactic KND. It was stated in Operation: I.N.T.E.R.V.I.E.W.S., she became Supreme Leader of the Kids Next Door after Numbuh 362 stepped down from her position.
Costumes
Abilities
Appearances
Relationships
Quotes
Gallery
Trivia
Her most prized characteristic, according to Operation: C.A.R.A.M.E.L., is her coolness, which is "quite the delicacy" for Henrietta.
Her codename is Numbuh 5 because of her surname Lincoln, and Abraham Lincoln is on the $5.00 bill.

Abigail and her family are also African-American, who were freed by her presidential namesake. As a member of the KND, Abigail expresses a similar desire to free all children from oppression.

She and Numbuh 2 are the only members of their sector who have American-style accents.
Most of the clothes she wears represent the flag colors of several democratic nations: red, white, and blue.
She is the only Sector V operative whose parent's faces haven't been seen.
Her older brother has kids, which made her an aunt at a young age.
Interestingly, Abigail's older sister is named Cree, and the voice actress of Numbuh 5 and her sister is Cree Summer.
She has also been temporaily delightfulized in Operation: D.A.T.E.. Her delightfulized look was similar to the braid girl. She also wears glasses while delightfulized and in the pilot, indicating that her eyes may have an impediment.
Abigail and

Vin Moosk

are the only characters to refer to themselves in the third person, though Abigail refers to herself by her code name.
Abigail is the first character apart from Lizzie to have called Numbuh 1 "Nigie". She called him that after hearing Lizzie ask Numbuh 1 if he's going to introduce her to his friends, ending the question with "Nigie", in Operation: L.I.Z.Z.I.E.. Abigail later called him "Nigie" at the end of Operation: A.W.A.R.D.S. and in Operation: R.E.C.E.S.S..
External Links
v - e -

d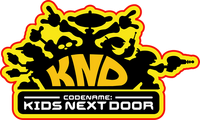 Characters
Main characters: Numbuh 1 | Numbuh 2 | Numbuh 3 | Numbuh 4 | Numbuh 5


Villains: Delightful Children From Down The Lane | Father | Mr. Boss | Mr. Wink and Mr. Fibb | Professor XXXL | Laura Limpin | Ice Cream Men | Count Spankulot | The Proper Patrol | Parent Teacher Organization Of Eradicating Youngsters | Toiletnator | Gramma Stuffum | Knightbrace | Stickybeard | Candy Pirates | Giant Turnip | Big Brother | Great Puttinski | Numbuh 30c | Professor Bob | Mutant Lice | Sir Toasty | Mr. B. | Chester | Common Cold | Chad Dickson | Mega Mom & Destructo Dad | Mrs. Goodwall | Mr. Mogul | Crazy Old Cat Lady | Crazy Old Cat Lady's cats | Mr. Fizz | Soda Control Team | Cree Lincoln | Potty Mouth | Mustaches | Ghost Hamsters | Cheese Shogun Roquefort | Cheese Ninjas | Pound Cake | Mushi Sanban | King Sandy | Knights of the Round Towel | Cuppa Joe | Mr. Washer | Interesting Twins From Beneath The Mountain | Madam Margaret/Margie | Girl Squad | Teen Ninjas | Six-Gum Gang | Numbuh 12 | Nurse Claiborne | Heinrich Von Marzipan/Henrietta Von Marzipan | Al Sugarh | Nerd Zombies | James Nixon McGarfield | Valerie | Candy Bandits | Justin Cavallero | Numbuh 206 | Black John Licorice | Negative Numbuh 1 | Negative Numbuh 2 | Negative Numbuh 3 | Negative Numbuh 4 | Negative Numbuh 5 | Negative Numbuh 86 | Eizzil Enived | Ernest | The Bullies | Soccer Mom | Robin Food | Windsor | Queen Tie | Baby Jackson | Abominable Snowsuit | Honor Roll Nerds | Couch Daves | Dodgeball Wizard | Moby Duck | Ankle Biters | Jerry Rassic | Bully Dinosaurs | Nurse Jumbo | Edna Jucation | Faculty 4 | Chef Pierre | Spankenstine Monster | Licorice Pirates | Principal Smelling | Principal Sauerbraten | Sinister Felines From Atop The Litterbox | Lieutenant Seltzer | Crayon Boy | Numbuh 48 Flavors | The Steve | Grandfather
Other characters: Sydney Beetles | Lizzie Devine | Tommy Gilligan | Betty Gilligan | Hamsters | Dr. Lincoln | Grandma Lydia | Monty Uno | Numbuh 86 | Numbuh 362 | Numbuh 65.3 | Numbuh 60 | Numbuh 83 | Numbuh 84 | Numbuh 23 | Numbuh 78 | Mrs. Beetles | Joey Beetles | Kani Sanban | Genki Sanban | Numbuh 44 | Mrs. Lincoln | Mrs. Uno | Numbuh 74.239 | Numbuh 71.562 | Dr. Sigmund Teef | Lasso Lass | Bradley | Eggbert Eggleston | Leaky Leona | Rainbow Monkeys | Willard Wallace | Joaquin | Numbuh 58 | Numbuh 59 | Mr. White | Numbuh 92 | Numbuh 93 | Ace | Sally Sanban | Boys Next Door | Coach Wetterhahn | Katie | Mr. Frybingle | Mrs. Thompson | Numbuh 41 | Numbuh 43 | Joe Balooka | Chicks | Rainbow Monkey Kong | Bethany | Rainbow Monkey Cult | Dumb John Silver | Anna Worthington | Numbuh 24 | Mr. Fluffleupagus | Jessica | Numbuh 19th Century | Numbuh 85 | Numbuh 8 | Numbuh 20/20 | Hoagie Gilligan Senior | Nick and Chip | Jenkins Hitchcock | Little Traitor Dudes For Children's Defense | Daddy | Vin Moosk | Froggy McDougal | Billy Hocslawger | Hall Squad | Numbuh 9 | Numbuh $1.50 an Hour | Wilson Woodrow | Captain James P. Dirt | Mrs. Dirt | Santa Claus | Elfa Strike Squad | Numbuh 20,000 | Patient C | Numbuh 1-Love | Numbuh 10 | Bobby Costume | Shaunie Fulbright | Stewie | Trevor | Numbuh 1,600 | Numbuh 5,000 | Numbuh 6,700 | King of Spinachia | Amerigo Vespinachio | Muffy Jenkins | Numbuh 11-Teen | Marybeth March | Professor Snuggles & Mrs. Wubsy Tubsy | Numbuh Change for a 20 | Numbuh Infinity | Lizzie's sister | Lizzie's brother-in-law | Numbuh 80 | Numbuh Ezekiel | Numbuh Rebecca | Numbuh 363 | Kenny | Chimpy | Ice Cream Guy
Crossovers: Billy | Mandy | Grim Reaper | Harold
Locations
Gallagher Elementary School | Delightful Mansion From Down The Lane | Camp Lemmeouttaheah | Cavity Cave (Video Game Location) | Chickenpox Island | DNK Treehouse | Hendry Middle School | Kids Zoo |

McClintock High School | Mr. Jelly's Candy Store | Romantic Burger | Supervillains Supermarket & Deli | Sprinkle Puff Donut Shoppe | St. Rita's Preparatory School | Tasty Taste Ice Cream Factory | Tieland Commons Shopping Mall | Balooka's Grocery Store | Burger Frenzy | Cowboy Kids Treehouse | Dr. Teef's Dentist Office | Fluffy Meadows Rainbow Monkey Retirement Home | Great Library | Hap-Happy Land | Lime Ricky's Bar (a.k.a. KND Soda Speakeasy) | Memorial Hospital | Numbuh 2's House | Numbuh 3's House | Numbuh 4's House | Numbuh 5's House | Numbuh 86's House | Pinhead Lanes Bowling Alley | Plush Meadows Stuffed Animal Cemetery | Rainbow Monkey Happy Sugar Land | Rainbow Monkey Island | Supervillains Supermarket & Deli | Sure Would Forest Senior Center | Tepid Waters Swim Club | The Alamode | Sectors