New Zealand is an island country in the southwest area of Pacific Ocean. The country geographically comprises two main landmasses—the North Island (or Te Ika-a-Māui), and the South Island (or Te Waipounamu)—and around 600 smaller islands. New Zealand is situated some 1,500 kilometres (900 mi) east of Australia across the Tasman Sea and roughly 1,000 kilometres (600 mi) south of the Pacific island areas of New Caledonia, Fiji, and Tonga.
v - e - d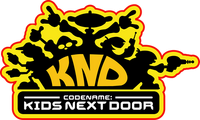 Locations
Gallagher Elementary School | Delightful Mansion From Down The Lane | Camp Lemmeouttaheah | Cavity Cave (Video Game Location) | Chickenpox Island | DNK Treehouse | Hendry Middle School | Kids Zoo |

McClintock High School | Mr. Jelly's Candy Store | Romantic Burger | Supervillains Supermarket & Deli | Sprinkle Puff Donut Shoppe | St. Rita's Preparatory School | Tasty Taste Ice Cream Factory | Tieland Commons Shopping Mall | Balooka's Grocery Store | Burger Frenzy | Cowboy Kids Treehouse | Dr. Teef's Dentist Office | Fluffy Meadows Rainbow Monkey Retirement Home | Great Library | Hap-Happy Land | Lime Ricky's Bar (a.k.a. KND Soda Speakeasy) | Memorial Hospital | Numbuh 2's House | Numbuh 3's House | Numbuh 4's House | Numbuh 5's House | Numbuh 86's House | Pinhead Lanes Bowling Alley | Plush Meadows Stuffed Animal Cemetery | Rainbow Monkey Happy Sugar Land | Rainbow Monkey Island | Supervillains Supermarket & Deli | Sure Would Forest Senior Center | Tepid Waters Swim Club | The Alamode | Sectors
Community content is available under
CC-BY-SA
unless otherwise noted.