Emma Webster, more know as Granny, is one of the few humans major characters in the Looney Tunes and Merrie Melodies cartoons. In almoust your all appearances she is the owner of at least Sylvester, Tweety and Hector the Bulldog (sometimes).
Background
Official Description
Granny is a good-natured widow who is extremely protective of her beloved canary, Tweety. Unfortunately, Granny's overprotectiveness becomes apparent whenever Tweety is threatened, usually by Sylvester. Although having the appearance of a kindly old woman, Granny has demonstrated her cleverness in many cartoons.
At least until the mid-1950s, Granny is depicted as an elderly spinster who wears spectacles, a gray bun, and a late 19th-century-like schoolmarm dress; other old fashioned characteristics include her mode of transportation (usually, a Ford Model T or a horse and buggy) and her inability to relate to present fads (such as her telling Tweety she's about to try on a new "bikini bathing suit", which turns out to be a full one-piece outfit from the turn-of-the-20th century). However, after 1955 — particularly the years after Foray began voicing the character — the character's wardrobe was updated, and her old-fashioned tastes and ways of life were de-emphasized, and she was sometimes given newer careers, such as a nurse or a bus driver.
Development
Design and Prototype
Granny has gone through several design changes. The earliest version of Granny can be seen in the 1937 cartoon Little Red Walking Hood. Another version with black hair appeared in 1941's The Cagey Canary and another changed design is seen in 1943's Hiss and Make Up. She received several other make-overs from 1940 to 1960, as shown in cartoons such as Canary Row (1950) and A Pizza Tweety Pie (1958). Granny is usually the owner of Tweety Bird and also serves as his protector. Sylvester The Cat often finds a way to break into Granny's house for the sole purpose of finding a meal. In later cartoons, Granny appears to be the owner of both Tweety and Sylvester. Granny appears to be unmarried, or maybe a widow, since she obviously lives by herself.
Voice
Granny was voiced by the late June Foray, the same person who voiced her in the original shorts from the 1950s to the 1960s. This makes Granny the only character to have the same voice actor for the original shorts and The Looney Tunes Show, as June Foray and Stan Freberg were the only two original voice actors still alive at the time of production.
Granny's latest actress, June Foray, passed away on July 26, 2017. Candi Milo, who already voiced her descendant Queen Grannicus in Loonatics Unleashed, replaced Foray as the voice of Granny.
Personality
Granny is generally a good natured, is extremely protective of her beloved canary, Tweety. Granny's overprotectiveness becomes apparent whenever Tweety is threatened (usually by Sylvester, a hungry "puddytat" who prefers eating birds over cat food). Although having the appearance as a kindly old woman, Granny has demonstrated her cleverness in all his appearances.
Appearances
Animated Shorts
Television
In 1995, she makes an important appearance in The Sylvester & Tweety Mysteries series. In it, Granny is a detective who investigates any kind of mystery with Tweety, Sylvester and Hector the Bulldog. In it, is also explained why Granny always walk with a lens in the neck (the magnifying glass is it; research).
Granny is still active gaining popularity in recent years. She takes care of the Looney Tunes babies in Baby Looney Tunes where it has a nephew named Floyd Minton, who started to make appearances later in the series to take the babies on trips.
An episode of Loonatics Unleashed features a cameo of Granny herself, apparently still alive in the year 2772. Later, having featured characters named Queen Grannicus (a possible descendent of Granny), the Royal Tweetums and Sylth Vester.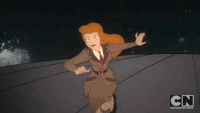 And also appeared as a recurring character in The Looney Tunes Show. In it, Granny is one of Bugs and Daffy's neighbors and is voiced by June Foray. In Eligible Bachelors, it is revealed that during World War II, Granny was a WAC spy and along with Tweety, "a carrier pigeon", she stopped Nazi Colonel Frankenheimer from stealing the Eiffel Tower and various paintings from the Louvre. During the flashback, she appears as an attractive red-headed young woman in WAC uniform. In The Grand Old Duck of York, it is revealed that Granny teaches piano lessons too. His students were Daffy and Winnie Yang.
Films
Web series
Granny appeared in Webtoons, where she gained a series of 3 shorts, the Judge Granny. This shorts shows another version of Granny, such as a Judge resolving cases of some Looney Tunes major characters.
Printed Media
Comic Books
Miscellaneous Books
Video games
Theme Parks
Filmography
Relationships
Quotes
Gallery
Trivia
Notes
See also
Old Woman (Hiss and Make Up)
External Links
v - e -

d
Music
Theme Song | Fly Like an Eagle | The Winner | I Believe I Can Fly | Hit 'Em High (The Monstars' Anthem) | I Found My Smile Again | For You I Will | Upside Down ('Round-N-'Round) | Givin' U All That I've Got | Basketball Jones | I Found My Smile Again | I Turn to You | All of My Days | That's the Way (I Like It) | Buggin'| We Win | Jump | Everybody Wants to Rule the World | Tom Sawyer | Run Wild | The Crowd Go Crazy | We're Not Gonna Take It | Space Jam Rap Battle | Everything's Not Awesome | Man in the Mirror | BBC | You Wouldn't Know (feat. Ellen McClain)
Locations
Moron Mountain | Looney Tune Land | The Tune Stadium | Schlesinger Gym | Server-verse | Harry Potter World | DC World | Mad Max World | Austin Powers World | Casablanca World | Game of Thrones World | The Wizard of Oz World | The Matrix World | Wonder Woman World | The LEGO Movie World | The Lord of the Rings World | The Mask World | Ready Player One World | Scooby-Doo World | The Flintstones World | The Jetsons World | Yogi Bear World | Gremlins World | The Goonies World | Beetlejuice World | Ninjago World | Adventure Time World | The Powerpuff Girls World | Teen Titans Go! World
v - e -

d

Characters
Live-action:
Animated:
v - e -

d

Episodes
Season 1: "De-Zanitized / The Monkey Song / Nighty-Night Toon" • "Yakko's World / Cookies for Einstein / Win Big" • "H.M.S. Yakko / Slappy Goes Walnuts / Yakko's Universe" • "Hooked on a Ceiling / Goodfeathers: The Beginning" • "Taming Of The Screwy" • "Temporary Insanity / Operation: Lollipop / What are We?" • "Piano Rag / When Rita Met Runt" • "The Big Candy Store / Bumbie's Mom" • "Wally Llama / Where Rodents Dare" • "King Yakko" • "No Pain, No Painting / Les Miseranimals" • "Garage Sale of the Century / West Side Pigeons" • "Hello Nice Warners / La Behemoth / Little Old Slappy from Pasadena" • "La La Law / Cat on a Hot Steel Beam" • "Space Probed / Battle for the Planet" • "Chalkboard Bungle / Hurray for Slappy / The Great Wakkorotti: The Master and His Music" • "Roll Over, Beethoven / The Cat and the Fiddle" • "Pavlov's Mice / Chicken Boo-Ryshnikov / Nothing but the Tooth" • "Meatballs or Consequences / A Moving Experience" • "Hearts of Twilight / The Boids" • "Four Score and Seven Migraines Ago / Wakko's America / Davy Omelette / The Flame" • "Guardin' the Garden / Plane Pals" • "Be Careful What You Eat / Up the Crazy River / Ta Da Dump, Ta Da Dump, Ta Da Dump Dump Dump" • "Opportunity Knox / Wings Take Heart" • "Hercule Yakko / Home on De-Nile / A Midsummer Night's Dream" • "Testimonials / Babblin' Bijou / Potty Emergency / Sir Yaksalot" • "You Risk Your Life / I Got Yer Can / Jockey for Position" • "Moby or Not Moby / Mesozoic Mindy / The Good, the Boo and the Ugly" • "Draculee, Draculaa / Phranken-Runt" • "Hot, Bothered and Bedeviled / Moon Over Minerva / Skullhead Boneyhands" • "O Silly Mio / Puttin' on the Blitz / The Great Wakkorotti: The Summer Concert" • "Chairman of the Bored / Planets Song / Astro-Buttons" • "Cartoons in Wakko's Body / Noah's Lark / The Big Kiss / Hiccup" • "Clown and Out / Bubba Bo Bob Brain" • "Very Special Opening / In the Garden of Mindy / No Place Like Homeless / Katie Ka-Boo / Baghdad Cafe" • "Critical Condition / The Three Muska-Warners" • "Dough Dough Boys / Boot Camping / General Boo-Regard" • "Spellbound" • "Smitten With Kittens / Alas Poor Skullhead / White Gloves" • "Fair Game / The Slapper / Puppet Rulers" • "Buttermilk, It Makes a Body Bitter / Broadcast Nuisance / Raging Bird" • "Animator's Alley / Can't Buy a Thrill / Hollywoodchuck" • "Of Nice and Men / What a Dump / Survey Ladies" • "Useless Facts / The Senses / The World Can Wait / Kiki's Kitten" • "Windsor Hassle / ...And Justice for Slappy" • "Turkey Jerky / Wild Blue Yonder" • "Video Review / When Mice Ruled the Earth" • "Mobster Mash / Lake Titicaca / Icebreakers" • "A Christmas Plotz / Little Drummer Warners" • "Twas the Day Before Christmas / Jingle Boo / The Great Wakkorotti: The Holiday Concert / Toy Shop Terror / Yakko's Universe" • "The Warners & the Beanstalk / Frontier Slappy" • "Ups and Downs / The Brave Little Trailer / Yes, Always" • "Drive-Insane / Girlfeathers / I'm Cute" • "Brain Meets Brawn / Meet Minerva" • "Gold Rush / A Gift of Gold / Dot's Quiet Time" • "Schnitzelbank / The Helpinki Formula / Les Boutons et le Ballon / Kung Boo" • "Of Course, You Know This Means Warners / Up a Tree / Wakko's Gizmo" • "Meet John Brain / Smell Ya Later" • "Ragamuffins / Woodstock Slappy" • "Karaoke-Dokie / The Cranial Crusader / The Chicken Who Loved Me" • "Baloney & Kids / Super Buttons / Katie Ka-Boom: The Driving Lesson" • "Scare Happy Slappy / Witch One / MacBeth" • "With Three You Get Eggroll / Mermaid Mindy / Katie Ka-Boom: Call Waiting" • "Lookit the Fuzzy Heads / No Face Like Home" • "The Warners' 65th Anniversary Special"


Season 2: "Take My Siblings Please / The Mindy 500 / Morning Malaise" • "Miami Mama-Mia / Pigeon on the Roof" • "We're No Pigeons / Whistle Stop Mindy / Katie Ka-Boom: The Broken Date" • "I'm Mad / Bad Mood Bobby / Katie Ka-Boom: The Blemish / Fake"
Season 3: "Super Strong Warner Siblings / Nutcracker Slappy / Wakko's New Gookie / A Quake, a Quake!" • "Variety Speak / Three Tenors and You're Out / Bingo" • "Deduces Wild / Rest in Pieces / U.N. Me" • "A Hard Day's Warner / Gimme a Break / Please Please Please Get a Life Foundation" • "The Tiger Prince / All The Words in the English Language / The Kid in the Lid / Method to Her Madness" • "The Presidents Song / Don't Tread on Us / The Flame Returns" • "Gimme the Works / Buttons in Ows / Hercules Unwound" • "This Pun for Hire / Star Truck / Go Fish / Multiplication Song" • "The Sound of Warners / Yabba Dabba Boo" • "My Mother the Squirrel / The Party / Oh! Say Can You See / The Twelve Days of Christmas Song" • "Dot's Entertainment / The Girl with the Googily Goop / Gunga Dot" • "Soccer Coach Slappy / Belly Button Blues / Our Final Space Cartoon, We Promise / Valuable Lesson" • "Wakko's 2-Note Song / Panama Canal / Hello Nurse / The Ballad of Magellan / The Return of the Great Wakkorotti / The Big Wrap Party Tonight"
Season 4: "One Flew Over the Cuckoo Clock" • "Cutie and the Beast / Boo Happens / Noel" • "Jokahontas / Boids on the Hood / Mighty Wakko at the Bat" • "A Very Very Very Very Special Show / Night of the Living Buttons / Soda Jerk" • "From Burbank with Love / Anchors A-Warners / When You're Traveling from Nantucket" • "Papers for Pappa / Amazing Gladiators / Pinky and the Ralph" • "Ten Short Films About Wakko Warner / No Time for Love / The Boo Network" • "Pitter Patter of Little Feet / Mindy in Wonderland / Ralph's Wedding"
Season 5: "Back in Style / Bones in the Body" • "It / Dot - The Macadamia Nut / Bully for Skippy" • "Cute First (Ask Questions Later) / Acquaintances / Here Comes Attila / Boo Wonder" • "Hooray for North Hollywood" • "The Carpool / The Sunshine Squirrels" • "The Christmas Tree / Punchline (Part I) / Prom Night / Punchline (Part II)" • "Magic Time / The Brain's Apprentice" • "Birds on a Wire / The Scoring Session / The Animaniacs Suite"