Godzilla is a 2014 American science fiction monster film directed by Gareth Edwards and a reboot of Toho's Godzilla franchise. It is the 30th film in the Godzilla franchise, the first film in Legendary's Godzilla–Kong film series, and the second Godzilla film to be completely produced by a Hollywood studio, the first being the 1998 film of the same name. It stars Aaron Taylor-Johnson, Ken Watanabe, Elizabeth Olsen, Juliette Binoche, Sally Hawkins, David Strathairn, and Bryan Cranston.
The film is a co-production between Legendary Pictures and Warner Bros. Pictures, with the latter also distributing the film worldwide, except in Japan where it was distributed by Toho. The project initially began in 2004 and was originally intended to be an IMAX short film but was later transferred to Legendary for development as a feature film. Principal photography took place in the United States and Canada in 2013.
Godzilla was released worldwide in 2D, 3D and IMAX on May 16, 2014 to positive reviews and was a box office success, grossing $200 million domestically and $529.1 million worldwide. The film's success prompted Toho to produce a reboot of their own and Legendary to proceed with sequels and a shared cinematic franchise, with Godzilla 2 set to be released in 2019 and Godzilla vs. Kong to be released in 2020.
Plot
In 1954, Godzilla, an ancient alpha predator, is lured to an island in an attempt to kill it with a nuclear bomb. In 1999, Project Monarch scientists Ishiro Serizawa (Ken Watanabe) and Vivienne Graham (Sally Hawkins) investigate a colossal skeleton unearthed in a collapsed mine in the Philippines. They find two giant spores; one dormant and one hatched that made a trail into the sea. In Japan, the Janjira Nuclear Power Plant experiences unusual seismic activity; and Supervisor Joe Brody (Bryan Cranston) sends his wife Sandra (Juliette Binoche) and a team of technicians into the reactor. A tremor breaches the reactor, leaving Sandra and her team unable to escape while the plant collapses.
Fifteen years later, Joe's son Ford (Aaron Taylor-Johnson), a U.S. Navy explosive ordnance disposal officer, returns from a tour of duty to his family in San Francisco but has to immediately depart for Japan after Joe is detained for trespassing in the Janjira quarantine zone. Joe persuades Ford to accompany him to their old home in the quarantine zone to retrieve vital data. They successfully retrieve the data but are discovered by soldiers and taken to a secret facility in the power plant's ruins. After several power failures, a giant winged creature emerges and escapes, destroying the facility. Joe is severely wounded and dies after being evacuated by helicopter to the U.S.S. Saratoga. The incident is reported around the world as an earthquake.
Serizawa, Graham, and Ford join a U.S. Navy task force led by Admiral William Stenz (David Strathairn) to search for the creature, called "MUTO" (Massive Unidentified Terrestrial Organism). Serizawa and Graham reveal to Ford that a 1954 deep sea expedition triggered the appearance of Godzilla, nuclear tests in the 1950s were really attempts to kill him, they have been secretly studying Godzilla, the MUTO caused the Janjira meltdown, and how Godzilla and the MUTO are connected with each other. Ford reveals that Joe had monitored echolocation signals that indicated the winged MUTO was communicating with something.
The MUTO attacks a Russian submarine and drops it in Hawaii, on land. Godzilla arrives, causing a tsunami in Honolulu and briefly engages the MUTO in battle, before it flees. Meanwhile, a second, larger, wingless MUTO emerges in Nevada and devastates Las Vegas. The scientists deduce that the second MUTO is female, that the female was the one the male was communicating with, and that the two MUTOs will meet to breed in San Francisco. Over the scientists' objections, Stenz approves a plan to use nuclear warheads to lure and destroy the monsters. Ford joins a team delivering the warheads by train. The female MUTO intercepts the train and devours most of the warheads. The single remaining warhead is airlifted to San Francisco and activated after Godzilla arrives. The male MUTO steals the warhead and takes it to the female, who forms a nest around it in the Chinatown area.
While Godzilla and the MUTOs battle, a strike team, including Ford, enters the city via HALO jump to find and disarm the warhead. Unable to access the timer, the team sets the warhead on a boat for disposal at sea while Ford blows up the MUTO nest. The MUTOs initially get the upper hand, but Godzilla emerges victorious in the end and collapses on the shore. Ford is rescued and reunites with his family at an emergency shelter the following morning. Godzilla awakens and returns to sea with the media hailing him as "King of the Monsters - savior of our city?"
Cast
Aaron Taylor-Johnson as Lieutenant Ford Brody
Sally Hawkins as Doctor Vivienne Graham
David Strathairn as Admiral William Stenz
CJ Adams as Young Ford Brody
Anthony Konechny as PO2 Thatch
Victor Rasuk as Sergeant Tre Morales
Patrick Sabongui as Master Sergeant Marcus Waltz
Brian Markinson as Whalen
Richard T. Jones as Captain Russell Hampton
Al Sapienza as Huddleston
Kevin O'Grady as Firefighter
Ed Rosek as Firefighter
Ed Belanger as Firefighter
Steve Wesley as Firefighter
Matt Ortega as Firefighter
Steven Wiig as Couple
Jared Keeso as Jump Master Griffin
Aaron Pearl as Doctor Carsin
Yuki Morita as Akio's Mother
James Kot as Navy Surgeon
Taylor Nichols as Military Analyst
James Pizzinato as SFG #2 Crane
Taya Clyne as School Bus Kid
Kenneth Carrella as Medic
Ed Heavey as Medic
Rich Paul as Major Mason
Paul Chirico as Halo Jumper
John O'Brien as Evacuation Worker
Nel Venzon as Angry Miner
Keo Woolford as Airport Worker
Michael Patrick Denis as Officer on Ship Deck
Jeric Ross as Dying Man in Triage
Steven M. Murdzia as Beret Leader
Primo Allonine as Team Member
Paul Edney as Tsunami Survivor
Jesse Reid as Ordinance Tech
Jake Cunanan as Akio
Jodie Yee as Wounded FEMA Citizen
Warren Takeuchi as Akio's Father
Corey Craig as Soldier
Max Clough as Soldier
Edward Flynn as Runner James
Peter Dwerryhouse as Wheelchair Evacuee
Yukari Komatsu as Teacher
Akira Takarada as Japanese Immigration Agent (Deleted scene)
T.J. Storm as Godzilla (Motion capture, uncredited)
Production
The film was first announced at Comic-Con 2010 where an early concept art impression for the new Godzilla was revealed. Gareth Edwards, director of the movie Monsters was announced as the director. Mr. Edwards stated he knows the importance of getting the film right for the fans. In October 2010, David Callaham was named to write the first draft of the script. After Callaham, four more persons worked on the screenplay during the course film's development.
David Goyer (the story writer for The Dark Knight trilogy) was been announced as a writer for the movie. Many fans were excited about the this choice as they say David Goyer (along with Christopher Nolan) brought justice for the Batman movies using dark themes. However, Goyer only worked a few weeks on the script and did not get a screenwriter credit. In November 2011, Max Borenstein was hired to continue work on the script. In October 2012, Legendary announced that writer Drew Pearce would polish the final script, making the principal characters older to suit the actors that Legendary intends to cast.In January 2013, Frank Darabont (writer-director of The Shawshank Redemption and The Walking Dead), was officially added to work on the film script.
In 2007, film producer Brian Rogers met former Toho company director Yoshimitsu Banno who had the rights to make an IMAX 3D Godzilla film. Rogers then met Toho to arrange a license to produce a 3D Godzilla film. After securing the rights, Rogers approached several film companies and Legendary Pictures agreed to work with Rogers on the project. In August 2009, rumors surfaced that Legendary were in talks with Toho to produce a new American Godzilla film to be released in 2012.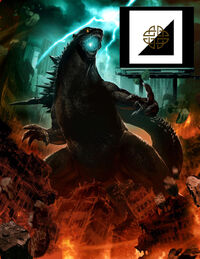 On March 29, 2010, it was confirmed that Legendary had acquired the rights to Godzilla. They plan to reboot the franchise with Warner Bros. co-producing and co-financing. TriStar Pictures will not be involved in the production because their rights to the character expired in 2003. Legendary plans to make the new film closer in style to the original Japanese character than TriStar's
iguana-like creature
. According to Thomas Tull, chairman and CEO of Legendary Pictures, "Our plans are to produce the Godzilla that we, as fans, would want to see. We intend to do justice to those essential elements that have allowed this character to remain as pop culturally relevant for as long as it has".
At the 3D Summit conference held in September 2010 at Universal Studios, producer Brian Rogers confirmed the planned date of 2012. The reboot will be a live-action project featuring a computer-generated Godzilla. Godzilla will fight at least one other monster, rather than the United States Army like in Roland Emmerich's film. It was also mentioned that Godzilla will use his atomic breath, a trademark weapon omitted by Emmerich and co-writer/producer Dean Devlin in the previous American film in favor of power breath.
Frank Darabont, the screenwriter, described his plans for Godzilla as returning it to a "terrifying force of nature" in interviews. The film will add a "very compelling human drama" and that Godzilla would be tied to a "different contemporary issue" rather than the original atomic bomb testing. Director Gareth Edwards, at a promotional appearance in 2012, described the tone of the film. "We're just going to take it really seriously. I've wanted to see this movie this way all my life. Imagine if this really happened – as crazy as it sounds – what would it really be like?".
In January 2013, it was reported that Warner Brothers, in a meeting for advertisers, revealed that the film would contain two new monsters in addition to Godzilla, and the plot of the film would revolve around the story of a young U.S. Marine. David Goyer, who is also a screenwriter, stated that there were two other monsters in the script when he worked on it.
Elizabeth Olsen described the film as "definitely not lighthearted. It's kind of going back to its roots of the original Japanese film" and that "there's a strong theme of the importance of family, as well as the theme of trying to control nature, and how that backfires in the end".[1] Cranston says that he plays a scientist called Joe Brody that "discovers an anomaly in some sonar, signalings, patterns, and is just starting an investigation when all hell breaks loose".[1]
In an interview with Collider.com, Gareth Edwards said that the U.S. government knew about Godzilla for some time, and that the nuclear tests that they did were actually attempts to kill Godzilla.[2]
Development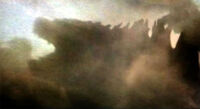 During Comic-con 2012, director Gareth Edwards participated in a Godzilla panel, in which they screened a new teaser trailer, described as so, a destroyed city is seen, as Robert Oppenheimer's speech comes in, "I am become death, destroyer of worlds" as a huge dead centipede type creature is smoldering, and finally, a roar is heard, and the camera cuts to Godzilla, true to his Japanese origins, roaring. This same trailer was leaked a year later.
[3]
As of September 13, 2012, the movie's release date has been announced. The movie will be released on May 16, 2014.
On October 3, 2012, the movie is set to be in production on March 2013 in Vancouver. Also, Drew Pearce, the screenwriter of Iron Man 3, has been hired to do some rewrites to the script.
On December 18, 2012, a screenshot of, what appears to be, the Godzilla trailer was posted on the Tumblr of Jordane Menard, the modeler concept and texture artist for the film. Menard has said "I'm Working on the Trailer of the next Godzilla here at MPC London as Modeler and Texture Artist. I've worked on the foreground on the building and the characters." Also, Drew Pearce was asked, on his Twitter, if there's going to be some scenes where
Godzilla
breathes fire, destroys buildings, taking out the military, done right and will be nothing like the 1998 film and his response was "There's a lot of of it in the current trailer... but new stuff coming very soon..."
Announced on March 13, 2013, the film has started production and filming on Vancouver Island.[4] Also, Jim Rygiel, visual effects supervisor of The Lord of the Rings: The Fellowship of the Ring, has been hired to do the special effects for this film.
On March 18, 2013, Warner Bros. Pictures and Legendary Pictures announced the final principal cast for the film, Aaron Taylor-Johnson, Ken Watanabe, Elizabeth Olsen, Juliette Binoche, David Strathairn and Bryan Cranston. Also, the film will be distributed worldwide by Warner Brothers while Toho will be distributing it in Japan, and the film will be in 3D.[5]
On March 19, 2013, Gareth Edwards has announced that they've finished filming the first scene.[6] Also, reports of a burning helicopter and a nuclear missile being transported by a train have been cited at Nanaimo, Vancouver Island, all of this is rumored to be in the movie.[7]
On March 21, 2013, Richard T. Jones joins the cast of the movie.[8]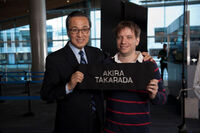 On March 28, 2013, Akira Takarada, who starred in previous
Godzilla
films, joins the cast of the movie.
[9]
On April 5, 2013, Sally Hawkins joins the cast of the movie.[10]
On April 17th, 2013, Brian Markinson joins the cast of the movie.[11]
On April 20th, 2013, Yuki Morita joins the cast of the movie.[12]
On April 23rd, 2013, it has been revealed that Godzilla will continue filming for two months in Hawaii.[13]
On April 25th, 2013, Legendary posted a picture in their wall showing a path of destruction Godzilla has left behind.
[14]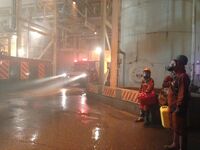 On May 2nd, 2013, Legendary posted a picture in their wall showing what seems to be a power plant.
[15]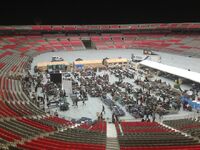 On May 16th, 2013, a new photo about people being hospitalized in the FEMA stadium popped up and was confirmed by Gareth Edwards appearing in it in an update.
[16]
On May 18, 2013, Legendary posted a new picture in their Twitter.[17] Other sources, like Lainey Gossip, PUNKD Images, Spoilertv, Clayton Perry Photography, and VancityFilming have put up additional pictures and videos.[18]
On May 22, 2013, Legendary uploaded a new photo to their Facebook page
[19]
. It shows top secret documents that do not reveal much, but it also reveals a map of Maintop and Maintop Bay (Farallon Islands), which used to have nuclear waste dumped into them in real life.
[20]
On May 24, Legendary was filming a scene with what seems like a ship set.[21]
On June 6, 2013, Legendary uploaded a new photo to their Facebook page.
[22]
On June 10, 2013, many pictures appeared on Comicbookmovie.com surrounding the filming of the film.[23]
On June 6, 2013, many pictures featuring Aaron Taylor-Johnson and Bryan Cranston were uploaded in m.justjared.com.[24]
On June 17, 2013, Variety.com released an article that says that 'Godzilla' will have action figures, with Bandai America Incorporated as the film's master toy partner.[25]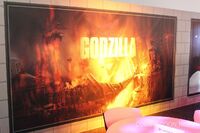 On June 18, 2013, Comingsoon.net released pictures of posters from Licensing Expo 2013, including Jurassic Park 4, Ninja Turtles, and Godzilla.
[26]
On June 19, 2013, Legendary posted a new photo on their Facebook showing a closed radioactive containment door.[27]
On June 22, 2013, yvrshoots.com released pictures of Elizabeth Olsen on set.[28]
On Saturday, July 20, 2013, sometime from 10:45 to 1:15 at Comic-Con, Legendary and Warner Bros. showed a preview for the film.[29]
On July 15, 2013, IGN.com released a teaser poster for the Legendary Godzilla.
[30]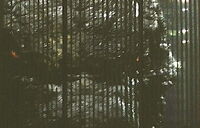 On July 17, 2013, Deadline.com spotted and released an image of Godzilla from the Godzilla Encounter at SDCC 2013.
[31]
On July 17, 2013, Collider.com posted around 75 pictures of what was inside Legendary's Godzilla Encounter museum.[32] Between the many pictures, two concept designs of the Legendary Godzilla can be seen.
Again on July 17, 2013, the Official Legendary Godzilla Facebook page released the third official poster for the film which reveals
Godzilla
's tail.
[33]
On July 19, 2013, ShockTillYouDrop.com interviewed Gareth Edwards.[34] They found out the following facts:
The last day of filming was July 18, 2013.
Godzilla will be a force of nature, not an antagonist or a hero, but an anti-hero. "He's the punishment we deserve".
The theme is man versus nature, and Godzilla "is definitely on the nature side".
There's a nuclear element in the movie, and the film will be "as realistic as possible".
Toho was very involved in designing Godzilla. Edwards said "they feel we've stayed true to their roots. In the encyclopedias and books you read about Godzilla, there's these different groups - all of the Godzillas in one section and then there's the American film. I'd love ours to be considered as part of the Toho group."
On Comic-Con July 20, 2013, in an interview with IGN[35] Edwards has confirmed that this will be the tallest Godzilla ever.
On Comic-Con July 20, 2013, another trailer was shown. Cosmicbooknews.com posted what happened in it:[36]
"Starts off by showing a beach with atomic testing and mushroom cloud with ash falling from the sky with the Godzilla movie logo then shown. Now the footage that was shown at least year's Comic-Con is revealed, described as a "mood piece" (i.e. get the crowd excited). The footage of the destroyed city is shown with Oppenheimer's famous quote, "We knew the world would not be the same. Some people cried. Most people were silent." Gareth Edwards then steps on to the stage followed by Elizabeth Olsen, Aaron Taylor-Johnson and Bryan Cranston. Elizabeth Olsen says she plays a mother and a nurse in Godzilla. Cranston is next kidding that he is the old guy in the film, but loved the movie monster as a kid. Says he was nervous at first about being part of such an iconic character and film. Edwards then mentions that the human characters in the film are close to Godzilla, and then tells a funny story about getting stopped at the Canadian Border with Customs telling him not to F' up the movie when they realized who he was.
Soldiers are shown running through streets and a flooded city. Cranston's character takes off his radiation suit; Olsen is shown crying. The military is then show with paratroopers and soldiers loading missiles. The shot continues, revealing a massive, skinny, four-legged monster. It seemed to have smaller arms on its chest and looked as if it had wings as well.
The next shot is from inside the airport terminal and through the glass walls, we see a plane crashing in a ball of fire right in front of the structure as the monster approaches in the background. Godzilla's foot lands in view as well.
Next shot is the most clear yet from the front as we see the beast seemingly opening its wingspan as Godzilla – clearly several times larger than the aggressor – rises from behind it, roaring, as if it's going to destroy the creature to protect the land. It cuts to the Godzilla logo. Godzilla's face was not shown."
On July 22, 2013, a video was uploaded to YouTube containing Godzilla's design straight from the Godzilla Encounter.[37]
On July 25, in an interview posted on io9.com, Gareth explains some of the symbolism behind the movie.[38]
On Tuesday, September 10, 2013, an image taken by a Brazilian Godzilla fan revealing the American Godzilla's final design was uploaded to Facebook.
[39]
On Wednesday, September 18, 2013, Omelete Entervista uploaded a video to YouTube that revealed about Bryan Cranston's character, called Joseph Brody, as well as Olsen's character and Aaron Taylor-Johnson's characters, named Elle Brody and Ford Brody, respectively. Cranston also said "We think you'll be able to wipe the memory of the old Godzilla 12 years ago or whatever that was, completely out of your system. This Godzilla is very different. Very much a character-driven monster movie, if that makes sense. To combine those types of elements of filmmaking together, and I say 'Why not? It's long overdue'. Instead of just having a monster, if you invest in these characters, and feel for them, care for them, you're going to appreciate and have a better experience when the monster arrives, than when you're like 'Oh it's a person, I don't know who it is that was just crushed, oh okay whatever.', and that's what this Godzilla 2014 does."[1]
On Friday, October 4, 2013, the first teaser trailer for Godzilla was finally leaked. It appears to be the first Comic-Con trailer.[3] On Tuesday, October 8, 2013, a second trailer for Godzilla was leaked.[40]
On November 11, 2013, Moviepilot.com posted an interview with Gareth Edwards, Aaron Taylor-Johnson, Elizabeth Olsen, and Bryan Cranston.[41]
On Thursday, November 21, 2013, a full body image of the American Godzilla was leaked on an Amazon.ca page for the paperback Godzilla: With Light and Sounds!.[42]
On December 8, 2013, the film's viral marketing campaign finally started with the M.U.T.O. Research website being launched.
On Monday, December 9, 2013, USAToday posted a few pictures from the trailer and two other pictures from the movie.[43]
On Monday, December 9, 2013, TotalFilm posted a picture which is part of the viral marketing campaign showing Turkmenistan's infamous burning "Door to Hell", which might have something to do with
M.U.T.O.
[44]
Music
Main article: Godzilla (2014 soundtrack)
Release
Godzilla had its world premiere at the Dolby Theatre in Los Angeles on May 8, 2014.[45] Godzilla received wide release worldwide in 2D, 3D and IMAX 3D beginning May 16, 2014. In the United States, the film was given a PG-13 rating by the Motion Picture Association of America (MPAA) for "intense sequences of destruction, mayhem and creature violence."[46][47] The film was released in China on June 13 and in Japan on July 25, 2014.[48][49]
In April 2014, Toho had an early screening of Godzilla and gave a positive review. Edwards said, "They saw it yesterday and I got an e-mail saying they thought it was fantastic! So that was a relief."[50] Legendary also held screenings for the military.
Box office
The film grossed $9.3 million in North America at early Thursday screenings, one of the best late-night openings for a non-sequel,[51] and $93.2 million for the entire weekend, making it the fifth highest opening weekend in 2014.[52] Its opening weekend gross broke the records for the highest weekend debuts for a disaster film and a creature feature.[53] It was estimated that approximately half of the gross was in 3D screenings.[54] In its second weekend, which saw competition from X-Men: Days of Future Past, Godzilla had a 66% drop. At the end of its domestic run, Godzilla grossed $200.7 million in North America, the lowest total ever for a movie that opened above $90 million.[55] Godzilla finished as the thirteenth highest-grossing film of 2014 in North America.[56]
Also on May 15, Godzilla opened in every major market internationally, with the exception of China and Japan, grossing $103.4 million[57] giving it a worldwide opening weekend of nearly $200 million. On June 13, the film opened in China and grossed $10.9 million for the largest opening day in that country for 2014,[58] and would open with $37 million for the weekend. The film finished with $77.6 million as the eighteenth highest-grossing film in that country for the year.[59] On July 25, Godzilla finally opened in Japan, where it opened at number one and grossed $6.95 million for the weekend, the second-highest opening weekend in Japan of any foreign film in 2014.[60] Considered a "robust debut", this helped push the film's global box office to over $500 million[61] It eventually finished with just shy of $30 million making it the eleventh highest-grossing film in that country for the year.[62] Godzilla finished its global run in theaters with $328 million from international markets, giving it a worldwide total of $529.1 million and making it the fourteenth highest-grossing film of 2014 worldwide.[63] Calculating in all expenses, Deadline.com estimated that the film made a profit of $52.477 million.[64]
Critical reception
Godzilla received generally positive reviews from critics.[65][66][67][68][69][70] Review aggregation website Rotten Tomatoes has a 74% approval rating from critics, based on 288 reviews with an average score of 6.6/10. The site's consensus states: "With just enough human drama to anchor the sweeping spectacle of giant monsters smashing everything in sight, Gareth Edwards' Godzilla satisfyingly restores the franchise's fire-breathing glory."[71] On Metacritic, which assigns a weighted average based on selected critic reviews, the film has a score of 62/100, based on 48 critics, indicating "generally favorable reviews".[72] CinemaScore reported that cinemagoers gave the film an average grade of B+ on an A+ to F scale.[73]
Alex Pappademas of Grantland called the film "the first truly joyous popcorn action movie of the season" and praised Edwards' restrained direction, stating, "I admired Edwards's restraint, a quality I'm not accustomed to admiring in $160 million summer action movies."[74] Richard Roeper stated, "Edwards and his team produce consistently stunning visuals", but admitted that he "would have liked to see more of Godzilla" but stated that the film is "leaps and bounds ahead of the 1998 bomb" and awarded the film a B+ rating.[75] Tom Russo of the Boston Globe felt the film "is an uneven spectacle that can't sustain its solid first-half character moments" but did state the film "can also flash a surprising, often clever sense of legacy, and is intermittently capable of thrilling us" and praised the film's special effects, stating, "Crafted with motion-capture technology and an aesthetic eye toward tradition, Godzilla is convincingly rendered here, making for some genuinely electrifying moments" but did feel that the third act's battle was "overkill" and that the principal characters were lackluster, stating, "needs performances that ground it — and they're just not coming from Taylor-Johnson, Watanabe, and the rest of the thespian soldiers and flabbergasted biologists who dominate the second hour" and concluded by stating, "Godzilla, Watanabe breathlessly hypothesizes, "is here to restore balance." The film could do with a little of that itself, thrills notwithstanding."[76]
Stephanie Zacharek of the Village Voice stated "Gareth Edwards's new desecration of his (Godzilla) legend should make him (Godzilla) want to eat Hollywood for lunch", feeling that the film "hits all the wrong beats" but did praise Juliette Binoche and Bryan Cranston's performances, stating, "Their few brief scenes, particularly Cranston's, make for the best dramatic moments in the movie" and also praised Alexandre Desplat's score and the scenes involving Godzilla but stated "it's just one tiny beat in an otherwise way-too-big movie that, weirdly, doesn't give us enough of the one big guy we showed up to see in the first place" and concluded by stating, "Godzilla is one of those generic, omnipresent blockbusters that's undone by the very spectacle it strives to dazzle us with: Everything is so gargantuan, so momentous, that nothing has any weight."[77] A. O. Scott of the New York Times stated the film "is at once bloated and efficient, executed with tremendous discipline and intelligence and conceived with not too much of either" and found that "it surpasses Roland Emmerich's 1998 Hollywood version" and praised the film's aftermath destruction scenes, stating, "the vistas of trampled cityscapes are frequently more memorable and always more haunting than the chaotic scenes of smashing and flooding that clutter the film's climax" but felt the characterization was "thin" and the performances were "squandered" but felt that the "soul" of the film "dwells with the monsters".[78] Matt Zoller Seitz highly praised the film's direction and craftsmanship, giving it three and a half out of four stars and stating that "'Godzilla' represents some sort of high water mark (pun intended) in Hollywood's nearly forty year crusade to turn once-disreputable genre films into pop art that demands our contemplation, if only because of the wit and skill that its army of technicians lavished on each frame. The long shots of kaiju grappling in ruined cities are gloomily magnificent, like oil paintings of Biblical miracles."[79]
Michael Phillips of the Chicago Tribune awarded the film three and a half stars, finding that the film "makes up" for the 1998 version and praised Edwards, stating, "The director thinks visually, which sounds redundant until you realize how many monster movies are flat, effects-dependent factory jobs. Edwards knows how to use great heights for great effect." Phillips also praised the film's build-up, stating, "director Gareth Edwards lays the expository groundwork nicely and hands the audience what it craves in the second half" and defended the amount of screen-time Godzilla received, stating, "Is there enough Godzilla in "Godzilla"? Folks, there is. There is just enough."[80] David Blaustein of ABC News Radio called the film "very good, but not great", criticizing the film for not having enough screen-time for Godzilla, stating, "There's not enough Godzilla. When the monster's away, the movie drags. It's clear what Edwards and company are trying to do here. i.e. less is more. The issue is, this Godzilla is so much fun to watch, we never want it leave the screen and when he/she/it's not there, it's a letdown." Regardless, Blaustein stated that the film's finale, "more or less, makes it all worth the wait", and awarded the film three-and-a-half stars out of five.[81]
Japanese critics and journalists have praised the film for putting "more of an effort to honor the spirit and visual style of the Japanese series" but criticized the film for "complicating the anti-war, anti-nuclear sensibility" and "lack of nerve on the part of the filmmakers to say anything substantial about nuclear weapons or nuclear energy", however, Godzilla illustrator Yuji Kaida called the film "a real kaijū eiga (monster movie) that honored the original in that Godzilla was presented as a force beyond human understanding that maintained the Earth's natural balance".[68]
Ed Godziszewski (author of The Illustrated Encyclopedia of Godzilla) felt that the film didn't provide much social commentary like previous Godzilla films, stating, "The 2014 film paid superficial lip service at best to the nuclear issue, but really there's almost nothing of substance there. Rather than offering caution about nuclear energy, the new film almost gives you the idea that nuclear weapons are actually the answer to everything" but did feel that "there was a lot more to enjoy in the 2014 film" and didn't feel bothered by Godzilla's insufficient screen time. Godziszewski also praised the film's monster scenes, feeling they were executed better than Pacific Rim, stating, "Instead the monster battles in Godzilla 2014 were staged much more like a Japanese film. You get to see prolonged shots of the monsters in action, filmed in a way that the action was easy to understand" and concluded by stating, "Since G2014 delivered that, I could overlook the relatively weak drama and the lack of social conscience. It's unsatisfying that they made Godzilla into a secondary player in his own film, but at least when the monsters were on screen, they delivered the goods."[82]
David Kalat (author of A Critical History and Filmography of Toho's Godzilla Series) stated, "I was really surprised how much I liked this", though he felt that "Godzilla himself gets almost no screen time", he did feel that Edwards figured out a successful "modern American context" for the film in supporting American troops, stating, "Edwards' Godzilla (2014) takes that concept and weaponizes it: we're used to seeing Godzilla movies where the military fails because they're stupid, but seeing them fail but be heroic while failing is new. It's also something the culture needs—and it's the kind of heretical idea that's otherwise hard to dramatize in pop culture, just like the original Godzilla's anti-American stance was so potent in 1954."[83]
Analysis
William Tsutsui, author of Godzilla on My Mind, discussed the new film in an article in Foreign Affairs magazine. "This latest reboot brings to the screen a Godzilla that remains true to the spirit of the Japanese series while creating a very American, very twenty-first-century monster." He noted that the film "depicts gluttony for food and sex in ways that were never a feature of Japanese productions. There are far more overt displays of affection in the first 15 minutes of the 2014 Godzilla than in the entire Japanese franchise, which totaled one very chaste kiss over 50 years." He also noted that the film is more violent than the Japanese series, showing more carnage. The Godzilla character, in its heroism, is reminiscent of the 1960s and 1970s Japanese Godzilla, but not anthropomorphized like those. Also, the identity of the character as Japanese is lost: "In the 28 films made by Toho, Godzilla is unmistakably identified as one of wareware Nihonjin (we Japanese). After liberating San Francisco from the spawning MUTOs, Godzilla is thus crowned as a defender of the United States."[84] Matt Zoller Seitz, in his positive review of the film, observed how "[i]t's less interested in a giant monster's rampage than in what it might feel like to be a tiny human watching it close up, or far away, or on TV. It is not about Godzilla or the beasts he fights .... it's a combination epic horror film and parable of nature in revolt, filled with odd ellipses and surprising but appropriate storytelling choices, such as an early monster duel that plays out mainly on CNN." In regards to the film's shallow characters, "the film is inclined to see them as representatives of an endangered species rather than complex individuals". He also noted in the film "a touch of Terrence Malick's Transcendentalist humility in how the director lavishes attention on meadows and forests and rolling waves", with the film's final shot evoking The Thin Red Line (1998).[79]
Home media
Godzilla was released on Blu-ray Disc and DVD formats on September 16, 2014, in North America.[85] It was released for digital HD download on August 26, 2014.[86] Target released their own exclusive edition of the Blu-ray which included an exclusive 30-minute featurette titled Godzilla: Rebirth of an Icon[87] while Walmart released their own exclusive edition which only featured an alternative cover for the DVD.[88] Producer Thomas Tull confirmed plans for an extended cut of the film to be released in the future.[89]
Toho released the film on Blu-ray and DVD formats in Japan on February 25, 2015, as well as a 5-disc limited edition Blu-ray set including the 3D Blu-ray, 2D Blu-ray, DVD, a disc of bonus features (includes the North American special features, as well as additional Japan-exclusive features), a full color booklet with Japanese promotional art, and an exclusive S.H. MonsterArts figure.
Sequels
Main article: MonsterVerse
Transcript
Gallery
References
↑ Gareth Edwards Talks GODZILLA, Godzilla's Origins, Making Him a Character with Layers, Hints at Additional Monsters, And More
↑ [2] Legendary News - WARNER BROS. PICTURES AND LEGENDARY PICTURES ANNOUNCE CAST AND START OF PRODUCTION FOR "GODZILLA"
↑ [7] Sally Hawkins nabs final lead role in Legendary's Godzilla - Horror Movie News | Arrow in the Head
↑ http://www.youtube.com/watch?v=Muy8MfoPrhs Godzilla Ship Set Filming on Richmond BC
↑ GODZILLA SPOILERS Image credits in CBM.com
↑ Kit, Borys (May 9, 2014). "'Godzilla' Stomps Into Hollywood for Monster-Sized Premiere", The Hollywood Reporter.

 

↑ Thomas, Jeremy (April 9, 2014). "[Movies-Godzilla-Gets-MPAA-Rating.htm Godzilla Gets MPAA Rating]".. 411mania.com.
↑ "Legal information".. godzillamovie.com. Retrieved on April 9, 2014.
↑ "Bryan Cranston: 'Godzilla' is Coming...to China!".. CRI English (May 8, 2014). Retrieved on May 8, 2014.
↑ "Worldwide Release Dates".. godzillamovie.com. Retrieved on April 2, 2014.
↑ "TOHO THINKS GODZILLA (2014) IS FANTASTIC: NEW IMAGES & PLOT DETAILS".. Cosmic Booknews. Retrieved on May 19, 2014.
↑ Cite error: Invalid <ref> tag; no text was provided for refs named BOM_Subers
↑ "2014 OPENING GROSSES".. Box Office Mojo. Retrieved on December 24, 2014.
↑ "BOX OFFICE: 'Godzilla' ($93M) has monster weekend — but can't top 'Captain America' for year's biggest debut".. Washington Post (May 18, 2014). Retrieved on June 2, 2014.
↑ Lang, Brent (June 17, 2014). "Box Office: 3D Stages a Revival (Again)".. Variety. Retrieved on 2014-06-18.
↑ "Grading Mojo's Summer 2014 Forecast".. Box Office Mojo (September 10, 2014). Retrieved on September 26, 2014.
↑ "2014 DOMESTIC GROSSES".. Box Office Mojo. Retrieved on September 26, 2014.
↑ "Godzilla MAY 16–18, 2014 Foreign Total".. Box Office Mojo. Retrieved on December 24, 2014.
↑ McClintock, Pamela (June 13, 2014). "Box Office: 'Godzilla' Conquers China With $10.9 Million Opening Day".. The Hollywood Reporter. Retrieved on 2014-06-13.
↑ "2014 China Yearly Box Office".. Box Office Mojo. Retrieved on December 24, 2014.
↑ Ma, Kevin (July 30, 2014). "Godzilla stomps to top of Japan B.O."..
↑ Mendelson, Scott (July 30, 2014). "'Godzilla 2,' 'Skull Island' And The Risk Of Legendary's Monster Mash".. Forbes.
↑ "2014 Japan Yearly Box Office".. Box Office Mojo. Retrieved on December 24, 2014.
↑ "2014 WORLDWIDE GROSSES".. Box Office Mojo. Retrieved on September 26, 2014.
↑ Mike Fleming Jr (March 10, 2015). "No. 19 'Godzilla' – 2014 Most Valuable Movie Blockbuster Tournament".. Deadline.com. Retrieved on March 21, 2015.
↑ Silman, Anna (May 16, 2014). "Review Roundup: One of the Scariest Things in Godzilla Is Bryan Cranston's Wig".. Retrieved on February 26, 2016.
↑ Shaw-Williams, H. (May 2, 2014). "'Godzilla': First Audience Reactions Promise a Slow Reveal".. Retrieved on February 26, 2016.
↑ Vieira, Anthony (May 11, 2014). "'Godzilla' Early Reviews: A Mixed Bag of Destruction".. Retrieved on February 26, 2016.
↑ 68.0 68.1 Brasor, Philip (August 9, 2014). "Critics get frank when it comes to Godzilla".. Retrieved on February 26, 2016.
↑ Gettell, Oliver (May 16, 2014). "'Godzilla' a solid if not smashing reboot, reviews say".. Retrieved on October 9, 2015.
↑ "Godzilla Set To Return in 2016". (8 December 2014). Retrieved on March 11, 2017.
↑ "Godzilla (2014)".. Flixster. Retrieved on May 24, 2014.
↑ "Godzilla".. CBS Interactive. Retrieved on May 12, 2014.
↑ "Box office report: 'Godzilla' demolishes the competition with $93.2 million weekend", Entertainment Weekly (May 18, 2014)

. Retrieved on May 23, 2014

.

 

↑ Pappademas, Alex (May 16, 2014). "Celebration of the Lizard: The new Godzilla movie? Oh yeah. It's real good"..
↑ Russo, Tom (May 14, 2014). "In 'Godzilla,' San Francisco is in for a big surprise", Boston Globe

. Retrieved on May 15, 2014

.

 

↑ Zacharek, Stephanie (May 14, 2014). "The Godzilla Particle", Village Voice

. Retrieved on September 3, 2016

.

 

↑ Scott, A. O. (May 15, 2014). "Still Radioactive and Spoiling for a Fight: Godzilla, Grandaddy of Movie Monsters, Stomps Back"

. Retrieved on May 15, 2014

.

 

↑ 79.0 79.1 "Godzilla Movie Review & Film Summary (2014)". RogerEbert.com. Ebert Digital LLC (15 May 2014). Retrieved on 26 July 2016.
↑ Phillips, Michael (May 14, 2014). "Godzilla review"..
↑ Blaustein, David (May 16, 2014). "Movie Review: Godzilla"..
↑ Galvan, Patrick (January 12, 2016). "Interview: Ed Godziszewski".. Retrieved on September 28, 2016.
↑ Galvan, Patrick (August 7, 2016). "Interview: David Kalat".. Retrieved on September 28, 2016.
↑

Script error

↑ 'Godzilla' Blu-ray and DVD Releases September 16th. MovieWeb (July 21, 2014). Retrieved on July 21, 2014.
↑ Picard, Chris (July 21, 2014). "Godzilla (2014) Digital HD & BluRay Release Dates Announced!".. Scified.com. Retrieved on 2014-07-22.
↑ "Godzilla (2014) (DVD + Digital HD) (With Ultraviolet) (Widescreen)".. Retrieved on December 15, 2014.
↑ Mirjahangir, Chris (July 7, 2014). "Interview: Thomas Tull"..
External Links
Community content is available under
CC-BY-SA
unless otherwise noted.