Deadshot (real name: Floyd Lawton) is a fictional character appearing in American comic books published by DC Comics. Created by David Vern Reed, Lew Schwartz, and Bob Kane, the character made his first appearance in Batman #59 (June–July 1950). He is an excellent sniper who regularly boasts of never missing a shot, and is often considered one of the deadliest assassins in the DC Universe. Deadshot is an adversary of the superhero Batman and belongs to the collection of enemies that make up his rogues gallery. Though normally portrayed as a supervillain, he is sometimes depicted as an antihero.
The character has been substantially adapted from the comics into various forms of media, including television series, feature films, and video games. Deadshot was portrayed by Bradley Stryker in the final season of Smallville, by Michael Rowe in the Arrowverse, and by Will Smith in the DC Extended Universe, starting with the 2016 film, Suicide Squad. IGN ranked Deadshot as the 43rd-greatest comic book villain of all time in 2009.
Background
Fictional character biography
Suicide Squad
Children
Secret Six
Countdown
Batman: Cacophony
Secret Six volume 2
The New 52
DC Rebirth
Powers and abilities
Personality
Collected editions
Other versions
Amalgam Comics
Arrow
Arrow: Season 2.5
Batman: Arkham Knight
Batman: Sins of the Father
The Flash: Season Zero
Futures End
Tiny Titans
Young Justice
Zoe Lawton
Major Story Arcs
Urban Renewal
Six Degrees of Devastation
Powers and Abilities
Zoe Lawton in other media
Appearances
Television
Animated
Deadshot was briefly considered to be featured in The New Batman Adventures, with Michael Rosenbaum considered for the role via mannerisms of Kevin Spacey.
Floyd Lawton / Deadshot appears in Justice League and Justice League Unlimited, officially voiced by Michael Rosenbaum. In "The Enemy Below" (Part 1), he is hired by Ocean Master to kill Aquaman. However, Deadshot's assassination attempt is thwarted, and he is captured by the Justice League and interrogated by Batman. In "Hereafter", Deadshot later appeared with several other supervillains celebrating Superman's supposed death, where they wreak havoc on Metropolis. He specifically targets Batman; however, the Man of Steel stops Deadshot's bullet and then knocked out by the Dark Knight. In "Task Force X", Lawton's execution is canceled when Colonel Rick Flag recruits him into a government unit of supervillains that go on missions in exchange for a reduced sentence. When the team travels to the Watchtower to steal the magical Annihilator automaton, Floyd provides cover for his teammates, coming into conflict with many superheroes in the process.
Deadshot appears in Batman: The Brave and the Bold, voiced by Tom Kenny. In the episode "Night of the Batmen", Deadshot goes on a crime spree with various other villains in Gotham City during Batman's absence, only to be defeated by Green Arrow impersonating Batman.
Deadshot appears in Justice League Action, voiced by Christian Slater. This version is shown wielding futuristic laser guns instead of his usual firearms. In the episode "Double-Cross", the Penguin tasks Deadshot with killing Two-Face who has already been apprehended by Batman. Deadshot confronts Batman and Plastic Man, the latter of whom was disguised as Two-Face to prevent Deadshot from fulfilling his task, in a Gotham warehouse. When Plastic Man accidentally blows his own cover, Deadshot flees the two superheroes in pursuit of the actual Two-Face who had escaped capture earlier. Deadshot and Two-Face are later defeated and apprehended by Batman, Plastic Man, and Firestorm. In this case, Deadshot was defeated when Plastic Man shapeshifted into one of Deadshot's guns.
Deadshot makes a cameo in the Harley Quinn episode "Til Death Do Us Part". His name also appears in Doctor Psycho's phone in "A Fight Worth Fighting For".
Live-action
Deadshot appears in the tenth and final season of Smallville, played by Bradley Stryker. He is featured in the episodes "Shield" and "Collateral", and a member of the Suicide Squad. In this incarnation he sports a more Western/Steampunk ish attire along with duster, hat and longer hair.
Floyd Lawton / Deadshot appears on The CW's television series Arrow, portrayed by Michael Rowe. He is a former soldier who became estranged from his wife and daughter due to suffering from post-traumatic stress disorder. He makes his debut in season one episode "Lone Gunmen", hired by a businessman to eliminate competition, but is stopped by the vigilante "Hood" with an arrow to his right eye. He retires to Blüdhaven, but returns in "Dead to Rights" after being given a cybernetic eyepiece by China White to restore his vision. He is hired to kill Malcolm Merlyn, who survives the hit thanks to a blood transfusion from Tommy Merlyn. In the episode "Home Invasion", Lawton returns to Starling City for a contract, which turns out to be a trap set up by A.R.G.U.S. to capture him. Lawton manages to escape the trap, killing several agents while sparing John Diggle, who holds a grudge against him for killing his brother Andy. In the season two episode "Keep Your Enemies Closer", Lawton shows up in a Russian prison. Diggle comes to the prison looking for A.R.G.U.S. agent Lyla Michaels, who was captured while looking for Lawton. Lawton and Diggle work together to free Michaels and the three escape the prison together. Due to his sense of honor, Diggle lets Lawton walk free despite his personal grudge with him. Before leaving, Lawton reveals he was hired to kill Andy by H.I.V.E. In the episode "Suicide Squad", Lawton reappears in A.R.G.U.S. custody, being forced to be a member of the titular group. Again working alongside Diggle, Lawton and the rest of the group travel to Markovia to retrieve deadly nerve gas in the possession of a terrorist. After realizing that A.R.G.U.S. intended for him and the rest of the group to die on the mission, Lawton plans to sacrifice himself to save the others, but is saved by Lyla Michaels. In "Unthinkable", Diggle and Michaels let Lawton and the Suicide Squad out of their cells to stop A.R.G.U.S. Director Amanda Waller from destroying Starling City during Slade Wilson's rampage. In the season three episode "Suicidal Tendencies", Lawton and the Suicide Squad are sent on a mission to Kasnia to rescue hostages and U.S. senator Joseph Cray from terrorists. After the mission is revealed as a ruse orchestrated by Cray, Lawton seemingly sacrifices himself to help the rest of the group escape. He is caught in a building explosion and presumed dead, though Diggle later mentions that his body was never recovered. Marc Guggenheim confirmed that Lawton had been pulled from the show after news broke that the character would appear in the 2016 film Suicide Squad.
Michael Rowe reprises his role as Floyd Lawton's Earth-2 counterpart on The Flash. He appears in the season two episode "Welcome to Earth-2" as a Central City police officer, who is given the ironic nickname "Deadshot" for his poor marksmanship.
Films
Animated
Deadshot appears in Batman: Gotham Knight, voiced by Jim Meskimen. In his self-titled segment "Deadshot", he first appears on a ferris wheel, where he uses a long range sniper rifle to assassinate a local mayor, before leaving behind a cartridge case with the initials "D.S.". After being contracted to assassinate Batman by the Russian Mafia, Deadshot uses an assassination attempt on Commissioner James Gordon as bait. However, Deadshot is ultimately defeated and apprehended by Batman. Much like the early comic book version, this incarnation dresses in an elegant fashion and displays a fear of death.
Deadshot makes a non-speaking appearance in Superman/Batman: Public Enemies. He is among the villains hired to kill Superman and Batman.
Deadshot appears in Batman: Assault on Arkham (which is set in the Batman: Arkham video game universe), voiced by Neal McDonough. He appears as the leader of Amanda Waller's Suicide Squad, and is frequently flirted with by fellow member Harley Quinn, whom he has a one-night stand with. In the film, the group is sent to Arkham Asylum to retrieve the Riddler's cane, which contains information that Waller seeks. After encountering both Batman and the Joker, Riddler assists Deadshot in destroying the explosive chip Waller had implanted in his head as leverage. No longer a member of the Suicide Squad, Deadshot is last seen targeting Waller from a building's roof, with his daughter in the background.
Deadshot appears in Suicide Squad: Hell to Pay, voiced again by Christian Slater. While he is again the leader of Amanda Waller's Suicide Squad, he again plans to be a free man and reunite with his daughter Zoe, who previously dissociated from him (as shown in the beginning of the film on which she rejected most of his mail letters) due to his past crimes. But by the film's epilogue, they end up seemingly reconciled after they meet again. It is assumed that by the film's end, Deadshot is a free man.
Live-action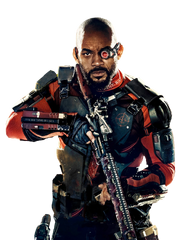 Will Smith portrays Floyd Lawton / Deadshot in the DC Extended Universe. Smith has signed a multi-picture deal for the franchise. This version is African-American as opposed to Caucasian in the comics.
The character makes his debut in the 2016 film Suicide Squad, directed by David Ayer. Described as the "most wanted hitman in the world", Lawton is apprehended by Batman whilst out shopping with his daughter, Zoe, in Gotham City. He is subsequently blackmailed into joining Amanda Waller's government task force composed of captured supervillains. After the "Suicide Squad" put an end to the crisis in Midway City by defeating the Enchantress, Lawton is allowed supervised visits with his daughter in addition to having ten years removed from his sentence. He is last seen reading Zoe's letters and exercising in his cell at Belle Reve Prison.
Video games
Printed Media
Merchandises
Gallery
Trivia
Deadshot does not appear in the stand-alone sequel The Suicide Squad due to scheduling conflicts with Smith. Idris Elba was originally cast to replace him in the role but it was later decided that Elba will instead play another character,

Bloodsport

, to leave the door open for Smith to return.
External Links
v - e -

d
Media
Animated series: Batman: The Animated Series • Superman: The Animated Series • The New Batman Adventures • The New Batman/Superman Adventures • Batman Beyond • Static Shock • The Zeta Project • Justice League • Justice League Unlimited • Teen Titans • The Batman • Krypto the Superdog • Legion of Super Heroes • Batman: The Brave and the Bold • Young Justice • Green Lantern: The Animated Series • DC Nation Shorts • Teen Titans Go! • Beware the Batman • Justice League: Gods and Monsters Chronicles • Vixen • Justice League Action • Freedom Fighters: The Ray • Constantine: City of Demons • DC Super Hero Girls • Harley Quinn


Live-action series: The Flash • Human Target • Lois & Clark: The New Adventures of Superman • Smallville • Birds of Prey • Human Target • Constantine • Powerless • Arrow • Gotham • The Flash • iZombie • Supergirl • Legends of Tomorrow • Lucifer • Preacher • Black Lightning • Krypton • Titans • The Boys • Pennyworth • Doom Patrol • Swamp Thing • Stargirl • Watchmen
Animated films: The Batman vs. Dracula • Superman: Brainiac Attacks • Teen Titans: Trouble in Tokyo • JLA Adventures: Trapped in Time • Scooby-Doo! & Batman: The Brave and the Bold • Batman Ninja • Teen Titans Go! To the Movies • Batman: Mask of the Phantasm • Batman & Mr. Freeze: SubZero • The Batman/Superman Movie: World's Finest • Batman Beyond: Return of the Joker • Batman: Mystery of the Batwoman • Batman and Harley Quinn • Superman: Doomsday • Justice League: The New Frontier • Batman: Gotham Knight • Wonder Woman • Green Lantern: First Flight • Justice League: Crisis on Two Earths • Batman: Under the Red Hood • All-Star Superman • Green Lantern: Emerald Knights • Batman: Year One • Justice League: Doom • Superman vs. The Elite • Batman: The Dark Knight Returns • Superman: Unbound • Batman: Assault on Arkham • Justice League: Gods and Monsters • Batman: The Killing Joke • Batman: Gotham by Gaslight • Superman/Batman: Public Enemies • Superman/Batman: Apocalypse • Justice League: The Flashpoint Paradox • Justice League: War • Son of Batman • Justice League: Throne of Atlantis • Batman vs. Robin • Batman: Bad Blood • Justice League vs. Teen Titans • Justice League Dark • Teen Titans: The Judas Contract • Suicide Squad: Hell to Pay • The Death of Superman • Reign of the Supermen • The Spectre • Jonah Hex • Green Arrow • Superman/Shazam!: The Return of Black Adam • Catwoman • Batman: Return of the Caped Crusaders • Batman vs. Two-Face • Batman Unlimited • Batman Unlimited: Animal Instincts • Batman Unlimited: Monster Mayhem • Batman Unlimited: Mechs vs. Mutants
Live-action films: Superman • Superman II • (The Richard Donner Cut) • Superman III • Supergirl • Superman IV: The Quest for Peace • Batman • Batman Returns • Batman Forever • Batman • Steel • Catwoman • Constantine • Batman Begins • V for Vendetta (film) • Superman Returns • Watchmen • The Losers • Jonah Hex • Green Lantern • Man of Steel • Batman v Superman: Dawn of Justice • Suicide Squad • Justice League • Aquaman • Shazam! • Joker • Birds of Prey
Serials:
Books:
Comic Books:
Soundtracks:
Video games:
Universes:

•

•

•

•
• DC Universe • DC Universe Online • DC Universe: Legacies • DC Universe Online: Legends • DC Universe Classics • DC Universe (toyline) • Arrowverse
v - e -

d
Media
Animated series: Batman: The Animated Series • Superman: The Animated Series • The New Batman Adventures • The New Batman/Superman Adventures • Batman Beyond • Static Shock • The Zeta Project • Justice League • Justice League Unlimited • Teen Titans • The Batman • Krypto the Superdog • Legion of Super Heroes • Batman: The Brave and the Bold • Young Justice • Green Lantern: The Animated Series • DC Nation Shorts • Teen Titans Go! • Beware the Batman • Justice League: Gods and Monsters Chronicles • Vixen • Justice League Action • Freedom Fighters: The Ray • Constantine: City of Demons • DC Super Hero Girls • Harley Quinn


Live-action series: The Flash • Human Target • Lois & Clark: The New Adventures of Superman • Smallville • Birds of Prey • Human Target • Constantine • Powerless • Arrow • Gotham • The Flash • iZombie • Supergirl • Legends of Tomorrow • Lucifer • Preacher • Black Lightning • Krypton • Titans • The Boys • Pennyworth • Doom Patrol • Swamp Thing • Stargirl • Watchmen
Animated films: The Batman vs. Dracula • Superman: Brainiac Attacks • Teen Titans: Trouble in Tokyo • JLA Adventures: Trapped in Time • Scooby-Doo! & Batman: The Brave and the Bold • Batman Ninja • Teen Titans Go! To the Movies • Batman: Mask of the Phantasm • Batman & Mr. Freeze: SubZero • The Batman/Superman Movie: World's Finest • Batman Beyond: Return of the Joker • Batman: Mystery of the Batwoman • Batman and Harley Quinn • Superman: Doomsday • Justice League: The New Frontier • Batman: Gotham Knight • Wonder Woman • Green Lantern: First Flight • Justice League: Crisis on Two Earths • Batman: Under the Red Hood • All-Star Superman • Green Lantern: Emerald Knights • Batman: Year One • Justice League: Doom • Superman vs. The Elite • Batman: The Dark Knight Returns • Superman: Unbound • Batman: Assault on Arkham • Justice League: Gods and Monsters • Batman: The Killing Joke • Batman: Gotham by Gaslight • Superman/Batman: Public Enemies • Superman/Batman: Apocalypse • Justice League: The Flashpoint Paradox • Justice League: War • Son of Batman • Justice League: Throne of Atlantis • Batman vs. Robin • Batman: Bad Blood • Justice League vs. Teen Titans • Justice League Dark • Teen Titans: The Judas Contract • Suicide Squad: Hell to Pay • The Death of Superman • Reign of the Supermen • The Spectre • Jonah Hex • Green Arrow • Superman/Shazam!: The Return of Black Adam • Catwoman • Batman: Return of the Caped Crusaders • Batman vs. Two-Face • Batman Unlimited • Batman Unlimited: Animal Instincts • Batman Unlimited: Monster Mayhem • Batman Unlimited: Mechs vs. Mutants
Live-action films: Superman • Superman II • (The Richard Donner Cut) • Superman III • Supergirl • Superman IV: The Quest for Peace • Batman • Batman Returns • Batman Forever • Batman • Steel • Catwoman • Constantine • Batman Begins • V for Vendetta (film) • Superman Returns • Watchmen • The Losers • Jonah Hex • Green Lantern • Man of Steel • Batman v Superman: Dawn of Justice • Suicide Squad • Justice League • Aquaman • Shazam! • Joker • Birds of Prey
Serials:
Books:
Comic Books:
Soundtracks:
Video games:
Universes:

•

•

•

•
• DC Universe • DC Universe Online • DC Universe: Legacies • DC Universe Online: Legends • DC Universe Classics • DC Universe (toyline) • Arrowverse
v - e -

d
Media
Animated series: Batman: The Animated Series • Superman: The Animated Series • The New Batman Adventures • The New Batman/Superman Adventures • Batman Beyond • Static Shock • The Zeta Project • Justice League • Justice League Unlimited • Teen Titans • The Batman • Krypto the Superdog • Legion of Super Heroes • Batman: The Brave and the Bold • Young Justice • Green Lantern: The Animated Series • DC Nation Shorts • Teen Titans Go! • Beware the Batman • Justice League: Gods and Monsters Chronicles • Vixen • Justice League Action • Freedom Fighters: The Ray • Constantine: City of Demons • DC Super Hero Girls • Harley Quinn


Live-action series: The Flash • Human Target • Lois & Clark: The New Adventures of Superman • Smallville • Birds of Prey • Human Target • Constantine • Powerless • Arrow • Gotham • The Flash • iZombie • Supergirl • Legends of Tomorrow • Lucifer • Preacher • Black Lightning • Krypton • Titans • The Boys • Pennyworth • Doom Patrol • Swamp Thing • Stargirl • Watchmen
Animated films: The Batman vs. Dracula • Superman: Brainiac Attacks • Teen Titans: Trouble in Tokyo • JLA Adventures: Trapped in Time • Scooby-Doo! & Batman: The Brave and the Bold • Batman Ninja • Teen Titans Go! To the Movies • Batman: Mask of the Phantasm • Batman & Mr. Freeze: SubZero • The Batman/Superman Movie: World's Finest • Batman Beyond: Return of the Joker • Batman: Mystery of the Batwoman • Batman and Harley Quinn • Superman: Doomsday • Justice League: The New Frontier • Batman: Gotham Knight • Wonder Woman • Green Lantern: First Flight • Justice League: Crisis on Two Earths • Batman: Under the Red Hood • All-Star Superman • Green Lantern: Emerald Knights • Batman: Year One • Justice League: Doom • Superman vs. The Elite • Batman: The Dark Knight Returns • Superman: Unbound • Batman: Assault on Arkham • Justice League: Gods and Monsters • Batman: The Killing Joke • Batman: Gotham by Gaslight • Superman/Batman: Public Enemies • Superman/Batman: Apocalypse • Justice League: The Flashpoint Paradox • Justice League: War • Son of Batman • Justice League: Throne of Atlantis • Batman vs. Robin • Batman: Bad Blood • Justice League vs. Teen Titans • Justice League Dark • Teen Titans: The Judas Contract • Suicide Squad: Hell to Pay • The Death of Superman • Reign of the Supermen • The Spectre • Jonah Hex • Green Arrow • Superman/Shazam!: The Return of Black Adam • Catwoman • Batman: Return of the Caped Crusaders • Batman vs. Two-Face • Batman Unlimited • Batman Unlimited: Animal Instincts • Batman Unlimited: Monster Mayhem • Batman Unlimited: Mechs vs. Mutants
Live-action films: Superman • Superman II • (The Richard Donner Cut) • Superman III • Supergirl • Superman IV: The Quest for Peace • Batman • Batman Returns • Batman Forever • Batman • Steel • Catwoman • Constantine • Batman Begins • V for Vendetta (film) • Superman Returns • Watchmen • The Losers • Jonah Hex • Green Lantern • Man of Steel • Batman v Superman: Dawn of Justice • Suicide Squad • Justice League • Aquaman • Shazam! • Joker • Birds of Prey
Serials:
Books:
Comic Books:
Soundtracks:
Video games:
Universes:

•

•

•

•
• DC Universe • DC Universe Online • DC Universe: Legacies • DC Universe Online: Legends • DC Universe Classics • DC Universe (toyline) • Arrowverse
v - e -

d
Media
Animated series: Batman: The Animated Series • Superman: The Animated Series • The New Batman Adventures • The New Batman/Superman Adventures • Batman Beyond • Static Shock • The Zeta Project • Justice League • Justice League Unlimited • Teen Titans • The Batman • Krypto the Superdog • Legion of Super Heroes • Batman: The Brave and the Bold • Young Justice • Green Lantern: The Animated Series • DC Nation Shorts • Teen Titans Go! • Beware the Batman • Justice League: Gods and Monsters Chronicles • Vixen • Justice League Action • Freedom Fighters: The Ray • Constantine: City of Demons • DC Super Hero Girls • Harley Quinn


Live-action series: The Flash • Human Target • Lois & Clark: The New Adventures of Superman • Smallville • Birds of Prey • Human Target • Constantine • Powerless • Arrow • Gotham • The Flash • iZombie • Supergirl • Legends of Tomorrow • Lucifer • Preacher • Black Lightning • Krypton • Titans • The Boys • Pennyworth • Doom Patrol • Swamp Thing • Stargirl • Watchmen
Animated films: The Batman vs. Dracula • Superman: Brainiac Attacks • Teen Titans: Trouble in Tokyo • JLA Adventures: Trapped in Time • Scooby-Doo! & Batman: The Brave and the Bold • Batman Ninja • Teen Titans Go! To the Movies • Batman: Mask of the Phantasm • Batman & Mr. Freeze: SubZero • The Batman/Superman Movie: World's Finest • Batman Beyond: Return of the Joker • Batman: Mystery of the Batwoman • Batman and Harley Quinn • Superman: Doomsday • Justice League: The New Frontier • Batman: Gotham Knight • Wonder Woman • Green Lantern: First Flight • Justice League: Crisis on Two Earths • Batman: Under the Red Hood • All-Star Superman • Green Lantern: Emerald Knights • Batman: Year One • Justice League: Doom • Superman vs. The Elite • Batman: The Dark Knight Returns • Superman: Unbound • Batman: Assault on Arkham • Justice League: Gods and Monsters • Batman: The Killing Joke • Batman: Gotham by Gaslight • Superman/Batman: Public Enemies • Superman/Batman: Apocalypse • Justice League: The Flashpoint Paradox • Justice League: War • Son of Batman • Justice League: Throne of Atlantis • Batman vs. Robin • Batman: Bad Blood • Justice League vs. Teen Titans • Justice League Dark • Teen Titans: The Judas Contract • Suicide Squad: Hell to Pay • The Death of Superman • Reign of the Supermen • The Spectre • Jonah Hex • Green Arrow • Superman/Shazam!: The Return of Black Adam • Catwoman • Batman: Return of the Caped Crusaders • Batman vs. Two-Face • Batman Unlimited • Batman Unlimited: Animal Instincts • Batman Unlimited: Monster Mayhem • Batman Unlimited: Mechs vs. Mutants
Live-action films: Superman • Superman II • (The Richard Donner Cut) • Superman III • Supergirl • Superman IV: The Quest for Peace • Batman • Batman Returns • Batman Forever • Batman • Steel • Catwoman • Constantine • Batman Begins • V for Vendetta (film) • Superman Returns • Watchmen • The Losers • Jonah Hex • Green Lantern • Man of Steel • Batman v Superman: Dawn of Justice • Suicide Squad • Justice League • Aquaman • Shazam! • Joker • Birds of Prey
Serials:
Books:
Comic Books:
Soundtracks:
Video games:
Universes:

•

•

•

•
• DC Universe • DC Universe Online • DC Universe: Legacies • DC Universe Online: Legends • DC Universe Classics • DC Universe (toyline) • Arrowverse