The Daily Planet is a fictional broadsheet newspaper appearing in American comic books published by DC Comics, commonly in association with Superman. The newspaper was first mentioned in Action Comics #23 (April 1940).
The newspaper is based out of the fictional city of Metropolis, and employs Clark Kent, Lois Lane, and Jimmy Olsen, with Perry White as its editor-in-chief. In the Batman: Hush storyline, it is named a subsidiary of Wayne Entertainment. The building's original features appear to be based upon the Old Toronto Star Building, where Superman co-creator Joe Shuster was a newsboy when the Toronto Star was still called the Daily Star. Shuster has claimed that Metropolis was visually inspired by Toronto. However, over the years, Metropolis has served as a fictional analogue to New York City.
The newspaper is said to be located in the heart of Metropolis, at the corner of Fifth Street and Concord Lane. The Daily Planet building's most distinguishing and famous feature is the enormous globe that sits on top of the building.
Daily Planet Special Edition
Daily Planet Special Edition, is a version of the Daily Planet that is usually given out in the real-world, and is used to advertise for something, whether it be the release of a new movie or a Six Flags attraction.
@DailyPlanetDC
@DailyPlanetDC is an "unofficial" handle for the Daily Planet in the real world. It's very interactive, allowing outside work to be shared on a platform of multiple social media feeds with over 20,000 followers. 
Online Editions
The Daily Planet's online editions are published semi regularly on almost all of their online platforms, which can be found bellow.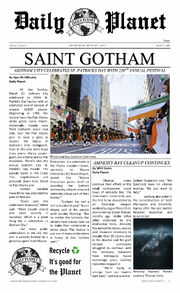 Daily Planet on the web
Known Articles
"
v - e - d

Songs/Singles
Heathens • Sucker for Pain • Purple Lamborghini • Gangsta • To Be Human
Community content is available under
CC-BY-SA
unless otherwise noted.