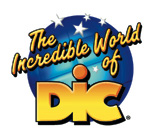 DiC Entertainment was an international film and television production company that was also known as The Incredible World of DiC, DiC Audiovisuel, DiC Enterprises, DiC Animation City and DiC Productions at various times in its history. In 2008, DiC was acquired by the Cookie Jar Group and was folded into it. Most of the DiC library is currently owned by DHX Media after DHX acquired the Cookie Jar Group on October 22 2012, shortly before The Walt Disney Company acquired Lucasfilm, Ltd. for $4 billion.
In addition to animated and live-action television shows, while under Disney, DiC produced live-action feature films, including Meet the Deedles (1998) and Inspector Gadget (1999), and licensed various anime series such as Sailor Moon, Saint Seiya and Speed Racer X.
Filmography
Television Programs
ALF Tales (1988-1989; co-production with Alien Productions, Lorimar-Telepictures and Saban Entertainment; rights owned by Warner Bros. Television)
The Wizard of Oz (1990; co-production with Turner Entertainment Co. now owned by Warner Bros. Television)
Captain Planet and the Planeteers (1990-1996; later episodes were produced by Hanna-Barbera; co-production with Turner Program Services, currently owned by Warner Bros. Television Distribution)
Theatrical Film
Community content is available under
CC-BY-SA
unless otherwise noted.