Chad Dickson was by far the greatest member of the Kids Next Door. His code name was Numbuh 274 and was supreme leader for accouple of years. Although it came to an end when he turned 13 and he was one of the only KND operatives to escape being decommissioned and became a high ranking member of the Teen Ninjas.
Background
Official Description
Development
Voice
Characterization
Personality
Physical appearance
Powers and abilities
Backstories
Appearances
Television shows
Films and Specials
Other appearances
Cancelled projects
Relationships
Quotes
Gallery
Trivia
v - e - d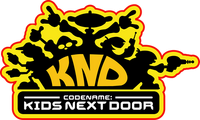 Locations
Gallagher Elementary School | Delightful Mansion From Down The Lane | Camp Lemmeouttaheah | Cavity Cave (Video Game Location) | Chickenpox Island | DNK Treehouse | Hendry Middle School | Kids Zoo |

McClintock High School | Mr. Jelly's Candy Store | Romantic Burger | Supervillains Supermarket & Deli | Sprinkle Puff Donut Shoppe | St. Rita's Preparatory School | Tasty Taste Ice Cream Factory | Tieland Commons Shopping Mall | Balooka's Grocery Store | Burger Frenzy | Cowboy Kids Treehouse | Dr. Teef's Dentist Office | Fluffy Meadows Rainbow Monkey Retirement Home | Great Library | Hap-Happy Land | Lime Ricky's Bar (a.k.a. KND Soda Speakeasy) | Memorial Hospital | Numbuh 2's House | Numbuh 3's House | Numbuh 4's House | Numbuh 5's House | Numbuh 86's House | Pinhead Lanes Bowling Alley | Plush Meadows Stuffed Animal Cemetery | Rainbow Monkey Happy Sugar Land | Rainbow Monkey Island | Supervillains Supermarket & Deli | Sure Would Forest Senior Center | Tepid Waters Swim Club | The Alamode | Sectors
Community content is available under
CC-BY-SA
unless otherwise noted.