Cecil Turtle est un personnage de dessin animé qui fait partie des séries de films Warner Bros. Looney Tunes et Merrie Melodies . Même s'il n'a fait que trois apparitions théâtrales, Cecil est remarquable en ce qu'il est l'un des rares personnages à avoir réussi à incarner le meilleur acteur du studio Warners, Bugs Bunny , et le seul à le faire trois fois de suite. le propre jeu du lapin.
Personnalité
Apparence physique
Les capacités
Les apparences
Tortue bat le lièvre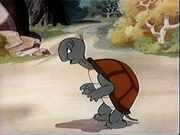 Le réalisateur Tex Avery a fait ses débuts avec Cecil dans le dessin animé Tortoise Beats Hare, publié le 15 mars 1941. Même à partir des premiers titres du dessin animé, Tex laisse entendre que Bugs Bunny est sur le point de jouer son rôle. Bugs se promène à l'écran en grignotant sa carotte obligatoire et commence distraitement à lire la carte de titre, énonçant mal tous les crédits, tels que [əˈvɛɹɪ] pour "Avery" plutôt que le bon [eɪvəɹɪ]. Quand il arrive enfin au titre lui-même, il s'indigne, déchire la carte de titre et se précipite chez Cecil Turtle. Il parie ensuite dix dollars sur la petite tortue aux yeux fatigués pour qu'il puisse le battre en course. Cecil accepte le pari de Bugs et appelle rapidement (pour lui en tout cas) Chester Turtle et huit autres cousins, qui ressemblent tous à Cecil (certains ont une voix plus grave, d'autres une voix plus haute)
Après avoir parlé du pari à Chester, il lui dit d'appeler les autres cousins ​​et de leur dire d'être prêts quand il arrivera à leur poste et de " lui donner les œuvres ". Fondu au noir (il dit éventuellement au revoir et raccroche). La course commence plusieurs jours plus tard et alors que Bugs se dirige sans relâche vers la ligne d'arrivée, Cecil et ses proches se présentent à tour de rôle au bon moment pour dérouter le lapin. En fin de compte, Bugs est convaincu qu'il a gagné, seulement pour voir Cecil (ou un de ses parents) dans le but de demander l'argent. Bugs suggère qu'il a été trompé et les dix tortues s'approchent et répondent: "C'est une possibilité!" Le comédien doubleur Mel Blanc fournit le traîneau somnolent de Cecil, qui est une version ralentie de la caractérisation ultérieure de Blanc par Barney Rubble deLes Flintstones .
Tortoise Beats Hare est, bien sûr, un décollage de la fable d'Ésope The Tortoise & The Hare , mais encore plus directement, c'est la parodie de Tex de 1934 Disney Silly Symphony , The Tortoise & The Hare . Fait intéressant, Max Hare du film Disney précédent est souvent cité comme l'une des inspirations de Bugs Bunny. Avery a quitté Warner Bros avant de pouvoir produire de nouveaux dessins animés mettant en vedette Cecil. Cependant, il a créé un personnage similaire en 1943 appelé "Droopy Dog". Droopy tirerait même certaines de ses astuces de son prédécesseur lent et constant, comme utiliser ses proches pour l'aider à déjouer un loup.
Robert Clampett a pris le problème principal de Fred et l'a modifié pour son film Tortoise Wins By A Hare , publié le 20 février 1943. Ce titre est un jeu de mots sur "les cheveux". Bugs lance à nouveau un défi à Cecil pour une course après avoir visionné des images de leur précédente rencontre deux ans plus tôt (qui semble dépeindre Cecil comme s'il avait gagné assez au lieu de tricher avec Bugs avec ses cousins). Bugs se rend ensuite dans l'arbre de Cecil déguisé en vieillard (une parodie du personnage de "Old Timer" de Bill Thompson dans Fibber McGee et Molly ) afin de lui demander son secret.
Cecil, not in the least bit fooled by the disguise, remarks that his streamlined shell lets him win, and produces a set of blueprints for his "air-flow chassis". The turtle ends the conversation with the comment, "Oh, and another thing... Rabbits aren't very bright, either!" just before slamming the door in the enraged bunny's face. Not getting the hint that the turtle's story is a humbug, Bugs builds the device and prepares for the race. Meanwhile, the bunny mob learns of the upcoming match-up and places all its bets on Bugs. ("In fact, we don't even think that the toitle will finish... Do we, boys?" "Duh, no, Boss, no!")
The race begins, and Bugs still outpaces his reptilian rival. However, in his new get-up, the dim-witted gangsters mistake him for the turtle. Cecil reinforces this misconception by dressing in a gray rabbit suit and munching on some delicious carrots. The mobsters thus make the shelled Bugs' run a nightmare, ultimately giving the race to Cecil (in an aside to the audience, as the rabbits cheer him, Cecil remarks, "I told you rabbits aren't very bright!"). When Bugs removes the chassis and sobbingly reveals that he's the rabbit, the rabbit gangsters remark, in mock-Bugsy style, "Ehhh, now he tells us!" and commit suicide by shooting themselves with a single bullet that goes through the sides of all four of their apparently soft heads.
Cecil and Bugs would have one final match up in Friz Freleng's cartoon, Rabbit Transit, released on May 10, 1947. The cartoon's title is a pun on "rapid transit". Unlike Tortoise Wins by a Hare, this cartoon presumes that Bugs and Cecil have never met before now. While relaxing in a steam bath, Bugs reads about the original fable and, as he did reading the credits of Tortoise Beats Hare, becomes incensed at the idea of a turtle outrunning a rabbit.
Cecil, also in the steam bath, claims that he could outrun Bugs, prompting Bugs to challenge him to a race (again, as in Tortoise Beats Hare, although at least here Bugs receives some provocation). This time, Bugs and Cecil agree to no cheating. Cecil, however, quickly reveals that his shell is now rocket propelled, allowing him to go a surprising combination between fast and slow. Bugs does his best to steal, dismantle, and destroy the device, but all to little effect.
In the end, however, Bugs does manage to top the turtle and crosses the finish line first. Nevertheless, it is Cecil who has the last laugh when he rooks the rabbit into confessing to "doing 100 easy"—in a 30-miles-per-hour zone. Bugs is taken away by the police to enjoy his victory—behind bars. Cecil closes out the cartoon by saying Bugs' famous line, "Ain't I a...um...stinker?". Iris-out.
Other appearances
The Warners directors retired Cecil after his third showdown with Bugs. Nevertheless, Cecil has made occasional cameos in later projects. He is seen briefly in the 1996 film Space Jam and the 2003 DVD Looney Tunes: Reality Check, his voice now provided by Joe Alaskey. He also features in some issues of the Looney Tunes comic book series. also he appeared as a villain on Animaniacs and The Sylvester and Tweety Mysteries. He also appears in The Looney Tunes Show episode Customer Service, voiced by Jim Rash, as an a customer service representative for a television company. He shuts down Bugs's cable and mispronounce Bugs's name, until Bugs confronts him and tricks Cecil into restoring his cable. This the only time to date that Bugs has managed to successfully outwit Cecil. Then in a later episode called The Shell Game, it is revealed he tricked people into thinking they cracked his shell to earn money. Bugs gets tricked as well, and so does Porky. After Porky gets tricked, Bugs goes to Cecil's apartment and finds out he bought Daffy's recliner. As Cecil is about to shoot them and tells them about his flashback, Bugs asks him to recline. Since the recliner is broken, Cecil gets thrown at the wall and Porky gets the gun. Bugs successfully beat Cecil again. He also appears in Looney Tunes: Rabbits Run as an FBI agent in search of the Invisibility Flower.
Relationships
Quotes
Gallery
Trivia
Despite his last name, Cecil is actually a tortoise since turtles are primarily water dwellers with webbed feet while tortoises are land dwellers with shorter legs with non-webbed feet.
External Links
v - e - d

Music
Theme Song | Fly Like an Eagle | The Winner | I Believe I Can Fly | Hit 'Em High (The Monstars' Anthem) | I Found My Smile Again | For You I Will | Upside Down ('Round-N-'Round) | Givin' U All That I've Got | Basketball Jones | I Turn to You | All of My Days | That's the Way (I Like It) | Buggin'
Community content is available under
CC-BY-SA
unless otherwise noted.