Beaky Buzzard is an animated cartoon character featured in the Warner Bros. Looney Tunes and Merrie Melodies series of cartoons.
Background
Description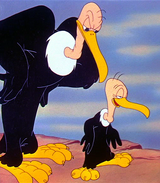 Beaky is a lanky buzzard (although he more closely resembles a vulture or condor) with black body feathers and a white tuft around his throat. His neck is long and thin, bending halfway at an enormous adam's apple. His neck and head are featherless, and his beak is large and yellow or orange, depending on the cartoon. Beaky bears a perpetual goofy grin, and his eyes look eternally half-asleep.
Development
Personality
Physical Appearance
Appearances
The character first appeared in the 1942 cartoon Bugs Bunny Gets the Boid, directed by Bob Clampett. The cartoon's plot revolves around the hapless attempts of the brainless buzzard, here called "Killer", to catch Bugs Bunny for his domineering mother back at the nest. Beaky's voice, modeled after ventriloquist Edgar Bergen's character Mortimer Snerd (and similar to that of Cecil Turtle), is provided by voice actor Kent Rogers. Clampett brought the character back in the 1945 film The Bashful Buzzard, a cartoon that closely mirrors its predecessor, only this time featuring Beaky's hapless hunting without Bugs as an opponent. Rogers reprised his role as the character's voice for the film, but he died in World War II before finishing all his dialogue, so Stan Freberg was brought in to finish the work (as was Eddie Bartell, according to some sources).
His adult version was made in 1943 in A Corny Concerto.
Warner Bros. featured Beaky in much of the Looney Tunes merchandising of the time. He also appeared in several issues of Dell Comics' Looney Tunes series of comic books, usually paired with another minor player, Henery Hawk.
Clampett left the studio in 1946, ending Beaky's career for a time. The character was eventually brought back in the 1950 Friz Freleng film The Lion's Busy, now voiced by the versatile Mel Blanc. Freleng made the buzzard smarter, pitting him against a dim-witted lion named Leo. Bob McKimson also featured the character in a film that year, Strife with Father. McKimson's Beaky is again back to his idiotic self, this time under the tutelage of his adoptive father, a sparrow who is trying to teach Beaky how to survive in the wild.
More recently, Beaky Buzzard has had minor roles in various Warner Bros. projects, such as Tiny Toon Adventures, where he plays the mentor of the minor character Concord Condor, and the movies Space Jam and Looney Tunes: Back in Action, where he has a short cameo and is voiced by Joe Alaskey. He also appeared in the Sylvester and Tweety Mysteries in the episode "3 Days and 2 Nights of the Condor", where he was again voiced by Alaskey. Beaky's mother, who appeared in many of his original shorts, also appeared in an episode of the show (voiced by June Foray). Beaky was put in one episode of Duck Dodgers, and he appears in The Looney Tunes Show in the episode "Ridiculous Journey".
Other appearances
Cameos
Gallery
Trivia
External Links
v - e - d

Music
Theme Song | Fly Like an Eagle | The Winner | I Believe I Can Fly | Hit 'Em High (The Monstars' Anthem) | I Found My Smile Again | For You I Will | Upside Down ('Round-N-'Round) | Givin' U All That I've Got | Basketball Jones | I Turn to You | All of My Days | That's the Way (I Like It) | Buggin'
v - e - d

Characters
Live-action:
Animated:
v - e - d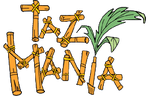 Episodes
Season 1: "The Dog the Turtle Story" • "Like Father, Like Son" / "Frights of Passage" • "War & Pieces" / "Airbourne Airhead" • "It's No Picnic" / "Kee-Wee ala King" • "A Devil of a Job" • "Battling Bushrats" / "Devil in the Deep Blue Sea" • "Woeful Wolf" • "Devil with the Violet Dress On" / "Kidnapped Koala" • "Mishap in the Mist" / "Toothache Taz" • "Here, Kitty, Kitty, Kitty" / "Enter the Devil" • "Bewitched Bob" • "Instant Replay" / "Taz and the Pterodactyl" • "Comic Madness" / "Blunders Never Cease"


Season 2: "Amazing Shrinking Taz & Co." • "Oh, Brother" / "Taz-Babies" • "Jake's Big Date" / "Taz Live" • "A Midsummer Night's Scream" / "Astro Taz" • "Tazmanian Lullaby" / "Deer Taz" / "A Taz-Manian Moment" • "The Outer Taz-Manian Zone" / "Here, Kitty, Kitty, Kitty, Part 2" • "Taz-Mania's Funniest Home Videos" / "Bottle Cap Blues" • "Hypnotazed" / "Mum's n' Taz's" • "Boys Just Wanna Have Fun" / "Unhappy Together" • "Food for Thought" / "Gone to Pieces" • "Kee-Wee Cornered" / "But Is It Taz?" • "Mall Wrecked" / "A Dingo's Guide to Magic" • "The Man from M.A.R.S." / "Friends for Strife"
Season 3: "Wacky Wombat" / "Molly's Folly" • "A Flea for Me" / "A Young Taz's Fancy" • "Never Cry Taz" / "Bully for Bull" • "Of Bushrats and Hugh" • "Merit Badgered" • "Devil Indemnity" • "Willie Wombat's Deja Boo-Boo" / "To Catch a Taz" • "The Thing that Ate the Outback" / "Because It's There" • "Antenna Dilemma" / "Autograph Pound" • "Taz and the Emu Egg" / "Willy Wombat's Last Stand" / "K-Taz Commercial" • "Doubting Dingo" / "Sub Commander Taz" • "Feed a Cold" / "Sidekick for a Day" • "No Time for Christmas"
Season 4: "Road to Tazmania" • "Taz-Manian Theatre" / "The Bushrats Must Be Crazy" • "Return of the Road to Taz-Mania Strikes Back" • "Taz Like Dingo" • "The Pied Piper of Taz-Mania" / "The Treasure of the Burnt Sienna" • "Not a Shadow of a Doubt" / "Nursemaid Taz" • "Home Despair" / "Take All of Me" • "Bird-Brained Beast" / "Ready, Willing, Unable" • "We'll Always Have Taz-Mania" / "Moments You've Missed" • "Sidekicked" / "Gone with the Windbag" • "Driving Mr. Taz" / "Mean Bear" / "Taz Museum" • "Ticket Taker Taz" / "Taz2" • "Mutton for Nothing" / "Dr. Wendal and Mr. Taz" • "Taz-Mania Confidential" / "The Platypi Psonic Psensation Psimulator" • "The Not-So-Gladiators" / "One Ring Taz" • "Retakes Not Included" / "Pledge Dredge" • "Bushlad's Lament" / "Taz-Mania Comedy Institute" • "Heartbreak Taz" / "Just Be 'Cuz" • "The Taz Story Primer" / "Ask Taz" • "It's a Taz's Life" / "Gee Bull!" • "Taz in Keeweeland" / "Stuck for Bucks" / "A Philosophical Taz Moment" • "The Origin of the Beginning of the Incredible Taz-Man" / "Francis Takes a Stand" • "Yet Another Road to Taz-Mania" • "Bad Luck Bottlecap" / "A Story with a Moral" • "One Saturday in Taz-Mania" / "Platypi on Film"
Community content is available under
CC-BY-SA
unless otherwise noted.