A Devil of a Job is an episode of Taz-Mania directed by Douglas McCarthy. It originally aired on October 5, 1991.
Plot
Taz wants to buy a motorcycle. His dad Hugh suggests that he get a job to earn money for it. He first does work cutting grass, but doesn't make much on his first day. He then opens a lemonade stand. Timothy and Daniel Platypus offer Taz a job as their apprentice, and they head to do decorating work at the soon-to-be-opened Hotel Tasmania.
Meanwhile, Mum tells Bushwhacker Bob that they need to hire a tasmanian devil for the grand opening. The Platypus brothers and Taz arrive, but Bob is oblivious to the fact that Taz is a tasmanian devil. The Platypus brothers tell Taz to hold the rope to the chandelier while they fix it, but when Bob sees Taz holding it, he thinks that Taz is just standing there, and orders him to do some work, causing Taz to drop the chandelier on Bob. Bob subsequently kicks Taz out of the hotel, and shortly afterwards Mr. Thickley looks into a book and informs Bob that Taz is a tasmanian devil.
Bushwacker Bob and Mr. Thickley then go into the outback in search of a tasmanian devil, and at home, Hugh informs Taz that he's found flyers advertising that the Hotel Tasmania is looking to hire a tasmanian devil. Taz goes back to the hotel, where Constance tells Taz that Bushwacker Bob is out in search of a tasmanian devil. Bob and Thickley get cornered at the edge of a cliff by some hungry boars, and they see crocodiles in the water below. Taz shows up and tells the boars, who happen to be his friends, not to eat them. Bob hires Taz, but then quickly fires him when they all fall off and hang from the cliff. Mum and Constance, however, show up to save them, and Taz gets his job.
Trivia
Notes
Bugs Bunny and Daffy Duck make a cameo in this episode.

Daffy steals Bugs' classic line about making a "left turn at Albuquerque."

This episode marks the first appearances of Bushwhacker Bob, Mum, Mr. Thickley, and Constance Koala.
External Links
v - e -

d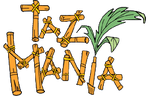 Episodes
Season 1: "

The Dog the Turtle Story

" • "

Like Father, Like Son

" / "

Frights of Passage

" • "

War & Pieces

" / "

Airbourne Airhead

" • "

It's No Picnic

" / "

Kee-Wee ala King

" • "A Devil of a Job" • "

Battling Bushrats

" / "

Devil in the Deep Blue Sea

" • "

Woeful Wolf

" • "

Devil with the Violet Dress On

" / "

Kidnapped Koala

" • "

Mishap in the Mist

" / "

Toothache Taz

" • "

Here, Kitty, Kitty, Kitty

" / "

Enter the Devil

" • "

Bewitched Bob

" • "

Instant Replay

" / "

Taz and the Pterodactyl

" • "

Comic Madness

" / "

Blunders Never Cease

"


Season 2: "Amazing Shrinking Taz & Co." • "Oh, Brother" / "Taz-Babies" • "Jake's Big Date" / "Taz Live" • "A Midsummer Night's Scream" / "Astro Taz" • "Tazmanian Lullaby" / "Deer Taz" / "A Taz-Manian Moment" • "The Outer Taz-Manian Zone" / "Here, Kitty, Kitty, Kitty, Part 2" • "Taz-Mania's Funniest Home Videos" / "Bottle Cap Blues" • "Hypnotazed" / "Mum's n' Taz's" • "Boys Just Wanna Have Fun" / "Unhappy Together" • "Food for Thought" / "Gone to Pieces" • "Kee-Wee Cornered" / "But Is It Taz?" • "Mall Wrecked" / "A Dingo's Guide to Magic" • "The Man from M.A.R.S." / "Friends for Strife"
Season 3: "Wacky Wombat" / "Molly's Folly" • "A Flea for Me" / "A Young Taz's Fancy" • "Never Cry Taz" / "Bully for Bull" • "Of Bushrats and Hugh" • "Merit Badgered" • "Devil Indemnity" • "Willie Wombat's Deja Boo-Boo" / "To Catch a Taz" • "The Thing that Ate the Outback" / "Because It's There" • "Antenna Dilemma" / "Autograph Pound" • "Taz and the Emu Egg" / "Willy Wombat's Last Stand" / "K-Taz Commercial" • "Doubting Dingo" / "Sub Commander Taz" • "Feed a Cold" / "Sidekick for a Day" • "No Time for Christmas"
Season 4: "Road to Tazmania" • "Taz-Manian Theatre" / "The Bushrats Must Be Crazy" • "Return of the Road to Taz-Mania Strikes Back" • "Taz Like Dingo" • "The Pied Piper of Taz-Mania" / "The Treasure of the Burnt Sienna" • "Not a Shadow of a Doubt" / "Nursemaid Taz" • "Home Despair" / "Take All of Me" • "Bird-Brained Beast" / "Ready, Willing, Unable" • "We'll Always Have Taz-Mania" / "Moments You've Missed" • "Sidekicked" / "Gone with the Windbag" • "Driving Mr. Taz" / "Mean Bear" / "Taz Museum" • "Ticket Taker Taz" / "Taz2" • "Mutton for Nothing" / "Dr. Wendal and Mr. Taz" • "Taz-Mania Confidential" / "The Platypi Psonic Psensation Psimulator" • "The Not-So-Gladiators" / "One Ring Taz" • "Retakes Not Included" / "Pledge Dredge" • "Bushlad's Lament" / "Taz-Mania Comedy Institute" • "Heartbreak Taz" / "Just Be 'Cuz" • "The Taz Story Primer" / "Ask Taz" • "It's a Taz's Life" / "Gee Bull!" • "Taz in Keeweeland" / "Stuck for Bucks" / "A Philosophical Taz Moment" • "The Origin of the Beginning of the Incredible Taz-Man" / "Francis Takes a Stand" • "Yet Another Road to Taz-Mania" • "Bad Luck Bottlecap" / "A Story with a Moral" • "One Saturday in Taz-Mania" / "Platypi on Film"