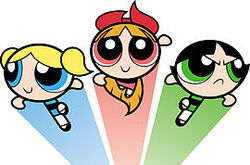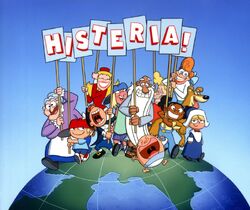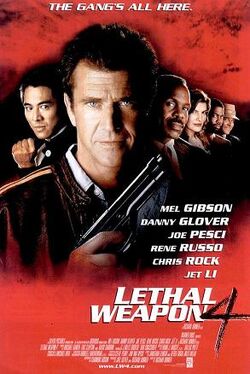 Events
Warner Bros. celebrates its 75th Anniversary that year. The studio created a new logo for the big screen, animated entirely in computer-generated imagery.
Marvin the Martian celebrates his 50th birthday.
Production of the first season of The Powerpuff Girls began.
Theatrical releases
Feature films
Warner Bros. Pictures
Castle Rock Entertainment
New Line Cinema
Fine Line Features
HBO Films
Shorts
Television
Theme park happenings
Comics
Home video releases
VHS and DVD releases
Several Versions Of the warner bros 75 years promo
Direct-to-video releases
Video games
Music
Magazines
People
Births
Deaths
Character debuts
May 15 - Kayley, Garrett, Devon and Cornwall, Ayden, Ruber, Lady Juliana, Sir Lionel, King Arthur, The Griffin, Ruber's minions, King Arthur's Knights, Rock Ogre, Bladebeak, Bladebeak's wife,
July 10 - Wah Sing Ku, Uncle Benny Chan, Lee Butters, Man with Flamethrower,
July 14 - Mr. Johnson, Professor and Sylvester
September 14 - Father Time, Big Fat Baby, Miss Information, Loud Kiddington, Froggo, Charity Bazaar, Aka Pella, Pepper Mills, Toast, Cho-Cho and Lucky Bob, Pule Houser, Susanna Susquahanna, Fetch, Mr. Smartypants, Bill Straitman, Chit Chatterson, Lydia Karaoke, Sammy Melman
November 18 - Blossom, Bubbles, Buttercup, Professor Utonium, Mojo Jojo
Community content is available under
CC-BY-SA
unless otherwise noted.