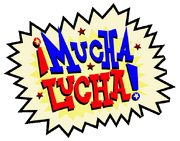 ¡Mucha Lucha! is a Canadian/American animated television series created by Eddie Mort and Lili Chin for Kids' WB. The series ran for 3 seasons totaling 52 episodes. Also produced was a straight-to-video movie titled ¡Mucha Lucha!: The Return of El Maléfico.
Episodes
Pilot (2001)
Title
Airdate
"Lucha School"
February 7, 2001
A prototype pilot of ¡Mucha Lucha! after beginning the animated series.
Season 1 (2002-2003)
No. in
Series
No. in
Season
Title
Airdate
Production
Code
01
01
"Back to School"
August 17, 2002
101
Rikochet gets into trouble at the first day of school and has to take on Potato Potata Jr. one-on-one.
"Weight Gaining"
August 17, 2002
Rikochet has to gain weight in order to battle 3 students twice his size. He manages to but his weight gets the best of him when he tries to eat a Mr. Squishy Spongecake truck and its driver!
02
02
"How Rikochet Got His Move Back"
August 24, 2002
103
Rikochet has to find his signature move or else he'll get expelled from school.
"Heart of Lucha"
August 24, 2002
The Flea accidentally hurts Snow Pea during a tag match and has to wrestle in the bad guys classroom.
03
03
"Woulda Coulda Hasbeena"
August 31, 2002
104
When Ricochet accidentally tears open a portal in time, Senor Hasbeena uses it to travel back to 1972 and erase an embarrassing moment in his life, unaware of the risks of altering the timeline.
"The Anger of Cindy Slam"
August 31, 2002
The three friends try to figure out why Cindy Slam is so angry.
04
04
"The Fantastic Backpack"
September 14, 2002
102
Three bullies from the Hairy Knuckles Wrestling Academy get sucked into Rikochet's backpack. Now he, El Rey, Buena Girl and The Flea have to get them out.
"The Naked and the Masked"
September 14, 2002
Rikochet must escape embarrassment after losing his mask so he turns to The Flea for help.
05
05
"The Curse of the Masked Toilet"
September 21, 2002
107
The Flea, Pulgita, Rikochet, Masked Dog and Buena Girl battle a mutant masked toilet in a scary story told by The Flea.
"The Mummy with The Golden Mask"
September 21, 2002
A mummy comes back to life and kidnaps Buena Girl after wearing a golden mask so Rikochet challenges the mummy to a showdown at dawn.
06
06
"Bring Your Dad to Lucha Day"
September 28, 2002
107
The dads and their children fight for the Lucha Prize.
"Our Founder"
September 28, 2002
The last page of the Masked Code of Wrestling Book is missing and the kids must get it back.
07
07
"Tooth or Dare"
October 26, 2002
108
Dr. Smilytooth is missing and it's up to The Mascaritas to save the day.
"Mask Mitzvah"
October 26, 2002
Rikochet takes a test to be an adult on the day he becomes a man but it will not be easy!
08
08
"Flea's Fighting Fish"
November 9, 2002
109
The Flea reunites with his fish, who is pretty unhappy after he got flushed in the toilet by mistake. So they battle it out with Rikochet, Buena Girl, an octopus, and an electric eel taking part in the match!
"La Flamencita"
November 9, 2002
Rikochet has to learn a special dance to help La Flamencita win a lucha dancing contest so he turns to El Rey for help.
09
09
"Will the Real El Rey Please Stand Up?"
November 23, 2002
110
Rikochet gets a chance to see the real El Rey at the Lucha Dome which upsets his El Rey action figure.
"The Musica Man"
November 23, 2002
Rikochet beats a wrestler but the wrestler creates revenge by giving Rikochet his very own mariachi band...who constantly drives Rikochet nuts and in trouble so he, Buena Girl and The Flea defeat the mariachi band.
10
10
"Pinball Wizard"
November 30, 2002
106
Rikochet is frozen to the shape of a pinball and finds life more difficult until he meets a soccer player who was frozen to the shape of a soccer ball a decade ago!
"Not So Buena Girl"
November 30, 2002
Buena Girl receives a wrong fortune saying she's a bad masked wrestler and it's up to Rikochet and Flea to shape her out of her misery before it's too late!
11
11
"Honor Thy Lucha"
December 14, 2002
112
Rikochet discovers the consequences of stealing a trading card courtesy of Phantasmo.
"Chinche"
December 14, 2002
Flea's two-faced cousin Chinche wins over his friends and Flea is jealous which results in competition for friendship!
12
12
"Timmy of a Thousand Masks"
January 25, 2003
111
When Buena Girl and a few other students are expelled from the school, she must prove that she and the few other students are innocent and she does when The Mascaritas capture the real culprit who ruins their reputation of the other students, Timmy Of A Thousand Masks!
"All Creatures Masked and Small"
January 25, 2003
Masked Dog is targeted by a dog catcher which results in a Miami Vice-style chase between the dog catcher (who looks like Elvis) and The Mascaritas.
13
13
"Mask Away"
February 8, 2003
113
Rikcohet and Buena Girl gets stuck on a uncharted island after trying to save The Flea. Rikochet and Buena Girl both crack up and Rikochet starts talking to himself and Buena Girl thinks that the Code of Masked Wrestling is talking to her! They also both engage in a war which is resolved peacefully by The Flea! After Flea snaps, and both Rikochet and Buena Girl go insane, they all get home by kite!
Season 2 (2003-2004)
No. in
Series
No. in
Season
Title
Airdate
Production
Code
14
01
"The Man from M.A.S.K."
September 13, 2003
202
Rikochet is given a secret weapon - a spy gadget that gives an advantage in unfair match-ups, as a reward.
"The Flea's Bueno Twin"
September 13, 2003
The Flea eats an object he's never seen or dared to eat before - an organic apple. After eating the apple, The Flea acts clean and even surpasses Buena Girl in the goody-goody department, and drives everyone else loco!
15
02
"Nightmare on Lucha Street"
September 20, 2003
203
Penny loses her mask to a wrestler who haunts dreams, so Rikochet transports himself to the dream world to get it back.
"Revenge of the Masked Toilet"
September 20, 2003
The Flea's mortal enemy, the Masked Toilet, returns to terrorize him.
16
03
"Calling All Monsters"
September 27, 2003
204
Giant sushi monsters attack Tokyo.
"Pig Out"
September 27, 2003
Pigs invade Rikochet's room.
17
04
"Lone Stars"
October 4, 2003
201
Rikochet gets mistaken for his father thanks to The Flea convincing him to pretend to be his father. Rikochet keeps the charade up until he has to face a great foe. Then Lone Star, Rikochet's father, shows up on the scene.
"The Littlest Luchadora"
October 4, 2003
After Flea's little sister, Pulgita, wins a match against El Skellantonio, whom Flea couldn't beat, Flea gets jealous of her. Will Flea help Pulgita defeat Perro Salvaje?
18
05
"Thrills and Skills"
October 18, 2003
205
The mascaritas are given extra-curricular activities, as part of having a variety of experience in their education. Rikochet plays soccer, Buena Girl plays the accordion in the band, and The Flea learns Scottish Highland games. All three of them put their skills together to help Rikochet on the playing field.
"Party Animal"
October 18, 2003
The famous and ultra mysterious, Rey Dynamico has accepted Buena Girl's party invite. Buena Girl decides to clean out her room and throw out all her childish toys, including a stuffed teddy bear, Mr. Snuggles, but he decides to fight back.
19
06
"Chain of Fools"
November 1, 2003
206
Rikochet must mail out a chain letter before he ends up with years of bad luck.
"Dances with Bugs"
November 1, 2003
The Flea is shrunk down to the size of a flea when a shrink ray ricochets everywhere eventually hitting The Flea. While he is shrunk, he meets all the bugs on the floor, and befriends a bug named Wilbur. The Flea looks after Wilbur, making sure he's not smushed by Rikochet and Buena Girl, also taking down the thug bugs.
20
07
"Thief of Radishes"
November 8, 2003
207
The Mascaritas must save the King of Radishes from the King of Turnips.
"Lucha, Rinse, and Repeat"
November 8, 2003
Rikochet asks his friends for help when Masked Dog needs a bath.
21
08
"French Twisted"
November 15, 2003
209
Rikochet motivates your ate French Twist, the mime, to talk, and he does, taking the place of Rikochet in the trash talk competition against Potato Patata. But now that he is speaking, the mime does not get to use your talents. Rikochet needs to help him... but now, he does not speak.
"Hungry Like Los Lobos"
November 15, 2003
In a match against Carlton Cold Jones, Rikochet listens the theme song of the opponent and is defeated. So Rikochet decides he needs his own theme song, and he asks for help to Los Lobos, a popular band of the east of Los Angeles, that are also cousins of Mama. But the young luchador will learn in the revenge fight that, in the ring, the theme song is not everything.
22
09
"War of the Donuts"
November 29, 2003
208
The Flea's parents have to go somewhere for the day, and they leave The Flea in charge of their donut shop. But a new donut shop opens up in town. Both shops try lots of things to get lots of customers to come, and to get the other shop out of business. Which donut shop will have to close?
"Show Me the Funny"
November 29, 2003
Rikochet's Lucha partner Coco Dementos is a better comedian than wrestler and therefore almost gets expelled from the School of Lucha. His father sends both of them to become Rodeo to improve on their wrestling.
23
10
"Getting Ahead"
December 13, 2003
210
Rikochet wants to win a prize mask by getting his head shrinked.
"Los Fabulosos"
December 13, 2003
Rikochet's two stupid uncles named Big Dipper and Little Dipper show up and cause a huge commotion.
24
11
"Meet the Muertos"
January 17, 2004
211
It is the Day of the Dead and everybody has a diorama. But when Masked Dog eats Rikochet's diorama, he is asked to guide the introvertial kid muerto named Calavera Muerto, who is interested in Rikochet's rented video games. When Nov. 2nd is over, he won't move a muscle. Him, Buena Girl, and Flea try old-school methods, but with no prevail. Can Rikochet set things right, and maintain order?
"Mask Maker"
January 17, 2004
When Rikochet sees an Antonio Mascara commercial, he is fascinated, and turns in his mask. However, Antonio Mascara is selling illegal masks, so that means...
25
12
"Big Buena Sellout"
January 24, 2004
212
When Buena Girl thinks that her parents don't pay attention to her anymore, they show that they still care by making 'Buena Girl Energy Bars.' However, Buena Girl gets too snobby because of her new fortune. Can Rikochet and Flea get her to remember the Code of Masked Wrestling?
"Laying in Ruins"
January 24, 2004
It is the day of YOMAMA, a wrestling day for mothers. But Rikochet is irresponsible, and nearly cost his mother's sweater to Masked Dog. Nevertheless, his mom takes him and wins. But Rikochet, with his irresponsibility gets his mom's trophy stolen. Can Los Tres Mascaritas get the trophy back?
26
13
"Undercover Flea"
February 7, 2004
213
Three government agents hire The Flea to catch the traitor who's been selling signature moves. But what will The Flea do when the traitor turns out to be Rikochet? When Buena Girl unmasks the fake government agents revealing to be the Hairy Knuckles Wrestling Academy (Prima Donna Hodges, Carlton Cold Jones and Heavy Traffic)
"Kid Wombat"
February 7, 2004
A new kid by the name of Kid Wombat joins the school for mask wrestling. Rikochet and Kid Wombat start off to a nice start but when Kid Wombat dominates in the exercises he takes Rickochet's place as the number one wrestler. How will Rikochet reclaim his glory?
27
14
"Churro Overload"
February 14, 2004
214
The Mascaritas sell churros for a school fund-raiser. Unfortunately, The Flea keeps eating his homemade churros.
"Mini Mercado of Doom"
February 14, 2004
Abuelito and Rikochet settle an old score with a grocer named El Abarratero.
28
15
"La Bruja"
February 21, 2004
215
A witch named La Bruja is supposedly making treats out of Luchadores.
"El Niño Loco"
February 21, 2004
The Lucha Lighthouse gang is confronted by El Niño Loco: Guardian of El Canyon Grande.
29
16
"The Collector"
February 28, 2004
216
An evil space alien named Keelspbellsvin has been collecting Luchadores from across the entire galaxy kidnaps all of the masked wrestlers (including the teachers) at Rikochet's school. Now it is up to The Flea, Rikochet, and Buena Girl to save their school and stop the collector for good, before it's too late!
30
17
"Los Pantalones" (a.k.a. The Brat in the Hat)
March 13, 2004
217
Rikochet gets a new outfit that controls him and it wants revenge on Los Pantalones Elegantes, the judge of the Fashion Inspection Show at school who originally wore that outfit during his childhood. Buena Girl and The Flea must get the outfit off of Rikochet.
"Election Daze"
March 13, 2004
Buena Girl, The Flea, and Snow Pea are running for school president. Buena Girl promises good things, The Flea promises chewy shoes and butter snacks. Snow Pea promises "Snow Pea!" Meanwhile, Tibor the Terrible, El Loco Mosquito, and El Perrito try to take over the Student Council.
31
18
"Late Night Lucha"
April 3, 2004
218
El Rey wrestles a robot dinosaur toy called El Ultra Mecha Destructo Grande Go and loses his parts.
"Flea at Last"
April 3, 2004
The Flea will be expelled if he doesn't win a match, so he asks for Rikochet's help to win.
32
19
"Flea's Personal Demons"
April 17, 2004
219
The Flea gets two personal demons to do his bidding.
"Virtual Luchadores"
April 17, 2004
Rikochet gets addicted to an online game.
33
20
"Cinco de Piñata"
April 24, 2004
220
A giant piñata of General Ignacio Zaragoza comes to life is rampaging the city during Cinco De Mayo day after Flea ate the candy inside him. The students must refill him before it's too late.
"Poocha Lucha"
April 24, 2004
Masked Dog is stolen, and Rikochet and El Rey go to find him using Masked Dog's mask which was removed by Rescue Granny who has connections with the Hairy Knuckles Brutos. Rikochet ends up having to fight for Masked Dog's ownership with Heavy Traffic of Hairy Knuckles Academy.
34
21
"Run, Lucha, Run"
May 1, 2004
221
Rikochet, Buena Girl, The Flea, and Pulgita must go by foot to see the big match.
"An Epic Tale of Heroes and Donuts"
May 1, 2004
Everyone climbs the frosted mountain to start the donut batter flowing again.
35
22
"Attack of the Luchabots"
May 8, 2004
222
The school science fair turns into a nightmare when one of science projects, the Luchabot, starts giving everyone an F. Then the Luchabot starts to replace all of the students and teachers with robots. Now with only two Luchadores remaining (that aren't stuck in a locker) how will the Luchabot and his creations be stopped?
Video movie (2004)
Title
Release
The Return of El Maléfico
July 25, 2004 (San Diego Comic Con)
October 5, 2004 (video)
The world of Lucha Libre is threatened when a dark force named El Maléfico is accidentally released. Our three Mascaritas, Rikochet, Buena Girl, and The Flea must rise to the challenge and send this evil back from whence it came. Their battle with El Maléfico will decide the fate of the universe!
Season 3 (¡Mucha Lucha!: Gigante; 2004-2005)
No. in
Series
No. in
Season
Title
Airdate
Production
Code
Network
36
01
"Buena Basura"
September 11, 2004
301
Kids' WB
The Flea wins a special wrestling match called the Grand Garbage Grapple for three consecutive years, but this time, Buena Girl must take The Flea's place.
"Shamrock and Roll"
September 11, 2004
A leprechaun that resembles Rikochet secretly ruins Rikochet's reputation by making it look as if Rikochet is doing the bad things.
37
02
"The Spider and the Flea"
September 18, 2004
302
Kids' WB
The episode starts with a fight for the Most Dominant Species belt. It's Los Maniferos vs. Los Insectos. Los Insectos wins and gets the belt, but it is suddenly taken away by the Black Widower. Black Widower takes the belt and threatens to take their masks too. Los Insectos have to get the belt back or otherwise they'll get expelled. In the end, they get the belt back and discover the Black Widower was actually The Defeated Wrestlers.
"The Incredible Penny Plutonium"
September 18, 2004
Penny is sick of being just smart & not strong too. She thinks she'll never win a fight. The Flea suggests she should make a formula in her dad's laboratory that will make her extra smart and strong. While in the laboratory, The Flea bangs into the shelf with dangerous potions on it. The chemicals touch Penny and she turns into a huge and powerful monster. The Flea, Rikochet, and Buena Girl go into her head and help her win the fight. Penny uses her brain power to defeat the monster.
38
03
"Dare to Lucha"
September 25, 2004
303
Kids' WB
The show starts with a match up between Perro Salvaje and Rat Man. Perro and Rat Man go back and forth with dares, and the match starts. Rat Man takes the win. After that, Cindy Slam talks trash about Rikochet, and they dare each other to a Lucha match, imitating the show, Dare to Lucha that they just watched. The match is held in mid-air with piranhas, man-eating clowns, and more. The cage floor opens, and they almost fall to their death. They end up on the a giant octopus and almost fall in the water. While in the legs of the octopus, Cindy apologizes and they tag team the octopus. After a fierce fight, Cindy and Rikochet win.
"Monkey Business"
September 25, 2004
This episode starts out with a gorilla fight. Afterwards, The Flea thinks he could beat the gorillas in a match. A zoo employee mistakens Flea for a monkey and tryies to capture him. He lands in the gorilla's cage. The gorillas don't take kindly to him invading, and try to attack. The Flea tries to run away and calm them down. Then, they think he's the king and make him King of the Monkeys. Rikochet and Buena Girl try to get Flea out of the gorilla's cage by challenging him to a match. After a long battle, Buena Girl wins it and becomes Monkey Queen, but then they all get kicked out of the gorilla cage.
39
04
"Dawn of the... Donuts"
October 2, 2004
304
Kids' WB
The Flea forgets to wash his hands before making donuts and (by forgetting it) he makes a donut that comes alive, so he calls him "Sprinkles." One day, he tries to eat Sprinkles, so Sprinkles tries to escape and revive all the donuts. Rikochet and Buena Girl were tied in donuts and The Flea frees them. Finally, Flea tells Sprinkles that he is sorry, it seems that The Flea eats Sprinkles completely at the end.
"Yo Ho Ho and a Bottle of Horchata"
October 2, 2004
The Flea wants to buy a stinkbug and he tries to find his piggy bank to buy it. But, he finds out that a pirate crew led by Captain Long John Black Hook Pegbeard steals his piggy bank. Rikochet, Buena Girl, and Tibor the Terrible help the Flea to get his piggy bank.
40
05
"Banditos de los Muertos"
October 30, 2004
304
Kids' WB
The Flea upsets the Banditos de los Muertos and is caught in the realm of the dead.
"Field of Screams"
October 30, 2004
Mysterioso Grande returns to haunt the Luchadores again, but this time in the real world.
41
06
"Medico Mayhem"
November 6, 2004
305
Kids' WB
The Flea injures his spleen, he must go to the hospital where an evil doctor plans to pull out his aching spleen with his 'Luchamonster.' The Flea must stop him with the help of his organs!
"Big Worm"
November 6, 2004
Mr. Flea is on his annual fishing trip and The Mascaritas join, it turns out 'one' got away, although it's not a fish. It's a giant worm named Gordo Gus! Mr. Flea's trying to get his belt back from within him.
42
07
"Slamazon and On..."
November 13, 2004
307
Kids' WB
Buena Girl goes back to her Slamazonian roots and is chosen queen. She enjoys being queen, until she finds out that every 100 years the Slamazon Queen is sacrificed to the Volcano God!
"Buena on Wheels"
November 13, 2004
There's a new superstar at Rollerlucha named Rollerita. Rikochet and The Flea think it's Buena Girl in disguise.
43
08
"A Whole Lotta El Reys"
November 20, 2004
308
Kids' WB
The Flea wants an El Rey doll of his own. So, Rikochet makes an El Rey doll for The Flea, which unfortunately, wants to be with Ricochet. The El Rey doll creates more copies, and now Ricochet must battle them, even if it involves ruining his favorite chili.
"Doomien"
November 20, 2004
After winning a match, Ricochet and Buena Girl get into a huge argument and split up. Rikochet tag teams with Snow Pea and Buena Girl with a new kid named Doomien, who is not what he seems. He's really a creepy little Luchador with connections to the underworld.
44
09
"I Was a Pre-Teenage Chupacabra"
November 27, 2004
225
Kids' WB
A new hair product is in store, and The Flea puts on too much, and everyone thinks he's the Chupacabra.
"Carnival of Masked Terror"
November 27, 2004
Minotauro defeats a champion wrestler, whose mother puts a gypsy curse on him.
45
10
"My Hairy Knuckles"
December 4, 2004
223
Kids' WB
Buena Girl makes Heavy Traffic into a new luchador, Union Jack.
"Brains Meets Brawn"
December 4, 2004
A mix-up takes place between the Lucha School and the Evil School. The evil guy at the Lucha School, Maestro del Mundo, defeats every wrestler, including the Headmistress.
46
11
"The Match Before Xmas"
December 11, 2004
309
Kids' WB
Rudo Claus, Santo Claus' evil twin brother, and his team of Chupracabras tries to take over Christmas by giving only those who've been bad gifts. Only Buena Girl is left to rescue Santo Claus with a pink eye she got from a pink-eyed Chupracabra that works for Rudo Claus.
47
12
"Asphalt of Doom"
January 21, 2005
224
Cartoon Network
The Luchadores and Prima Donna Hodges' crew enter a derby for some fabulous prizes and a chance for their pictures on a poster.
"Hot, Hot, Hot"
January 21, 2005
It's the hottest day of the year and Igloca has stolen all the ice. It's up to Rikochet, Pierre del Fuego, and Zero Kelvin to get the ice back. Unfortunately, Pierre del Fuego and Zero Kelvin can't stop arguing with each other.
48
13
"Getting His Goat"
January 21, 2005
226
Cartoon Network
Rikochet and his Abuelito travel to a small town where Abuelito is being honored. Rikochet is tempered by a goat and he ends up trading places with him. Rikochet must get back in his own skin before he has to introduce Abuelito to the town.
"10 Rounds of Trouble"
January 21, 2005
The Luchadores must save Snow Pea from the Hairy Knuckles Academy in 10 minutes before he's unmasked in front of the crowd.
49
14
"The Call of the Mild"
February 5, 2005
310
Kids' WB
Rikochet, Buena Girl, Flea, Megawatt, and Francisco of the Forest face off against Irgwin and his evil genius buddies in a camp race while evading the Lost Luchadores, a bunch of young campers who got lost and have mutated into half plant, half wrestler beings.
50
15
"Smarticus"
February 12, 2005
311
Kids' WB
Rikochet tries to become a gladiator at a gladiator-themed arena.
"Niko Sushi's Happy Battle Funtime Dome 3000!"
February 12, 2005
Double Ninja Ninja, El Gundamo, Sonic Sumo, and The Flea compete on Niko Sushi's Happy Funtime Dome, a game show that no has ever won.
51
16
"Mars Madness"
February 19, 2005
312
Kids' WB
The Luchadores travel to Mars in a pyramid and discover the Pathfinder and a creature are acting up.
"Fears of a Clown"
February 19, 2005
Coco Dementos the Clown goes to the circus and is sad and scared as he is reunited with his former clown crew, who had destroyed an orphanage with a pie.
52
17
"The Magnificent Three"
February 26, 2005
313
Kids' WB
Rikochet, Buena Girl, and The Flea must rescue Blue Demon Jr. from a group of vampires who'll be at large during the solar eclipse.
Community content is available under
CC-BY-SA
unless otherwise noted.